Samsung Galaxy Note 9 Review: Epic phone, epic price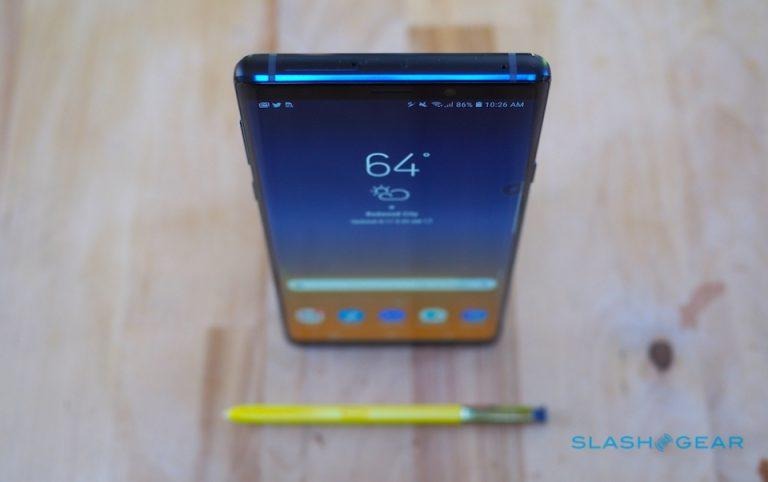 EDITORS' RATING: 8/10
We may receive a commission on purchases made from links.
Value is subjective, and little illustrates that quite so well as the Samsung Galaxy Note 9. Long the largest physically of the company's smartphones, now the Note family pushes Samsung into a new price bracket, too: like Apple's iPhone X, you're looking at a $1,000 membership fee if you want access to the Note 9's exclusive club. In return, though, you're getting one of the most powerful, full-featured, and at times frustrating Android smartphones around.
Hardware and Design
If it ain't broke, don't fix it. Samsung's aesthetic for the Note 9 hardly strays from last year's Note 8, and you have to know what you're looking for in order to spot the differences. This year's phablet is actually slightly shorter, wider, thicker, and heavier, but not to any noticeable degree.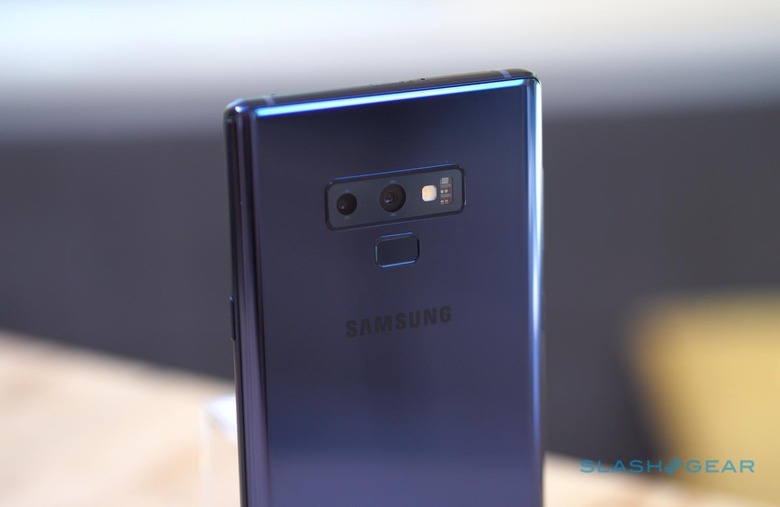 Look closer, though, and the Devil is in the detailing. For 2018 that means "dia-cut" tapering to the edges in contrasting matte and gloss finishes. It actually leaves the sides of the Note 9 feeling more smoothly curved and a little more comfortable in your hand.
Samsung is embracing color this time around, and fans of black phones may be disappointed to discover that, though there's a Black Note 9, it won't be released in the US at first. Instead you choose between Ocean Blue with a contrasting yellow S Pen, or Lavender Purple with a matching stylus.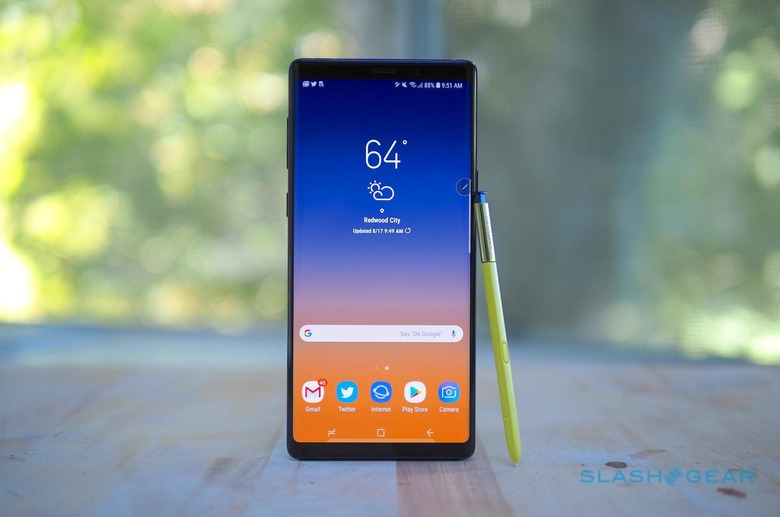 What we liked has stayed the same. You still get IP68 water and dust resistance – regardless of whether the S Pen is docked in its silo – along with USB-C, NFC, WiFi 802.11ac and Bluetooth 5.0. There's still a microSD slot, now compatible with up to 512 GB cards. On the bottom you still get a 3.5mm headphone jack, while Samsung's AKG-tuned stereo speakers sound loud and full-bodied.
The display gets a little larger, though, at 6.4-inches. The 2960 x 1440 resolution stays the same as before, and the Super AMOLED panel looks tremendous. If every you needed a reminder why so many companies use Samsung's displays, the Note 9's color-rich, bright, contrast-dense screen is it.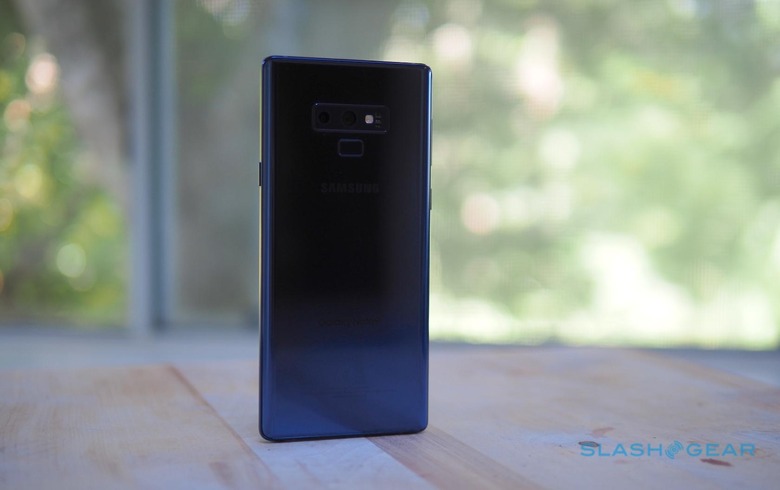 On the back, the fingerprint sensor has been shuffled down, underneath the camera array, addressing one of the main complaints about the Note 8 in the process. Depending on how you naturally hold the Note 9 you might find it's mounted a little high up for easy reach: there's no escaping that this is a big device. Iris recognition and facial recognition are supported too, along with Intelligent Scan which promises to combine iris and face into a single, faster lock. It's not as secure as iris or fingerprint alone, mind, and I had some trouble getting it to consistently unlock for me.
The one thing I was hoping wouldn't be carried over from the Note 8, though, is the dedicated Bixby button. Not only are you not able to remap the key on the side of the phone to launch something else, unlike previous Galaxy handsets there's not even the option to turn the button off so as to avoid accidental presses. Sure, there are third-party apps which can assign it to other things, but I'd really prefer to see Samsung relent.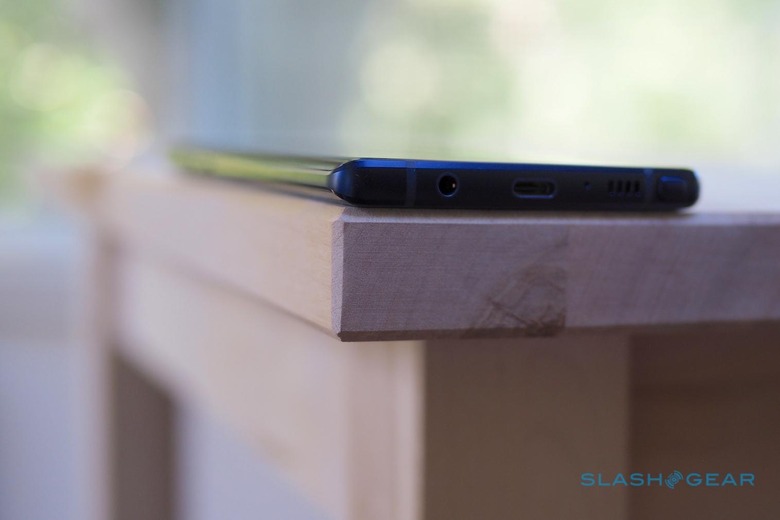 Inside, the US gets Qualcomm's Snapdragon 845 chipset, while other countries get Samsung's own Exynos 9810. For the first time, though, there'll be two RAM options. The $999.99 Galaxy Note 9 – which Samsung sent us – has 128 GB of storage and 6 GB of RAM. Step up to the $1,249.99 Note 9, meanwhile, and you get 512 GB of storage and 8 GB of RAM.
Does anybody really need 8 GB of memory in their phone? Perhaps if you're looking to truly future-proof yourself for the next few years, though then the absence of 5G may rankle. For the moment, though, the Note 9's Cat.18 LTE and 4x4 MIMO make it one of the fastest-connecting smartphones around, assuming you have the network to suit.
The other change you can't see is Samsung's cooling system. The Note 8 – and indeed the Galaxy S9 and S9+ – could get fairly toasty in the hand when pushed hard. For the Note 9, Samsung says it has used a considerably larger cooling system, and sure enough it did feel a little less warm after heavy-duty tasks.
A smarter S Pen
The S Pen may look the same, but inside there's now a battery and Bluetooth LE for a lot more functionality. As before, you get 4,096 level pressure sensitivity and a 0.7mm nib. It's IP68 waterproof and dustproof, and the drawing and writing elements still don't require power.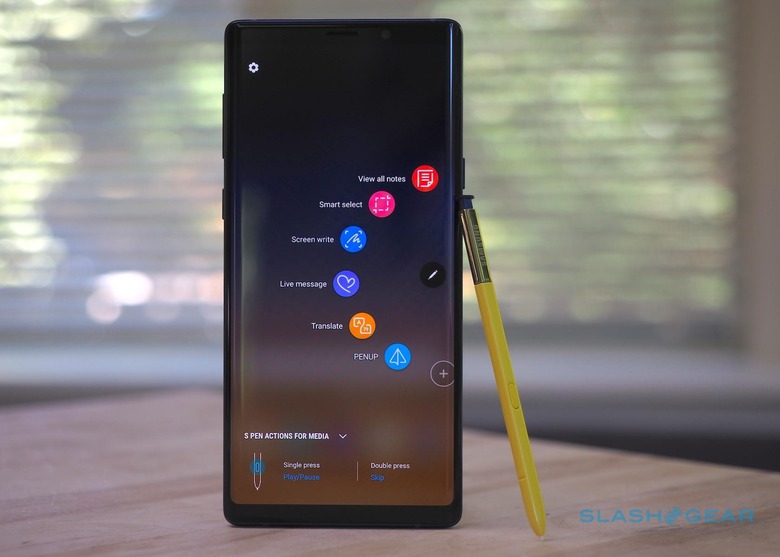 You still get Air Command, with its pop-up launcher that blooms open when you pull the S Pen out, and Screen Off Memo which allows you to jot down a speedy note from the lockscreen. The 6.4-inch screen means there's plenty of space for handwriting and drawings, and it's just as easy as before to capture a screenshot or webpage and then annotate it up.
The Bluetooth kicks in when the S Pen is away from the screen, turning the stylus into a remote control. It works up to around 30 feet away, and the battery – which recharges in about 40 seconds when the S Pen is slotted into its silo – is good for up to 30 minutes standby or 200 clicks of the side button. Hold down the button, and you can have the app of your choice load. After that, in compatible apps at least, the button works as a trigger.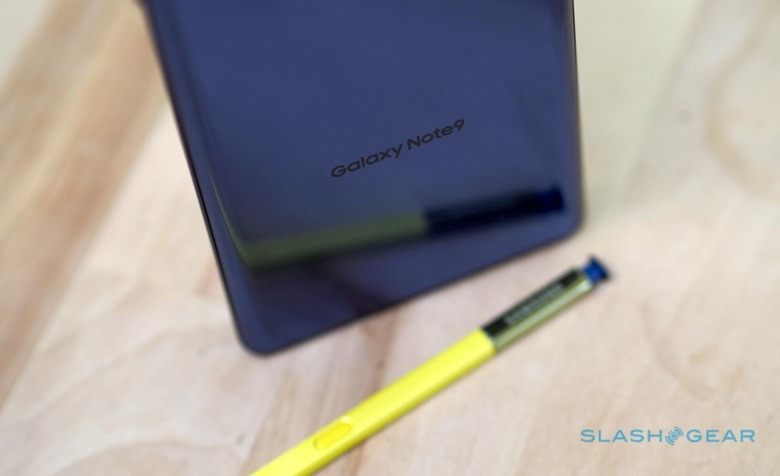 In the camera, for instance, pressing once takes a photo, and pressing twice flips between the front and rear cameras. In the gallery, a single press moves forward one photo, while a double press moves back. The same thing happens in Chrome, moving forward or backward through webpages, and for presentation slides.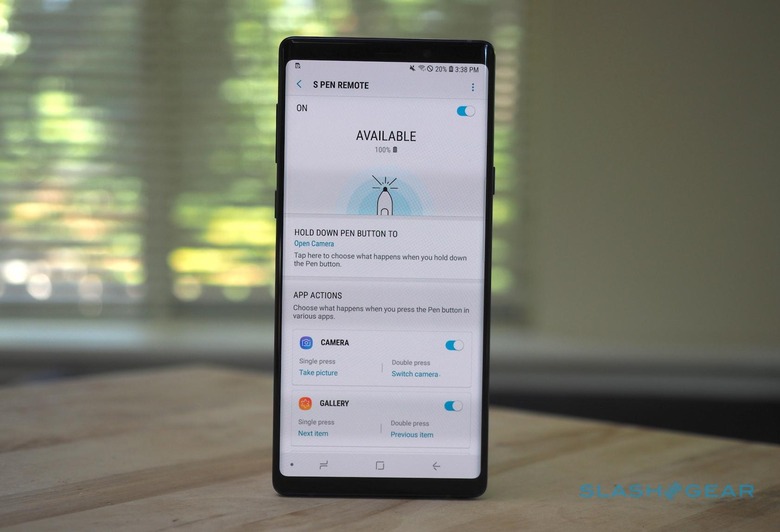 If you're listening to music, pressing the button once toggles between play/pause, while double pressing it skips ahead to the next track. It works in third-party apps, too, like Spotify.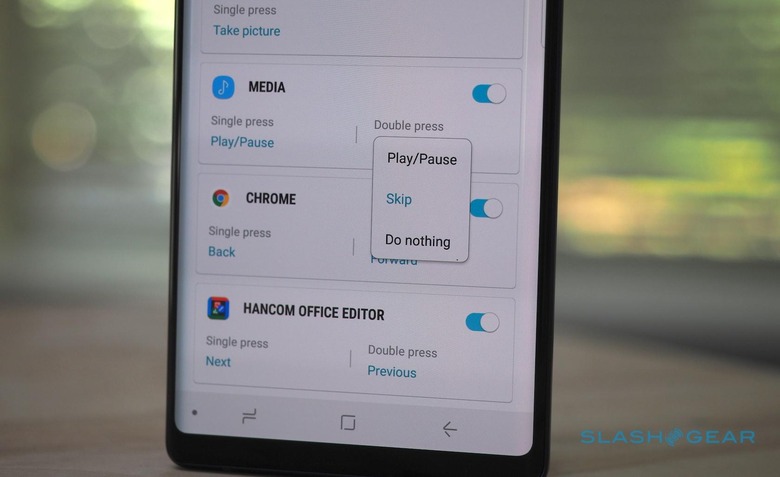 Even with that, the list of third-party apps which take advantage of the new S Pen functionality is fairly short. Samsung's hope is that developers will leap on its SDK, and integrate the stylus' Bluetooth into their own software. For the moment, I generally used it to launch the camera and take photos from across the room, as well as to control music streaming wirelessly via Spotify Connect through some Sonos speakers.
Where's my Pie?
The Galaxy Note 9 launches with Android 8.1 Oreo and Samsung's custom skin, and there's no public timescale for when we could expect Android 9 Pie to arrive. Now certainly, building in stylus-specific features probably doesn't make things easy for Samsung. All the same, wondering when you might get Google's latest OS when you're spending $1,000+ on a flagship phone seems like something Samsung's most committed buyers shouldn't have to worry about.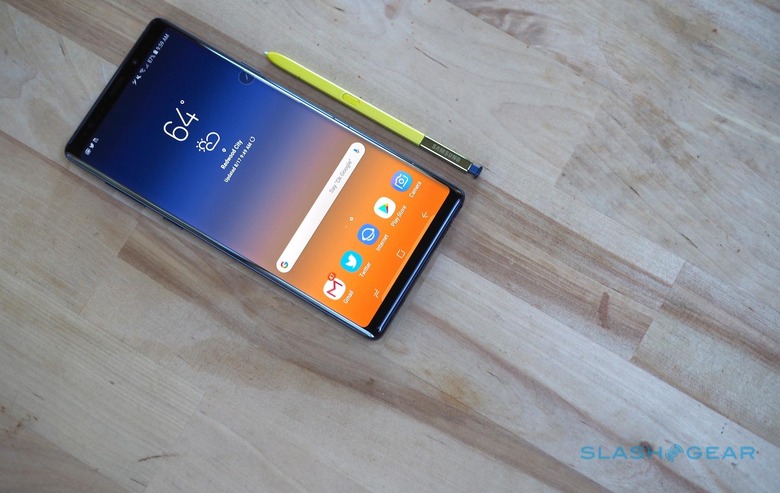 For its part, Samsung tells me that it expects the timeline to echo that of the Note 8's big upgrade. That launched in September 2017 with Android Nougat, with Android Oreo arriving in March of this year. Based on that, it could be six months or so before you see Android 9 Pie for the Note 9.
Part of the problem is that Samsung insists on making a fair number of changes to the Note 9's software, not all of them welcome. We're – thankfully – a long way from the days of extreme TouchWiz bloat, but Samsung does still insist on doubling up on some apps. The Note 9 comes with both Samsung's own browser and Chrome installed; Samsung's own gallery app and Google Photos; and Samsung's own email app and Gmail.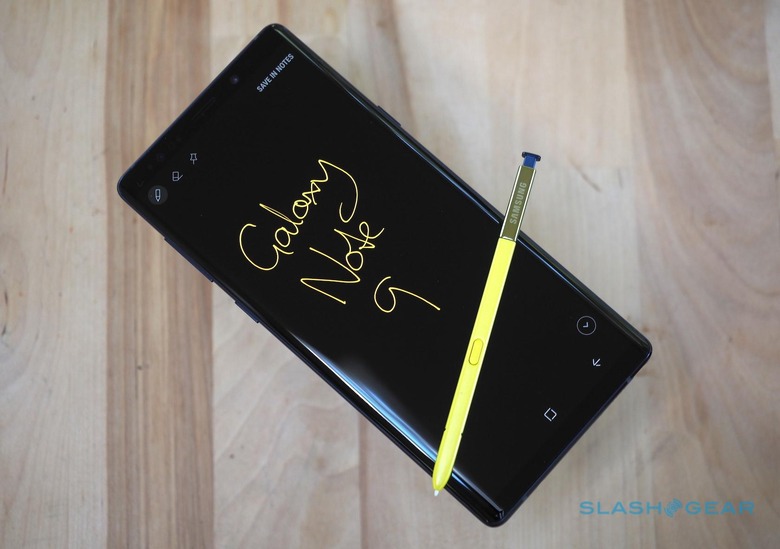 That said, in everyday use the Note 9 is a fairly streamlined affair when you have everything set up. I dumped the duplicate apps into a folder and ignored them, concentrating instead on trying to coax my handwriting into something better than an illegible scrawl, and thus make the most of the S Pen and Samsung's note-taking app. Whatever I did, I had no problems with lag or sluggishness; the combination of the Snapdragon 845 and 6 GB of memory left the experience problem-free.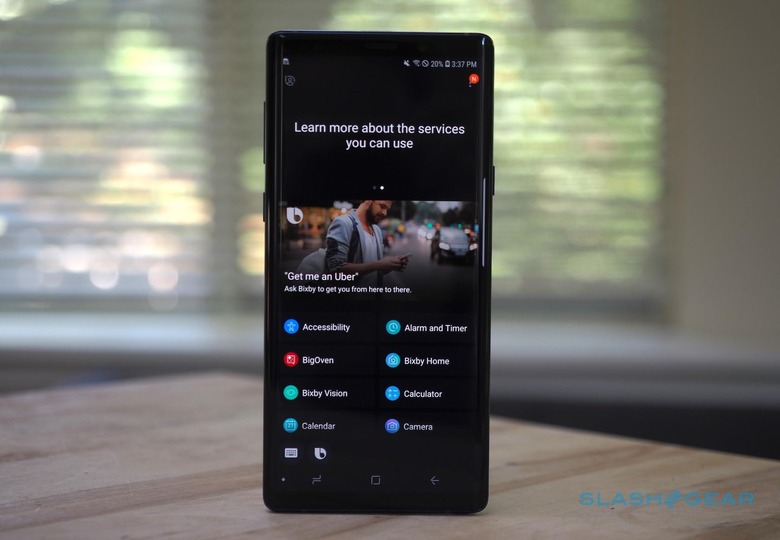 Bixby remains a sore point, and though Samsung says its assistant is much improved now, it's still hardly an AI essential. Third-party app integration is the big news for 2018, but that hasn't been working smoothly in my testing. To be fair, Samsung tells me that it's still working on Bixby and promises the experience will be much better when the Note 9 officially launches later this month.
A streamlined DeX
Samsung DeX was always an intriguing idea – turning your powerful smartphone into a PC replacement, just by connecting an external display – but its reliance on docking stations made it less appealing to road warriors hoping to simply convert a hotel room TV into an impromptu monitor. For the Note 9, Samsung has simplified things. Now, you don't need a full dock, just a USB-C to HDMI adapter.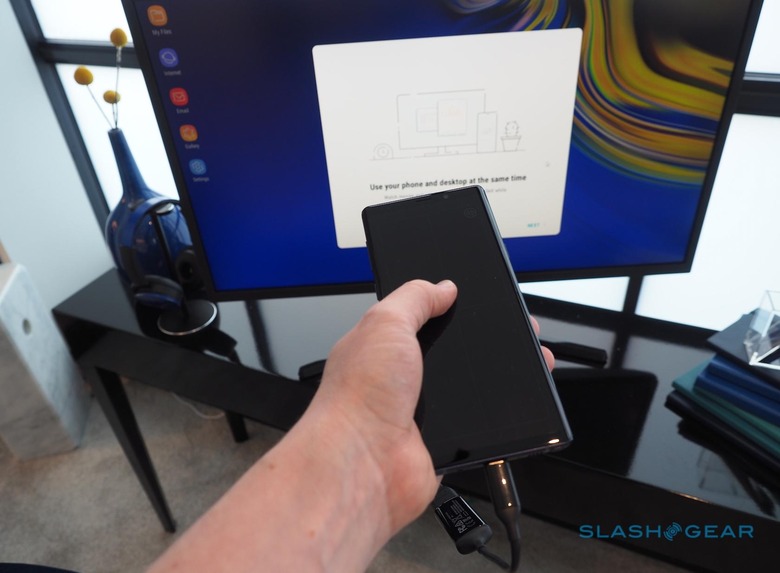 MORE 1 month with DeX and I almost dumped my PC
Officially, Samsung only recommends its own DeX adapter, but I was able to get the Note 9 running just fine with a generic USB-C to HDMI dongle. In fact, when I plugged in a Huawei MateDock – which has HDMI, two USB 3.0 ports, ethernet, and a VGA output – and plugged a USB-C power supply into it, I was able to get a display, wired keyboard and mouse, and a wired network connection running without a problem.
DeX on the Note 9 will work with Bluetooth peripherals, or you can use the touchscreen as a trackpad; the on-screen keyboard will pop up automatically whenever you need to enter text. Still, this ability to get a Windows-esque desktop, with a full-sized keyboard, windowed navigation, and all running from a phone was eye-opening. Honestly, Samsung should bundle a USB-C to HDMI adapter in the box, because I suspect even with the simpler, cheaper approach this time around, a reasonable percentage of Note 9 owners still won't give DeX a try, and that's a real shame.
An AI photographer
Continuing the theme of "something old, something new," the Note 9's camera pairs familiar hardware with new software. In this case, it's the Dual Pixel camera array we saw on the Galaxy S9+ but paired with an updated app that promises a smarter auto mode.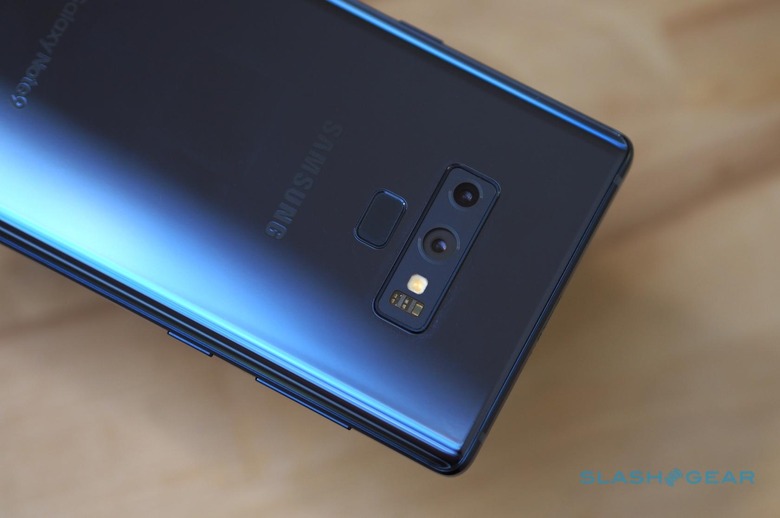 Both sensors run to 12-megapixels and have optical image stabilization. One gets Samsung's Dual Aperture system, with both f/1.5 and f/2.4 lenses that it can physically switch between, either automatically depending on the scene, or manually in Pro mode, depending on lighting conditions. The second sensor has an f/2.4 telephoto lens, for a 2x optical zoom.
We've seen a wide variety of camera setups on recent flagship phones, from separate color and monochrome sensors, to varying apertures, to doing everything with one sensor and extra-clever software. Honestly, there's no one "perfect" configuration either. To my eye, the Note 9 does well with everyday scenes, though I prefer the Pixel 2 XL's faux-bokeh, which does a better job at edge detection, and the Huawei P20 Pro's low-light shots, which don't suffer the Samsung's occasional blotchiness.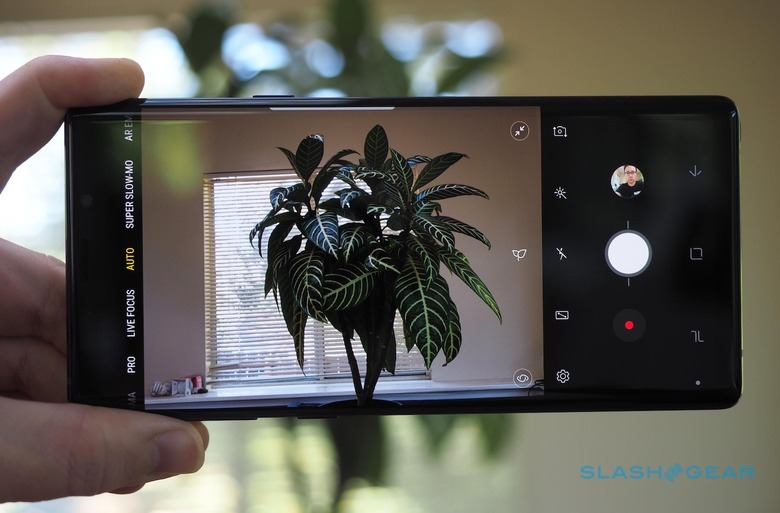 Samsung's focus with the Note 9 has been trying to make sure you get the best possible shot in the moment, then. It calls it Scene Optimizer, and it's basically Samsung's version of an AI identifying what you're trying to take a photo of, and adjusting the settings to suit. Point it at a flower, and the Note 9 should recognize that and adjust the color tones, saturation, white balance, brightness, contrast, and other factors accordingly. There are about 20 different scenes it can identify, including food, portraits, animals, greenery, sky, beaches, sunrises, and waterfalls.
Samsung isn't the first to do this, of course. LG and Huawei have both used AI in their camera apps, and as with the Note 9 the results can be mixed. Samsung's AI makes its decision fast, which is good – you get a small icon in the preview screen indicating what the phone believes it's looking at – though the changes are fairly subtle. Think punchier colors in photos of flowers, richer greens and browns in greenery scenes, and better contrast in atmospheric dusk images.
That light-hand approach is good, because there's no way to revert to the regular photo afterwards. Unlike Samsung's portrait mode shots, which allow you to subsequently adjust the amount of faux-bokeh and even flip to the regular, wide-angle original, Scene Optimizer's changes are permanent. In an ideal world you'd be able to turn it on and off by tapping the icon, but instead you have to dip into the settings, switch it off, and then go back to the preview.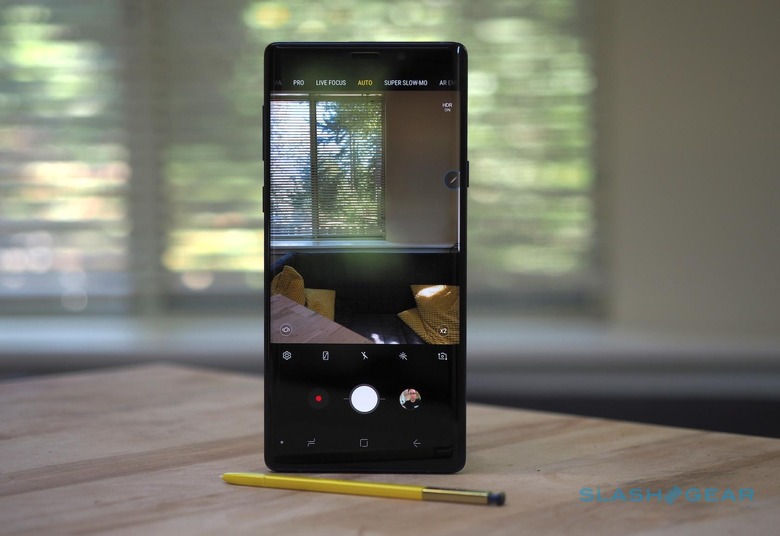 Samsung's other change with the Note 9's camera is Flaw Detection. Basically, if the phone spots that the shot might be blurred, that someone is blinking, that the lens is smudged, or that the subject is back-lit, it will pop up a warning message right after you capture the photo. It's a small touch, but it meant the difference between a photo of someone with their eyes closed and a much better one with them actually looking at the camera in my testing.
Otherwise, this is effectively the Galaxy S9+'s camera, for better or worse. You get 4K video recording at 60fps, but not with stabilization or tracking autofocus at that resolution, nor HDR capture. The front camera is 8-megapixels and captures great selfies, just as long as you avoid the underwhelming portrait mode which you can thankfully turn off.
Battery and Power
Phones getting thicker from one generation to the next is a rarity, but Samsung puts the slight increase to good use in the Note 9 by squeezing in a 4,000 mAh battery. That's a full 700 mAh more than the Note 8. The result is a smartphone that won't just last a full day, but do so even in the hands of power users.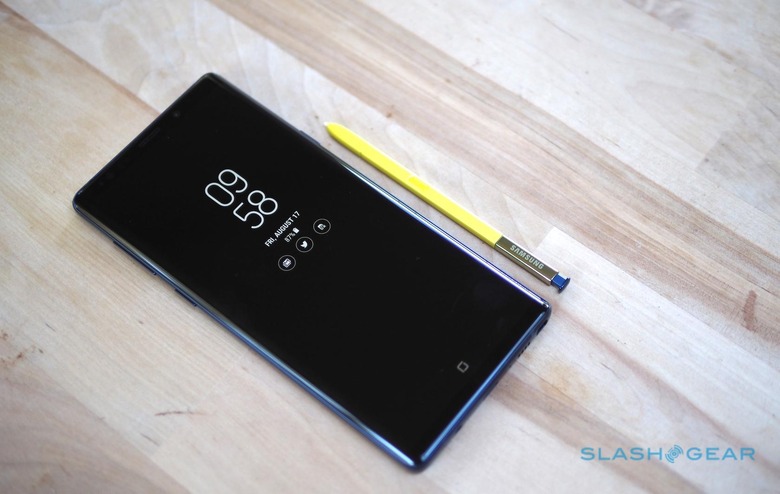 In fact, even with my typical uncompromising use, I generally ended the day with power to spare. Pace yourself – or make use of the power saving features – and you could probably coast through two days before reaching for the charger.
There, you have choices too. Samsung continues to support both fast wired and fast wireless charging, with the latter content with both of the most frequently-found standards. Unfortunately you still only get Quick Charge 2.0 for wired charging, and 15W adapter in the box. That seems a little short-sighted given the Note 9's audience.
Verdict
Is the Note 9 "overpriced"? It's definitely expensive, though, as Samsung fans will eagerly point out to you, Apple went there first with the iPhone X. Of course, you could just as easily argue that $1k+ is too much for a phone, regardless of whose logo is on it. Preorder it today, from $999.99, and you'll get it on August 24.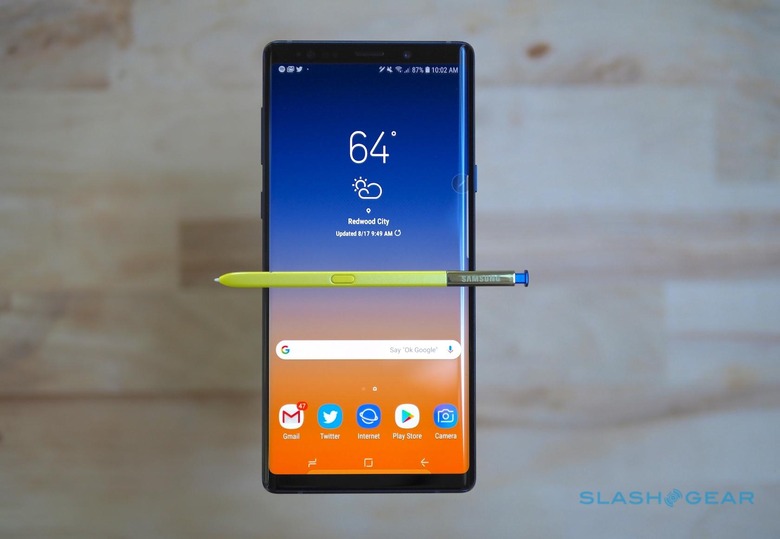 Value and worth depend, inevitably, on how well you're going to make use of a device. I wouldn't question you if you spent a thousand dollars or more on the Note 9 simply because you wanted the greatest Android device around, that's your choice and your budget, but I think it would make a whole lot more sense if you were an avid note-taker, if you were going to replace a laptop with DeX mode, and if your smartphone truly is the centerpiece of your digital life and all the content that comes with that.
Most people, even those who would rightly consider themselves smartphone power users, would probably be satisfied with the Galaxy S9+ and saving almost $200 in the process. If the S Pen and a slightly larger battery are worth that extra cash, more power to you. The Note 9 is a supercar smartphone. Like all supercars, you pay handsomely for the privilege of driving a flagship.
SlashGear uses affiliate links, and sometimes if you buy something we'll receive a commission on the sale. This does not affect our editorial coverage