Samsung Galaxy Gear smartwatch likely lacks bendable display in Gen.1

Samsung's smartwatch ambitions look more and more likely to result in a launch at IFA in early September, with new sources claiming the digital timepiece – believed to be the Samsung Galaxy Gear – will be able to make calls and access the internet. The Android-based smartwatch will be revealed at Samsung's September 4 event, two insiders tell Bloomberg, echoing reports earlier this week tipping a similar timeframe for the reveal. However, some of the other speculation around the accessory may not pan out, one source suggests.
For instance, despite recently spotted filings by Samsung in South Korea, showing a number of flexible display designs for a smartwatch-style accessory, that won't be on the first model. Samsung is said to still be working on a version with a "bendable screen" the insider claims, but the initial model won't offer one.
Whether that means the sort of folded/curved – but fixed in place – displays as demonstrated by Samsung at CES earlier this year remains to be seen. Then, Samsung Mobile Display had prepared a concept handset where part of the AMOLED panel was folded around the edge of the casing, making for an individually controlled update display that could show new notifications and such.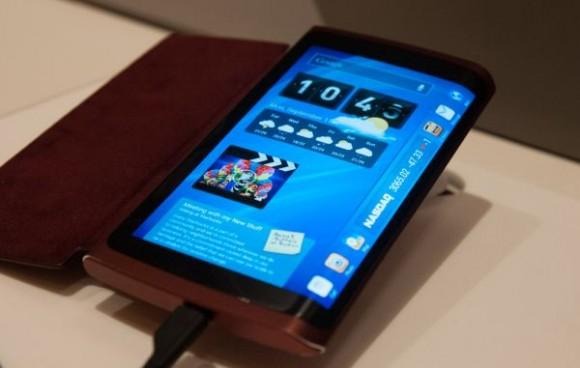 According to the insiders, Samsung is hoping to beat Apple's smartwatch project – colloquially known as "iWatch" – to the punch, having confirmed earlier this year that a timepiece was in the works. The functionality Samsung's model is expected to offer is shaping up to be more complex than on, say, the Pebble, however, with chatter of internet access, calls, and emails all on the watch.
Whether that means a standalone product or one that, as we've seen with most smartwatches to-date, a device intended to be tethered to a nearby smartphone remains to be seen.
Meanwhile, Samsung is said to have at least two more "high end" phones to reveal this year, plus its first Tizen handset. The MeeGo-derivative OS has been slow to reach the market, but is believed to be seen internally by Samsung as the potential star of its internet-of-things strategyZ, being the common language its various home entertainment, appliance, and other products would use to speak to each other around the so-called smart home.