Samsung Galaxy Camera priced and dated for UK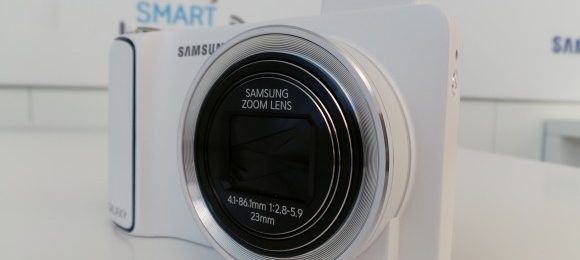 Samsung's Galaxy Camera will go on sale across the UK on November 8, the company has announced, offering 16.1-megapixels, a 21x optical zoom, and Android 4.1 Jelly Bean on a quadcore processor. Announced back at IFA 2012, the Galaxy Camera blends a smartphone with a point-and-shoot, taking advantage of Android's app flexibility and the addition of a 3G radio (or 4G in the US) to make shooting, editing, and uploading images straightforward, all from the device itself.
On the camera side, there's a 16.1-megapixel backside-illuminated CMOS sensor, paired with a 23mm aperture lens and optical image stabilization. It also packs a 21x optical zoom – unheard of on a smartphone, and reasonably rare on compact cameras too –  together with Full HD video recording and 120fps slow-motion 720p videos.
As for the phone side, the Galaxy Camera will do just about everything your Android smartphone can, bar making voice calls. There's HSPA+, WiFi a/b/g/n, Bluetooth 4.0, HDMI 1.4, and 8GB of internal storage, plus a microSDXC card slot, while Android itself is running on a 1.4GHz quadcore processor. Control is via a sizable 720p touchscreen.
Samsung Galaxy Camera hands-on:
According to Jessops, the Galaxy Camera will be £399.99 and available in white and black; it will also be sold via cellphone stores, and – a day early, from 5pm on November 7 – at Samsung's official Brand Store. In the US, the Galaxy Camera will be offered "in the coming weeks" on AT&T.
There's more on the Galaxy Camera in our hands-on, as well as photo samples