AT&T Samsung Galaxy Camera promises "significant shift" for photo/video sharing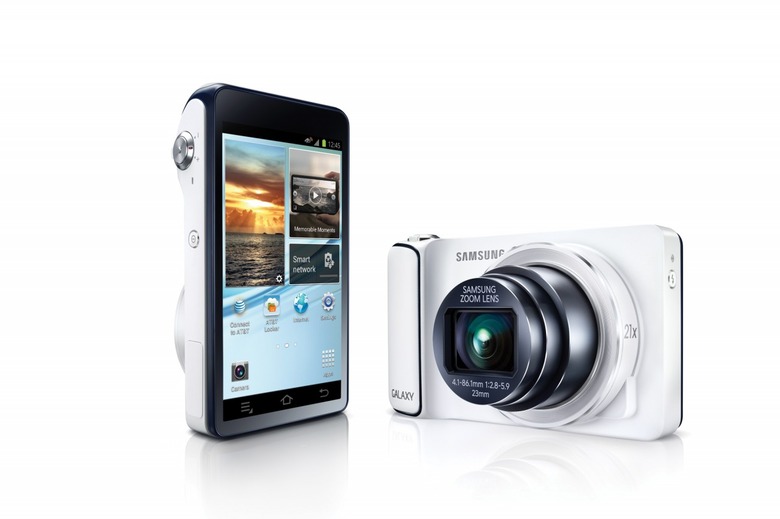 The folks at AT&T are proud today to present the Samsung Galaxy Camera, a device we got our hands on earlier this year at IFA 2012 in Germany. This device is first a camera and second an Android device, so to speak, with a full touch interface on the back, Android inside, and a fully functional point-and-shoot camera up front. This device is a crossover that takes the Android mobile operating system to new strange dimensions – have a peek at our hands-on time with the device while you're thinking about your photo future.
This device will have 4G – but not 4G LTE mind you – with AT&T – that's HSPA+ and still certainly worth a tap. It's got a 4.8-inch HD Super Clear LCD on the back, a 21x optical zoom lens up front, and works with a 16 megapixel BSI CMOS sensor inside. Inside you've got a quad-core Exynos processor from Samsung itself – just as we've seen with the international Samsung Galaxy S III and the Galaxy Note 10.1. This device works with Smart Pro Mode technology for pre-set options configured for professional-level images – so sayeth Samsung.
Chris Penrose, senior vice president of AT&T Emerging Devices, notes that this is going to change everything for the video and photo sharing universe.
"Wirelessly enabling Samsung's Galaxy Camera will create a significant shift in how consumers share and communicate with photos and videos. By posting instantly to social networking sites or sending directly to another device, the person behind the lens is essentially offering family and friends the opportunity to share in the moments as they are actually experiencing them." – Penrose
It's with AT&T's HSPA+ 4G network that you'll be connecting, and with Samsung's advanced technology in both the Android-wielding device universe and photography environment that you'll be taking full advantage of. You've got AllShare Play, Share Shot, and Buddy Photo Share working on the device for more sharing than you'll ever know what to do with, too. Have a peek at our hands-on with these features on the Galaxy S III to see what it's all about – and note that the Galaxy Camera has not been priced, but AT&T has said that it will be in stores "in the coming weeks."