Samsung Galaxy Camera hands-on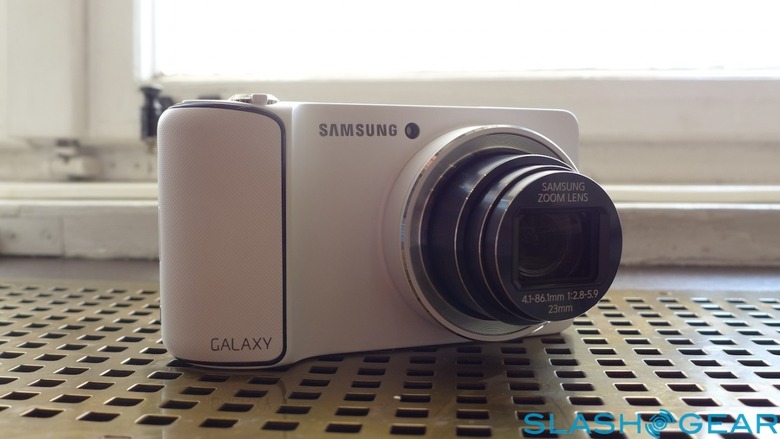 Samsung's Galaxy Camera might run Android, but in your hand it's most definitely a point-and-shoot. Still, Samsung has taken advantage of that heft well: you get a huge 21x optical zoom, 16-megapixel camera and a vast 4.8-inch HD screen. We caught up with Samsung ahead of its IFA 2012 "Unpacked" launch event to see how the Galaxy Camera holds up. Read on for our hands-on first impressions.
If you've used a recent Samsung Android phone, then the Galaxy Camera's interface should be familiar. It's primarily intended for landscape orientation use, though an accelerometer will flip it into portrait mode if you rotate it. Three homescreens with the usual app and widget support, along with support for third-party software, email, browsing and more, are pulled directly from phones; the 35 tool editing suite is a new addition, but is equally straightforward thanks to the expansive touchscreen.
The face-combining tool we've seen on BlackBerry 10 – allowing you to pick out faces from multiple frames, and add them into one image to get the best shot of each person – works well, just as we've seen before. It's not clear whether it's powered by Scalado, as per RIM's implementation, but we wouldn't be surprised.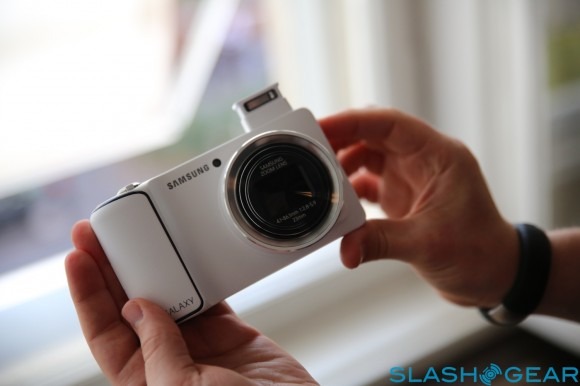 We were able to quickly snap off photos – and indeed you can shoot video and stills simultaneously, though the optical zoom proved more ponderous when clips were filming – and then have the Galaxy Camera automatically identify faces in the frames. Match each person to a contact, and the camera tags each frame with that person for easier recall later. You can search using multiple tags, and so can pull out images that were taken at the same time, with the same people showing, in the same location if you choose.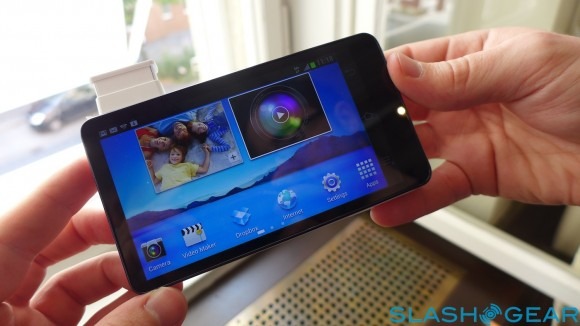 Sharing uses the normal Android share-to menu, though sized up to make the best use of the display, and so any app you have which supports sharing can be used with the camera. That should help longevity, such as if you find yourself addicted to a social network Samsung didn't guess to include out of the box. Uploading can be either via WiFi or 3G/HSPA+, though you can't use the latter connection to make calls. Given Android's popularity with modded ROMs, though, we wouldn't be surprised to see that change shortly after the Galaxy Camera's Q4 2012 launch.
Cameras running Android are still rare, with Polaroid announcing one model at the top of the year but still yet to release it, and Nikon joining the rarified club in recent weeks with the Coolpix S800c. They'll both need to be good to compete with the Samsung Galaxy Camera, however; its photographic abilities have Samsung's lineage, and its camera tech significantly improves the usability experience overall. Pricing may end up being the deciding factor, however, so hopefully carriers won't pull the rug from under the Galaxy Camera before it ever has a chance to shine.