Samsung's foldable phone may use some unexpected inspiration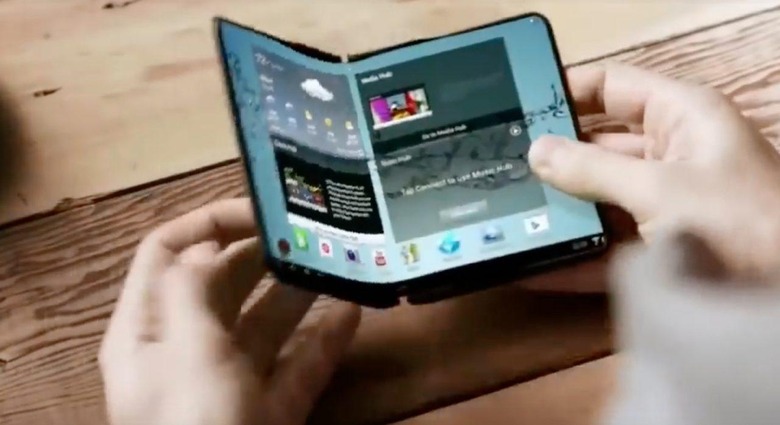 Samsung's folding smartphone, the flexible OLED Android handset generally known as the Galaxy X, will use an unusual asymmetric design, insiders claim. The device, which will use a cutting-edge folding OLED panel built by Samsung Display, will try to address demands both for bigger screens and more pocket-friendly phones. However, in the process it'll also address one big issue folding devices can struggle with.
That's the need to get at least a little information from a device, even when it's closed. We've seen different products tackle that in different ways: clamshell phones, for instance, sprouted smaller, secondary screens on the outside, which could preview information when the handset was closed. Planet Computers' Gemini, meanwhile, eschewed a second screen but uses programmable LEDs that can indicate different things with combinations of flashing colors.
While most of the unofficial concepts of Samsung's upcoming device have shown a smartphone that folds cleanly in half, reports out of Korea suggest that might not be Samsung's goal. Instead, it seems some of the lessons first learned from handsets like the Galaxy Note Edge, the curved-edge smartphone released in late 2014 that went on to influence most Galaxy Note and Galaxy S-series phones, have been carried forward to this new design.
The Note Edge was the first of Samsung's smartphones to put a notification strip on the side of the device. In practice, it could operate as a notification ticker, taking advantage of the fact that OLED panels can be selectively powered up. That concept of a small portion of the display still visible, even when the phone is in a case – or, with a folding device, when most of the screen is closed up – has apparently led Samsung to consider an offset hinge.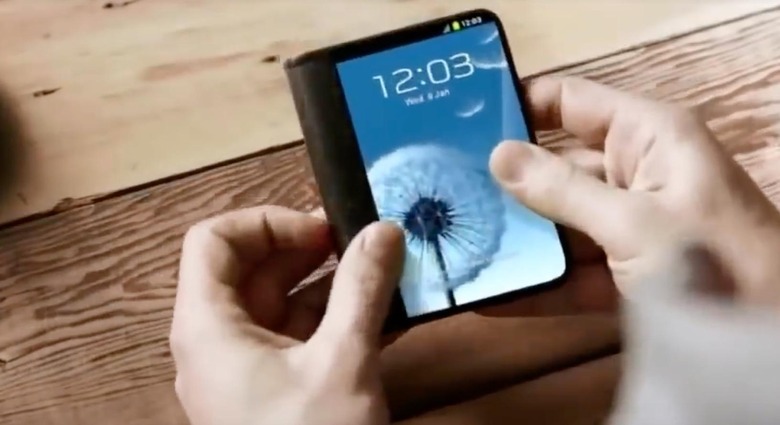 Opened up, ETNews suggests, the handset will have a 7-inch display. However it can be closed into a rectangle, with an offset area that still leaves some of the OLED visible. That can be used to show caller ID of incoming calls, previews of messages, and other alerts.
Folding displays, of course, require special production, and that's something Samsung is also working on. Samsung Display is reportedly planning to begin trial production of flexible OLED panels at a facility in South Korea this summer, focusing on getting things up and running before doubling back to examine things like yields and cost-efficiencies. If all goes to plan, the ambitious scheme could see mass production by the end of the year.
That would see around 100,000 units per year capability, though Samsung Display has even bigger intentions for 2019. Indeed, it's said, the goal is a million panels next year, it's reported.
Samsung had previously announced it intended to get its rollable, foldable OLED production up and running in 2018, but had been cagey about specifics. Back in January, it confirmed that the screen technology was indeed on the roadmap. Which products it would end up in, and what sort of volumes they'd be manufactured at, had not been decided, Samsung execs said at the time.
According to the latest chatter out of South Korea, the goal is still to have a folding phone – the device we've come to know as the Samsung Galaxy X, though the actual launch name of which is still uncertain – on the market at the beginning of 2019. Specifications, beyond the folding 7-inch screen, have not been confirmed. Still, we'd expect something in line with the current Galaxy S9 and Galaxy S9+ since that's pretty much the cutting-edge today.
What it won't be is cheap. Previous leaks have indicated Samsung will match the fairly exclusive production numbers of the Galaxy X with a similarly high-end price tag. Indeed, reports from the company's home country have suggested somewhere north of the equivalent of $1,800 could be on the cards.