Samsung Focus Hands-On And Unboxing With Windows Phone 7.5 Mango [Video]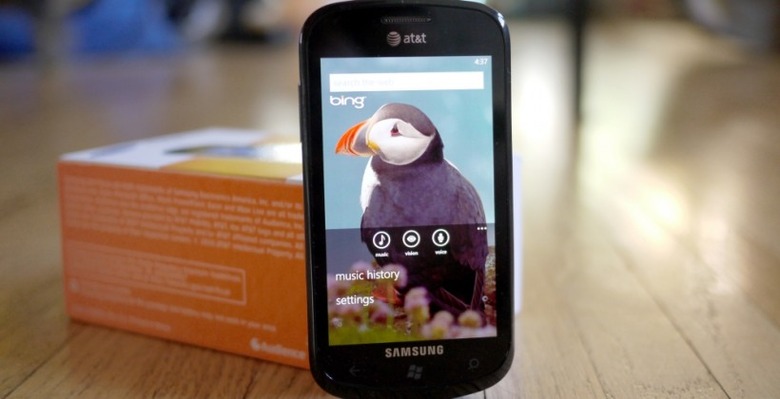 Welcome to the next generation of Windows Phone 7 devices with Mango – you're looking straight at it through a Samsung Focus lens, complete with a 4-inch Super AMOLED display, a .39-inch thin chassis, and 4.1 ounces of weightlessness. Inside you'll find a single core 1GHz, QSD8250, Qualcomm processor, Windows Phone 7.5 Mango, and the ability to shoot some fancy photos with your 5 megapixel camera on the back. What we've got here is an everyman's introductory phone for Mango made simple for each and every customer to get an experience that's both full and controlled right out of the box. Those of you that've seen this device before, you'll have to wait until the review to see Mango in its entirety. For now we're just giving this device another glimpse.
As you'll see in the video, this device feels extremely light and thin, certainly compared to the rest of the Windows Phone 7 devices we've seen released to the market thus far. You've got a 1500 mAh battery under the hood so you'll more than likely get a full day's use out of your smartphone before you need to recharge, and your internal memory at 8GB and external memory at 16GB will keep you ready to hold your media galore as downloaded from the Windows Phone Market and Zune for all the rest.
Have a look at our unboxing and hands-on here:
[vms d9420816bfec5edd6c2b]
Other than the lovely new form factor here in the hardware, we'll be looking at the new Windows Phone enhancements in the newest big version, that being 7.5 Mango. Head back to our first guide for Mango back when it was just 7.1 and check out this video for another simple run-down:
REMINDER : This is not a brand new phone, what we're looking at here is a glimpse at Windows Phone 7.5 Mango in a vehicle we've seen before. The full review will be our look at the final build of Windows Phone 7.5 Mango.