Windows Phone 7.5 Mango update goes live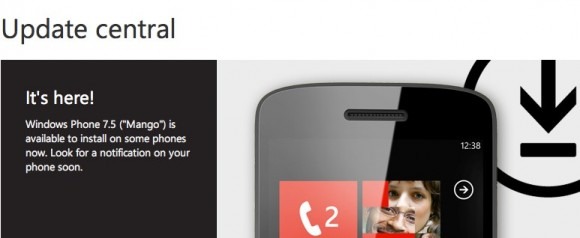 Windows Phone users: time to glue your eyes to your smartphone screen. Microsoft has confirmed that Windows Phone 7.5 Mango is headed out of the virtual door, with users of smartphones like the HTC HD7, Samsung Focus and Dell Venue Pro promised alerts on their device to flag up the newly-available update.
If you can't wait to see the update icon, you can check how your particular carrier/manufacturer is doing on Microsoft's "Where's my phone update?" site. Currently, AT&T, T-Mobile, Verizon and open-market phones are all listed as "scheduling" which is the phase prior to "delivering"; that, Microsoft reckons, will last at most 10 business days. Outside the US, the majority of carriers are also in the scheduling phase.
Although the alert is sent out OTA, Mango itself isn't; you'll need to plug your phone into your PC or Mac and run the Zune software or Windows Phone 7 Connector software respectively. The app will perform a backup first, just in case anything goes wrong, and then download and install Mango. Microsoft says it will take around an hour to complete.
So, exciting times for Windows Phone; we're already keen on WP7.5 from our technical preview earlier in the year. Let us know in the comments if you get the update and whether you're finding Mango to be as juicy as promised or a little under-ripe.