Samsung ES9000 75-inch HDTV unveiled for USA

It's time for Samsung to take things up a notch with their newest, largest, and most expensive television yet in the ES9000 for the United States. This television brings in 75-inches of 3D HDTV – a beast so large that Samsung unveiled it onboard the U.S.S. Intrepid aircraft carrier. Samsung is ready for war, an entertainment in the home war, and they've brought on the monster to prove it.
The ES9000 comes with a selection of unique features, the first of them being the oddly colored bezel around its screen. The bezel is rose gold colored, believe it or not, not black, clear, or even metallic as all Samsung TVs have been in the past. There's a camera up top that hides itself behind the display when not in use, is able to work with hand gestures and Skype as we saw in our recent review of a past model Samsung Smart TV (the ES8000), and voice controls are of course in play as well.
NOTE: We've had our own hands-on experience with this unit on the 4th of July of this year as well – take a peek!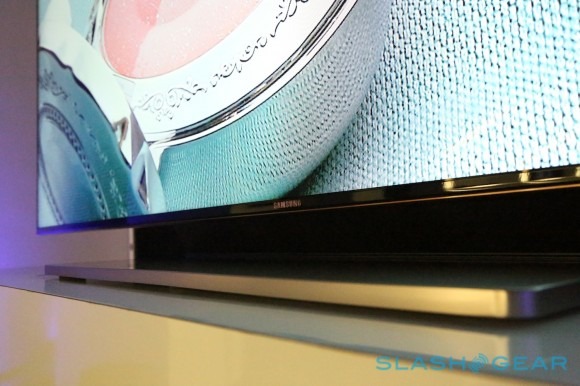 This monster uses the company's Micro Dimming Ultimate as well as Precision Black Local Dimming features which together create the "best" image Samsung TVs have yet brought forth. Samsung is saying that this model offers a massive 30 percent improvement in black levels as well as sharpness over the ES8000. The ES9000 is also said by Samsung to improve over the ES8000's brightness by a whopping 60 percent!
You'll find this massive piece of HD television glory in stores and shipping in August for just $9,999 USD – grab one!