Samsung UN55ES8000 55-inch Smart TV Review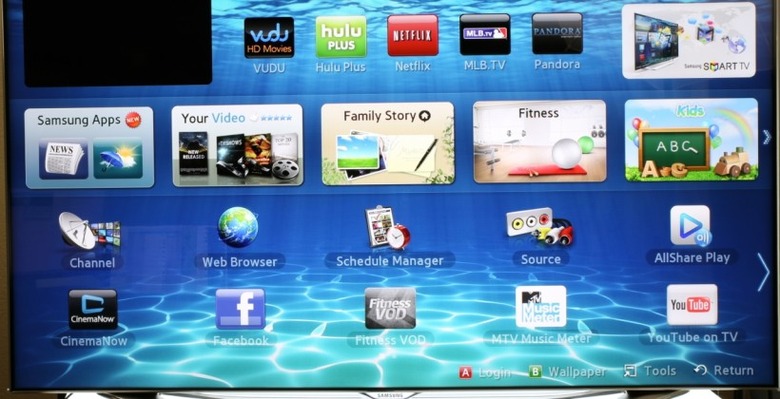 Samsung's D8000 was our TV of choice back in 2011, and the company is hoping to repeat its success with the new 2012 flagship, the Samsung UN55ES8000. A 55-inch behemoth, though with strikingly delicate design, the ES8000 ticks just about every box you'd expect for a modern Smart TV, and then some more after that. It also has a hefty $3,749.99 RRP, so can the quality live up to the cost? Read on for the SlashGear review.
Hardware
Handsome and imposing: Samsung's 2012 design language involves plenty of silver metal and narrow bezels, allowing the LED LCD panel to speak for itself. The stand does away with the splayed legs of the last-gen model and replaces them with more discrete curving bars, though the ES8000 is no less stable for it.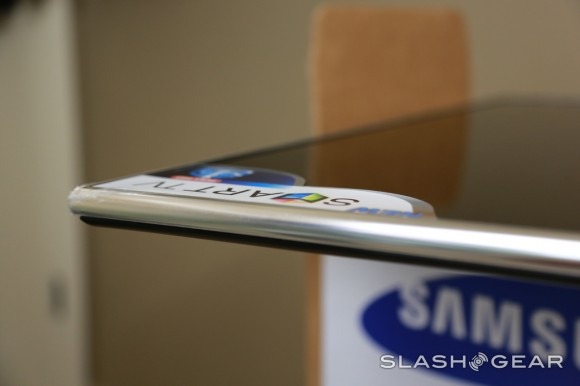 The screen itself measures – on our review model – 55-inches and runs, unsurprisingly, at 1920 x 1080 Full HD resolution. Overall, the set is 1.2-inches thick, excluding the detachable stand (that's 8.3-inches deep) and stands 30-inches tall and 48.4-inches wide.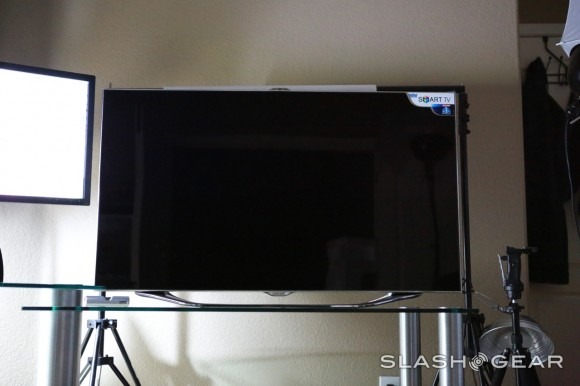 Even those with multiple external sources to hook up should have no issues connecting the ES8000. The ports are arrayed in an L-shape along the lower left side of the rear of the set, emerging parallel to the back so as to keep things flat and slim. There are three HDMI, a VGA, component, two sets of composite, three USB 2.0, optical digital, DVI and PC audio, and RF inputs, along with ethernet and integrated WiFi. If we were being picky then we'd liked to have seen a fourth HDMI, preferably side-mounted for impromptu use. Samsung bundles four pairs of active shutter 3D glasses.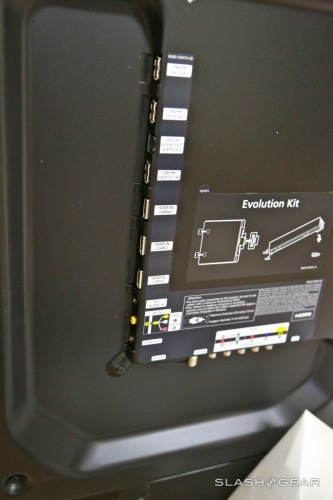 There's also what Samsung refers to as its "Evolution Kit", a new addition for 2012 models. In effect a – currently empty – expansion bay, the idea is that as Samsung releases new features it can retroactively upgrade its existing models with the use of plug-in boards. Of course, as a new idea it's untested, and so we'll have to wait to see if it addresses upgrade anxiety along the line.
For the best results, it's still sensible to ignore the integrated speakers in any TV and rely on a proper surround sound system – or at the very least a solid 2.1 setup – if you want your ears to be as well-treated as your eyes. Still, the two 10W down-firing speakers on the ES8000 aren't the worst we've heard. There's also a webcam on the top edge, built into a discrete bump, and flanked by two microphones.
Remote Controls
Samsung includes not one but two remotes with the ES8000, along with a discrete joystick-nub on the right edge for controlling the set up-close. The regular remote is long and thin, encrusted with buttons for navigating menus and channels, controlling volume, attached DVD/Blu-ray/DVR boxes (via HDMI link) and is backlit for nighttime use.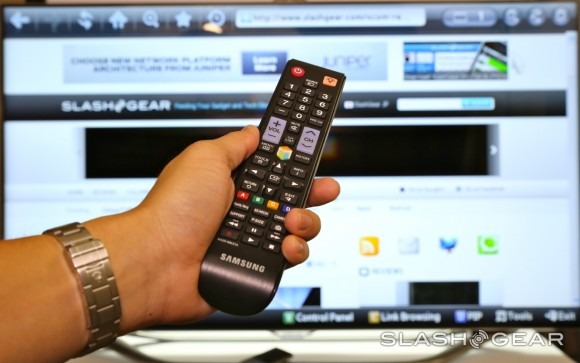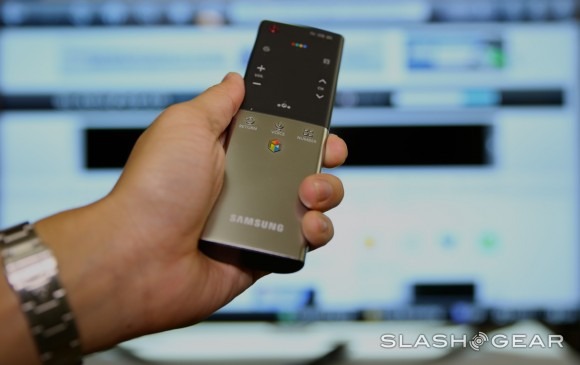 The second "Smart Touch Remote Control" is far more interesting. Shorter than the regular model, it pares back the controls to the bare minimum: there are volume and channel scrolls; power, home, timer and source keys; back, voice control and number shortcuts; all around a trackpad surface. With it, you can swipe your way around menus, but thanks to its integrated microphone you can also give the TV voice commands. We've covered that comprehensively in our Samsung Smart TV hands-on.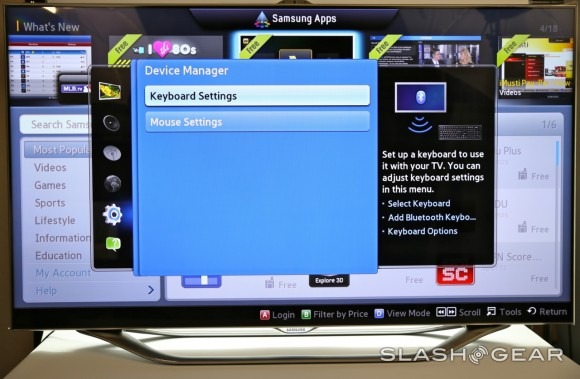 There are also some non-standard options for those who want even more control. The free Android Smart View App runs on phones and tablets, and as long as your ES8000 is on the same network – either wired or wireless, since the TV has both options – you can control it from your touchscreen. There's also a Samsung wireless keyboard, which gives you full-sized text input as well as media control buttons with a Bluetooth connection, though we did not have that as part of our review package.
Samsung Smart TV Voice Gesture and Face Recognition hands-on
[vms 394c828ee150fada6534]
Performance
Samsung's 2011 D8000 impressed us with its panel quality, and we can see ourselves recycling the hyperbole for the 2012 ES8000. Brightness is generally even, though there's a little bloom around the edges, but it's the accuracy of the colors and the detail that particularly wow. The default settings tend toward the over-saturated, as usual, but after spending some time adjusting them we were very pleased with how accurate flesh tones and other hues appeared.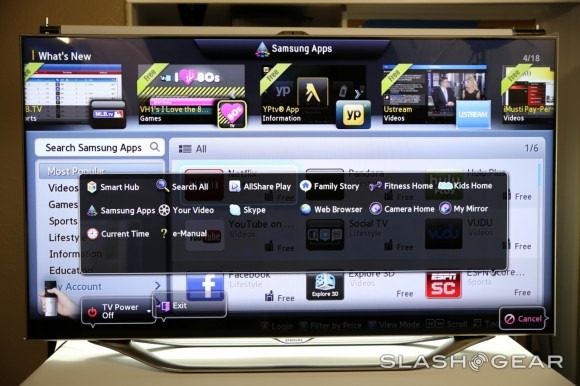 Samsung quotes a meaningless dynamic contrast ratio – 30,000,000:1, no less – but the D8000 handles itself with aplomb. Whites are clean and pure, while blacks are almost as inky and saturated as we're used to from Samsung's AMOLED phones. There was no blurring in fast-moving scenes or sports.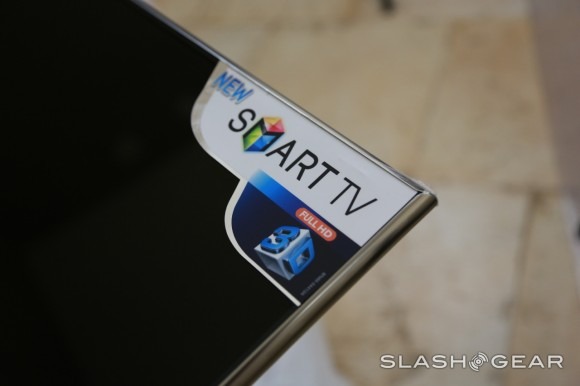 Obviously there's 3D support as well, using Samsung's preferred active-shutter technology. That rapidly obscures and opens each lens alternately, matching the TV's own flicking between frames intended for each eye. It works well, and we were able to watch 3D movies back-to-back without the sort of eye-strain headaches that can often result from poorly-synchronized content. A nice touch is that Samsung charges just $19.99 for each subsequent pair of active-shutter glasses, a far cry from the early days of $50 or more.
Of course, few people rely solely on live TV and DVD/Blu-ray for their entertainment these days, and so Samsung has built in multiple options for the internet age. Scroll through the (somewhat busy and intimidating) menu and there are options for VUDU, Hulu Plus, Netflix, MLB.TV, Pandora, Ustream, CinemaNow, MTV Music Meter, YouTube and more, some of which require a subscription to access. You also get a web browser, Facebook and a "Fitness" app that replicates a little of the Wii Fit experience.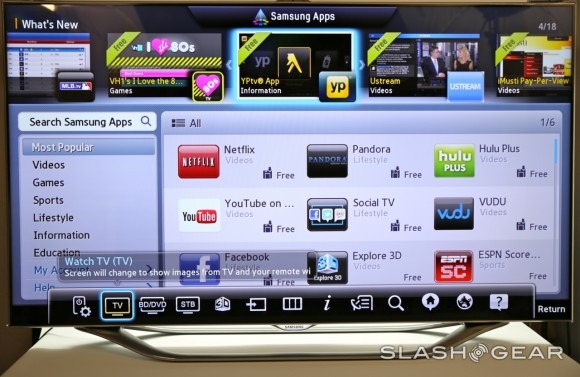 It's a mixed bag of usefulness – we can see Netflix and Hulu Plus being of most use to most owners – though the navigation experience itself can be sluggish and frustrating at times. We particularly liked the Skype support, which turns the ES8000 into a huge video conferencing system. Audio quality from the microphones by the webcam proved surprisingly clear, even when we were sat across the room. Samsung offers numerous downloadable apps through its own app-store to augment the Smart TV experience, though as it's the company's own system rather than, say, Google TV, it's questionable how many third-party companies will come onboard.
Wrap-Up
Samsung's ES8000 is a worthy update to its predecessor, and the company demonstrates its edge over much of the competition with the Smart TV functionality. Is it worth the humongous RRP? That's a null point, given retailers are already discounting it by more than $1,250. You're still paying a lot for a TV, but it's less than the D8000 was at roughly the same point in its lifecycle, and that strikes us as a comparative bargain. The more unusual control options are mixed in their usefulness, but the core range of streaming and on-demand content choices are hugely impressive and broaden the ES8000's appeal beyond the usual TV, movies and gaming.