Samsung 75-inch ES9000 HDTV hands-on
Samsung's ES9000 LED HDTVs were overshadowed by the company's 55-inch OLED announcements, but the flagship LCDs are taking their turn in the spotlight now with the vast 75-inch model leading the way. SlashGear caught up with Samsung in London today, along with a hastily-freighted-in first 75ES9000 unit that had been brought specially from Korea this week.
Even if you have a sizable LCD or plasma strung up on your living room wall, it's hard not to be impressed by the scale of the 75ES9000. 75-inches of 1080p Full HD resolution makes for a set that's bigger than some peoples' actual windows – then again, who needs natural daylight and a view when you can call upon live, on-demand and internet content through Samsung's Smart TV system.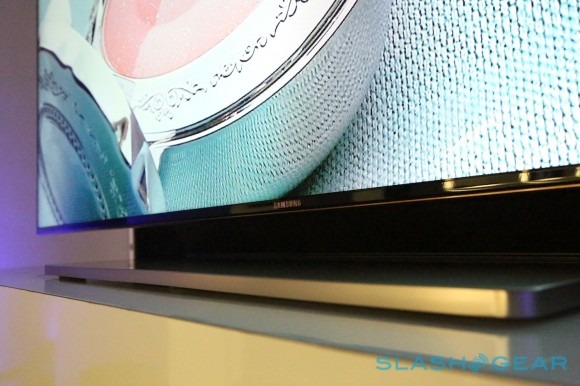 The ES9000 series has the same Smart TV functionality as we played with on the D8000, with the latest apps for the UK market including Netflix, BBC Sport – just in time for Wimbledon and the 2012 Olympics - and BBC iPlayer. There's also a pop-up webcam that appears from above the top edge of the bezel, used for video calls, gesture control and face-recognition. This particular unit was running Korean software, though, as its literally just dropped in from Samsung HQ.
With WiFi onboard, among other things, the 75ES9000 can hook up wirelessly to speaker systems and your home network, and stream video, photos and music from your phone – that's a Galaxy S III looking dwarfed in the photo below – and picture quality is incredible. Viewing angles are practically 180-degrees, and the color saturation rivals some OLEDs we've seen.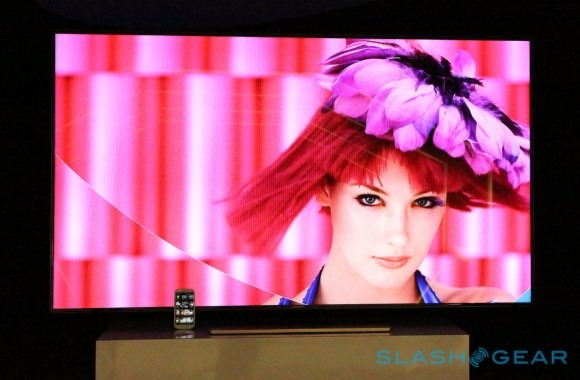 So how much will this slab of 75-inch visual goodness set you back when it launches in time for the holiday 2012 shopping season? Unfortunately Samsung isn't saying, though it's not a hard guess to predict this won't be anywhere near a cheap TV.