Samsung denies staging "Wake Up" anti-Apple flashmob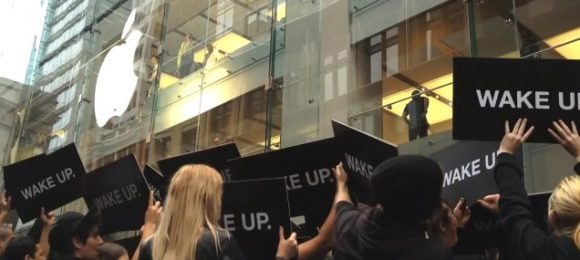 Samsung has denied any involvement with the "Wake Up" flashmob staged outside an Apple Store in Australia, despite suggestions that it was an escalation of the company's anti-iPhone campaign. Reported earlier this week, the flashmob saw dozens of black-clad men and women holding "Wake Up" signs converge outside of the Sydney Apple Store. However, "Samsung Electronics Australia has nothing to do with the 'Wake-Up Campaign" the company told SlashGear today.
When first reported, it was assumed by many that the flashmob had been organized by Samsung as part of its ongoing "iPhone users are sheep" theme. The Korean firm has produced several adverts, starting with one skewering iPhone queues back in November claiming Apple-addicts were waiting in line for devices that had already been superseded in terms of specifications.
That was followed by a second commercial that drew attention to the design similarities between the iPhone 4 and iPhone 4S, and then finally an expensive SuperBowl ad in which the stylus possibilities of the Galaxy Note were highlighted. Most recently, a Galaxy S III teaser implied anybody not waiting for Samsung's newest flagship – expected to be announced next week – is in effect an iSheep.
It's unclear, then, who arranged the Australian flashmob, and when they might step forward. The consensus about the event was that – if Samsung had been behind it – it did not paint the Korean company in a particularly favorable light.