Samsung Central Station Working With Series 7 Slate Hands-On [Video]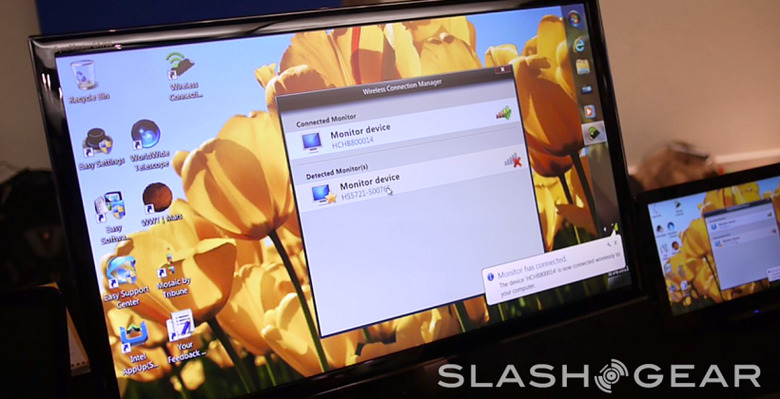 There is a tablet out there right now, ladies and gentlemen, that has many faces, the most recent of which was the Windows 8 developer version of the new Microsoft platform. We've seen this tablet back at IFA 2011, then we saw it again when we got the opportunity to check out the Windows 8 version of it just this week at Microsoft BUILD developers conference. Now what we're getting to see at the Pepcom Holiday Spectacular 2011 in NYC is this slate, once again using Windows 7, working flawlessly with the Samsung Central Station, a wireless display hub made to allow you the ability to mirror any device on its lovely large 27-inch screen
Back at CES 2011, we got a very brief look at this Central Station device as it existed pre-final shipped edition. Now we see that the display, available in both 23 and 27-inch versions, is ready and out on the market, working with essentially any device that's able to have a full-sized USB dongle plugged into it. What the Samsung Central Station offers you is more than just a mirroring-capable monitor right out of the box, it allows you to do so with as little hassle on your part as physically possible. Just plug the USB bit in your device, activate it once, and have the display instantly pick up your host device's presence whenever its near.
It's magic! Have a look at the video here:
[vms e7dd3cccd534d0ae2a2e]
Now this monitor is out on the market right this second wherever fine electronics are sold, but the futuristic Windows 8 is not yet implemented on the tablet as you might expect following the massive amount of coverage that OS / device combo has received over the past week specifically. What we've learned, on the other hand, is that because of the versatility of both the monitor and Windows 8's ability to run every bit of software that Windows 7 was able to, you'll have no problem in the future with your various Windows 8- laden bits of hardware. Go for it instantly.
ALSO note that you can check out the rest of our hands-on videos from the event in our Pepcom Holiday Spectacular 2011 portal!