This afternoon we've gotten our hands on the Samsung ATIV Odyssey for the first time off the showroom floor, and this Windows Phone 8 combination with Samsung hardware prowess is looking like a winner right out of the box. This machine is going to be available to you starting today from Verizon complete with 4G LTE and a Qualcomm Snapdragon S4 dual-core 1.5GHz processor under a lovely 4-inch WVGA display. Will this new Samsung hero for the Windows Phone 8 universe be enough to take out the Nokia Lumia 822 and HTC Windows Phone 8X competition?
This machine is smooth to the touch, has a hard plastic back and sides, and makes little effort to differentiate itself (on the outside) from the Samsung Focus 1 and 2 as far as basic aesthetics go. When it comes to the actual largeness of the display, the brightness, the color, and the innards of this device as well, you'll find that the ATIV Odyssey is a whole new show. In addition to working with a microSD card slot with the ability to hold 64GB cards, you'll find this device more than ready to move forward with Microsoft's newest mobile operating system as well.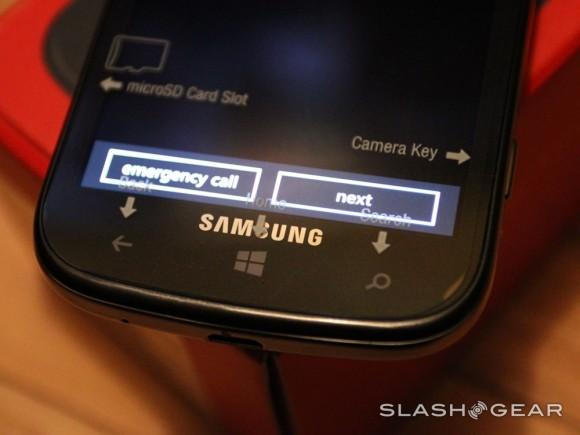 With a 2,100 mAh battery under the back panel of this machine we're expecting some rather excellent up-time across the day. We've also got a 5 megapixel camera on the back, a 1.2 megapixel camera on the front, and Qualcomm's support for image processing inside that Snapdragon – so we're expecting some lovely photo and video results in the very near future. This machine comes with 1GB of RAM to handle the most powerful apps available for Windows Phone today, and the full package seems to be, at the moment, a rather solid package for the Microsoft-loving masses.
The gallery you're having a peek at here includes a small set of photos taken with the camera on this phone. Note that the photos taken of the biker are taken through a window, so they are a bit more hazy than they would be had they been taking without said window outside. We'll have more photos and demo video in the final review, coming up soon!
Have a peek at the hands-on photos above and below and let us know if you plan on picking this device up today at Verizon. This beast will be available to you starting on January 24th, 2013 for $49.99 after a $50 mail-in rebate and a sign-up with an agreement for two years of service with Verizon. Stick around for our full review of this device coming up soon!