Samsung Android Ice Cream Sandwich Tablet discovered in CTIA video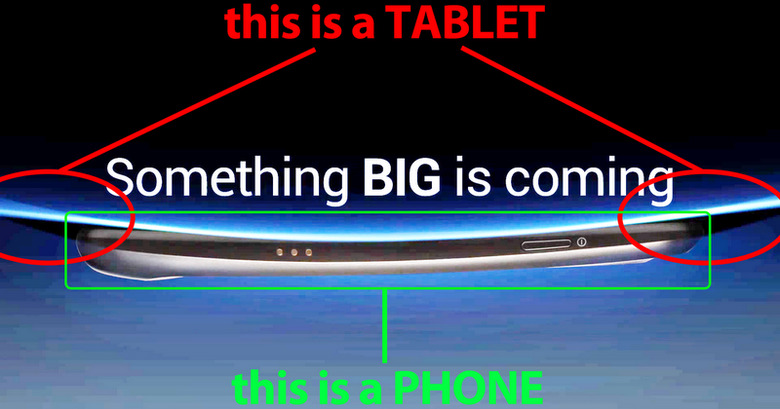 It appears that there may be "more than meets the eye", if I may quote my transformer friends, in that Samsung video we saw early this morning – not just a "Nexus" phone, but a tablet too. As filmmaker Joe Lancaster sends us a tip on, the clip in the video we saw this morning certainly does include at LEAST the image of a smartphone of some sort with the three pins for inductive charging on the landscape side of the device, while behind the smartphone may well be a secondary device that's slightly more hidden from view. Seem wild enough to be true?
As you may well know by now, the next version of Android is dubbed Ice Cream Sandwich because I is the next letter in the alphabet (FroYo, Gingerbread, Honeycomb, Ice Cream Sandwich) and the sandwich part is the combining of the tablet-based OS and the smartphone-based OS. There will be one Android operating system from Ice Cream Sandwich on forward, and it seems very likely that this year's CTIA (next week) will play host to the release of that OS. Samsung has an event coming up which continues their "Unpacked" series, this one tied directly with Google.
So what Lancaster has done here is to take the clearest moment in the video we saw this morning and add a few indicators to suggest that behind the obvious smartphone there is a tablet in the background as well. Seem crazy to you? Have a closer look:
Then stick with us here on SlashGear for the main event next week as we'll be there LIVE to bring you the best pics and video on earth! Samsung Mobile Unpacked 2011 Google Episode live here on SlashGear!
[vms ec039965f3c4923ce901]
BONUS: what if this is a phone/tablet combo like one of the following? ECS prototype for iPhone, TransPhone, AlwaysInnovating, ASUS Padfone. Wacky, perhaps TOO wacky.
[via Joe Lancaster]