Samsung 8-core big.LITTLE chip due 2013 (but don't expect it in the GS4)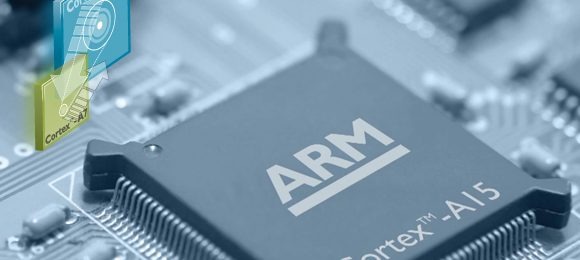 Samsung is readying an 8-core processor using ARM's big.LITTLE architecture for a reveal on February 19, it's confirmed, pairing half powerful and half frugal cores for capable and long-lasting phones and tablets. The unnamed chip will be shown off at the International Solid State Circuits conference [pdf link] next year, a 28nm SoC which combines a pair of quadcore clusters: the first, for power, running at 1.8GHz with Cortex A15 cores, and the second, for efficiency, running at 1.2GHz with Cortex A7 cores.
Although not spelled out exactly, the new chipset is expected to be the first example of what ARM describes as big.LITTLE computing. That premise, described publicly back in October 2011, takes on the challenge of users wanting devices capable of running high-performance apps and games, but also of lasting a full day or more on a single charge, by combining different types of CPU core selected for their varying expertise.
Even the lower-powered A7 core should have some legs on it, however. ARM has claimed it is akin to the performance seen from the iPhone 4S or the Galaxy Nexus, despite being significantly cheaper than the SoCs both smartphones use; ARM also confirmed it had licensed the big.LITTLE architecture to fourteen chip manufacturers.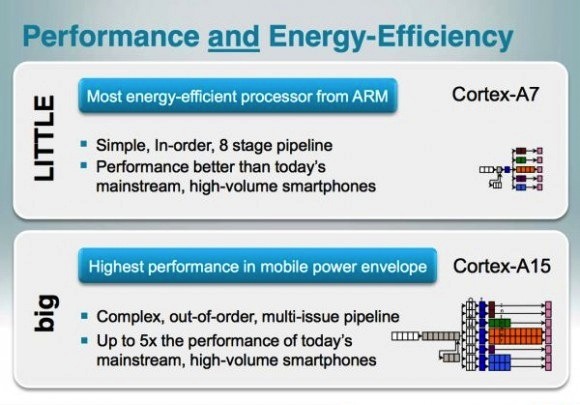 It's worth noting that, while an 8-core chip, the big.LITTLE design doesn't intend for all to be running simultaneously. In fact, the processor would switch between the A15 and A7 quadcores, based on the current system load.
Exactly when the Samsung big.LITTLE chip might show up in the first products – and what those products could be – is unclear at this stage. Samsung is tipped to be using a quadcore A15 chipset in the rumored Galaxy S 4, tipped for release early in the new year, though the 8-core processor is more likely to be headed first to a tablet, potentially a successor to the Nexus 10.