ARM unveils Cortex A7, its most energy efficient processor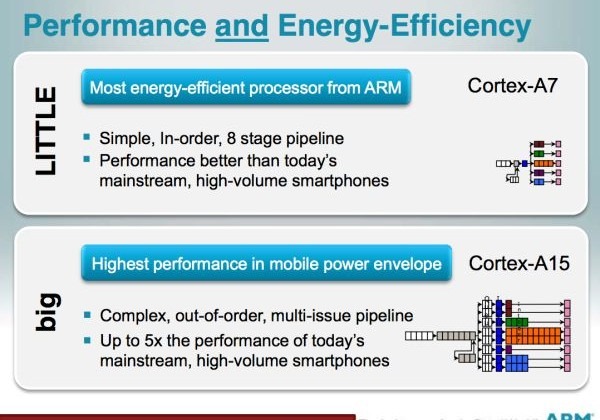 ARM has announced today a new Cortex A7 processor, hailed as its most energy efficient processor to date. The Cortex A7 delivers 5 times the energy efficiency and is one-fifth the size of the Cortex A8 processor that's common in many entry-level smartphones. It can be used on its own or as a companion core in Cortex A15 based SoCs.
The Cortex A7 may appear to be a stepped up Cortex A8, which is a rather old design, but the A7 is much improved in several areas. On its own, the A7 could power sub-$100 entry level smartphones for 2013-2014 with the same processing performance as today's $500 high-end smartphones.
And as a companion core, it can be used in next-gen high-end smartphones with quad-core and A15-based SoCs. Next-gen SoCs like NVIDIA's Tegra 3 Kal-El quadcore processor currently use A9 companion cores. Replacing with A7 companion cores could in theory reduce power consumption by as much as 70%.
[via AnandTech]