Samsung 2019 QLED 4K, 8K TVs released in 41-set onslaught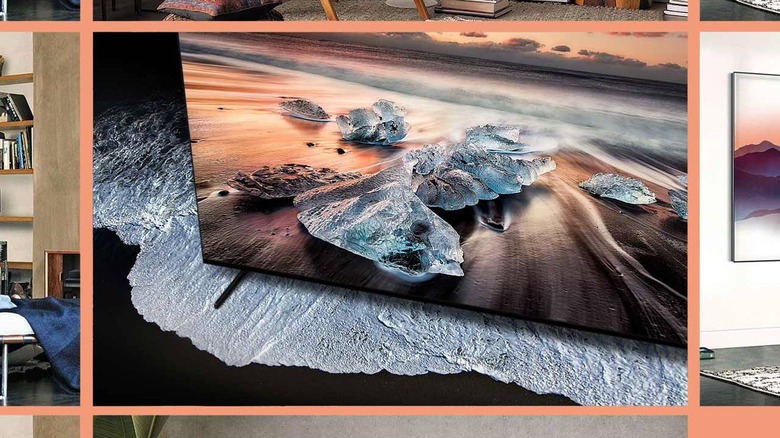 A whopping 41 new model 2019 Samsung QLED television sets were revealed today – in every possible size you can imagine. Every size that makes any possible sense to manufacture, it would seem, will be available from Samsung imminently. Barring cost, it would seem Samsung's not allowing any sort of other question about the unique set of qualities a television must have get in your way of owning one of their newest sets.
Samsung revealed 10 models available for sale this week, and a total of 41 new television sets. The Samsung Q900 lineup has five individual different panel sizes available. There's a 65-inch, 75-inch, 82-inch, 85-inch, and 98-inch set in the mix. Almost as if Samsung is saying "I swear to god if you don't find the size you want, I'm going to turn this car right around, then around again so you can look at a 4K TV instead."
Samsung's 4K QLED lineup exists in subsets Q90, Q80, Q70, and Q60. Those aren't even separated into sizes just yet. There's and 82-inch set for all four subsets. The same with 75-inch and 65-inch – one for each of the four Qs. Then the Q80 has a 55-inch set – as does Q70 and Q60. The 49-inch set exists in the Q70 and Q60 subset, and there's only one 43-inch set in Samsung's QLED 4K lineup, that being the Q60. You can also get a Q60 in 49-inch, 55-inch, 65-inch, 75-inch, and 82-inch models.
"This year's lineup represents our largest screen size offering ever," said Andrew Sivori, VP, TV Product Marketing, Samsung Electronics America. President of Samsung's Visual Display unit Jonghee Han said, "over half of premium TVs with 8K sold this year will be those made by [Samsung]."
The most fancy of television sets in the Samsung collection this year are The Frame and The Serif. The Serif only comes in a 55-inch model, while The Frame comes in 43-inch, 49-inch, 55-inch, and 65-inch models.
Samsung also has a lesser lineup that's not quite QLED, only 4K UHD RU. This includes the RU8000 in 49, 55, 65, 75, and 82-inch sets. This lineup includes the RU7100 in 43, 49, 55, 58, 65, and 75-inch sets. It also includes the RU7300 (curved) lineup in 55-inch and 65-inch models.
QLED 8K:
• Q900: 65", 75", 82", 85", 98"
QLED 4K:
• Q90: 65", 75", 82"
• Q80: 55", 65", 75", 82"
• Q70: 49", 55", 65", 75", 82"
• Q60: 43", 49", 55", 65", 75", 82"
QLED Lifestyle 4K TVs:
• The Frame: 43", 49", 55", 65"
• The Serif: 55"
4K UHD RU Series:
• RU8000: 49", 55", 65", 75", 82"
• RU7300 (Curved): 55", 65"
• RU7100: 43", 49", 55", 58", 65", 75"
Can you imagine being so massive and successful a company as to find creating this many products at once a real possibility? Imagine if this was the plan which made the most business sense – the way in which your company was able to realistically cover the market with television sets you knew you'd be able to sell. What a world we live in today!