Samsung 16GB DDR3 RAM ships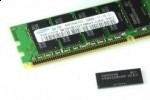 Samsung has begun shipping 16GB DDR3 RAM, which the company claims is the world's first and smallest high-density memory module.  Targeted at servers, the 16GB DDR3 stick is also joined by an 8GB DDR3 RDIMM version; both are based on 2Gb, 50nm-class DDR3 memory.
The new RAM follows Samsung's 4GB single-stick DDR3 memory for consumer PCs, announced back in January.  The 16GB memory rums at 1066Mbps, and is built in a dual-die package configuration that, Samsung claims, shows cost and performance efficiency improvements over quad-die configs.
Samsung's 16GB DDR3 RIMM module and 8GB DDR3 RDIMM module should be available soon, though no pricing has been released.  DDR3 memory is expected to take 29-percent of the DRAM market in 2009, climbing to 75-percent in 2011.