Rylo Review: This 360-Degree Camera Has A Film Crew Inside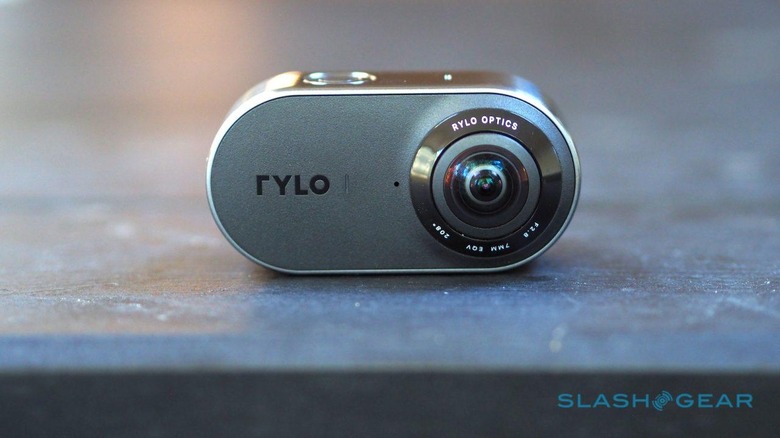 EDITORS' RATING: 8/10
360-degree video may be niche, but startup Rylo wants to do more imaginative things with spherical video: shoot first, then worry about composition later. Brainchild of two former Instagram engineers, the $499 camera can happily capture all the 4K 360-degree footage you want, but it really comes into its own when you use its powerful editing options to extract a regular 1080p with virtual pans, tracking, and more. Factor in excellent stabilization and a simple app, and you have to ask whether this is the future of action cameras.
The Rylo camera itself is slightly wider though squatter than a GoPro HERO6, with a metal frame inset with plastic and the twin bulging lenses. Each is f/2.8 and captures at 208-degrees, with the combined footage allowing for some overlap for better blending. On the bottom is a door with access to the removable 830 mAh battery that lasts for about an hour of recording, and a microSD slot; Rylo will bundle a 16GB card in the box, good for around 35 minutes of video recording.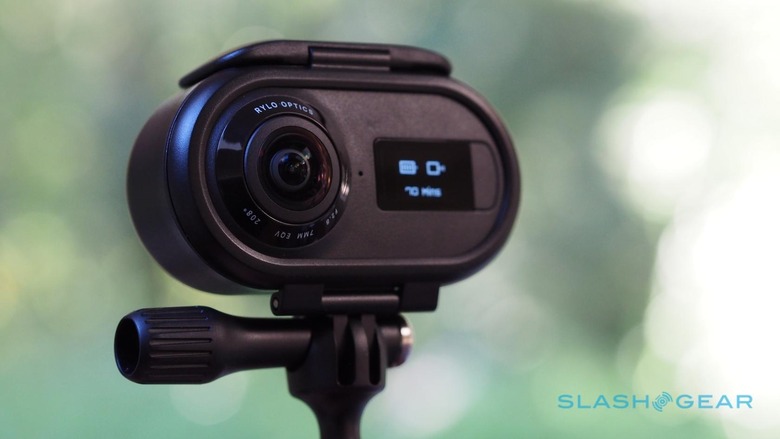 Unfortunately it's not waterproof, though Rylo does offer a $69 Action Case which is water-resistant up to 10 feet. The company didn't have one that I could test, but did include the so-called Everyday Case which will be bundled with the camera as standard. That has a GoPro-style mount on the bottom, and comes with a short handle with a tripod screw at the end.
Controls are minimalistic. The button on the top doubles for power and starting recording. A second button, on the side, toggles between photo and video modes. There's a small monochrome OLED screen to show battery level, recording mode, and the amount of video or number of shots remaining; alongside it there's an LED bar that flashes red or green depending on whether the camera is recording or charging.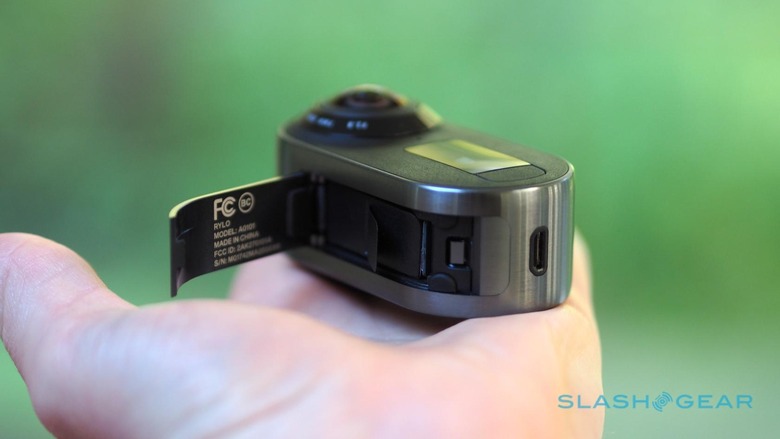 Unlike a typical GoPro, which has various timelapse and other modes, the Rylo camera does two things. In video mode, it records 360-degree footage at 4K resolution. In photo mode, it snaps a 6K still image. There's no option to set a timer for stills, and if you want a timelapse video it's all done in software from a regular recording.
Unusually, there's also no wireless connectivity: instead, Rylo connects to your phone via its microUSB port. The iPhone version is available first, with a short microUSB to Lighting cable. Come early 2018, there'll be a Rylo for Android kit, which includes short microUSB and USB-C cables. Either way, there's a longer USB to microUSB cable in the box to charge the camera up.
Having watched the GoPro app in frustration, waiting for clips to wirelessly transfer to my phone, I'm not averse to Rylo's method. It's certainly much faster: clips show up quickly in the app, and can then be tapped to import them. On an iPhone X it's a little slower than real-time to transfer: about 70 seconds for every minute of footage. Rylo includes a small carrying pouch – lined in microfiber to help keep the twin lenses clean – which also has space for the sync cable.
What I did miss was the ability to at least remotely control the camera. When I'm shooting with a GoPro, it's often out of easy reach: mounted somewhere on the bodywork of a car, for instance. Using the GoPro app I can not only preview what the camera sees, but start and stop recording from afar. That has obvious benefits for saving both power and storage.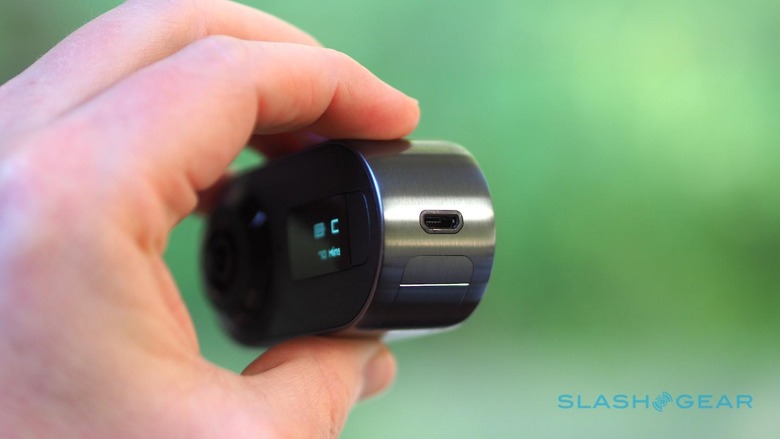 Rylo, though, only allows you to start or stop recording with the physical button on the camera. There's also no way to preview what the camera is recording. Now admittedly, with a 360-degree video there's less concern about getting the angles right, but it does make general positioning a trial-and-error affair.
The clever stuff happens when you're in the Rylo app, which is deceptively simple. You can output a 360-degree 4K clip, yes, but the real magic is in how Rylo allows you to produce a Full HD edited excerpt.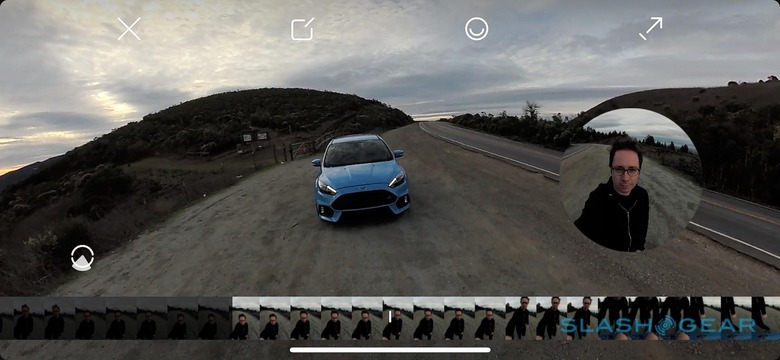 Obviously you can trim and crop your clips, or make a timelapse at up to 16x speed. Rylo offers a FrontBack feature, which adds a picture-in-picture window intended to show your reaction inset into the main video. There are three different shaped windows to choose between.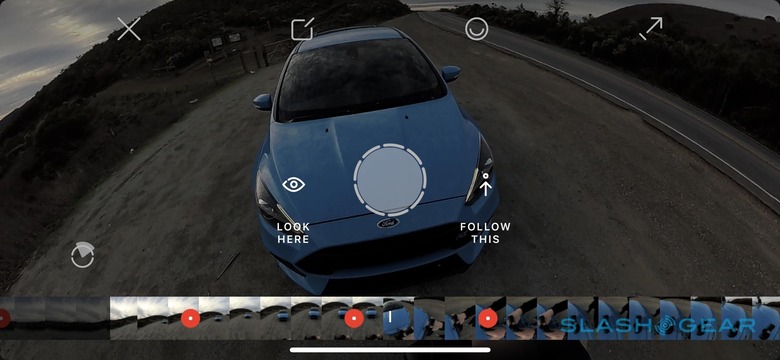 It's the follow and points editing features which are most powerful, though. Tap and hold your finger on a subject and options for each pop up. With follow, the video plays back centered on that subject, the frame moving around as they move. It's basically like having a camera operator panning and tilting to keep the subject aligned, though I did find that at times the follow feature would lose the person it was tracking, particularly if they moved between the front and rear lenses.
Points, meanwhile, allow you to set focus points within the 360 footage for a traditional video export. Rylo automatically pans between each of those points in turn. For instance, if you recorded a video of you cycling with the camera mounted on the handlebars, you could first set a point on your face, then one on the view ahead of you, and finally down at the wheel beneath, and Rylo would smoothly move the frame accordingly.
It makes creating a regular video from a 360-degree clip surprisingly easy, though there are a few missing features. For a start you can't control the speed of the pan between points: there's no way to switch between a fast pan to a new angle, or a slow, languid one. You can force something like that by dropping extra points just before the next transition, but it's not ideal.
Also absent is the ability to zoom with a point, not just pan. While you can zoom into the video, that affects the whole clip. It would've been nice to be able to also zoom in and out of the frame. Perhaps that would all make the mobile app too cluttered, but since Rylo doesn't have a desktop counterpart for the camera, you'e basically left with what your phone can achieve.
Once you've finished editing, you can export and share directly to various social networks from within the Rylo app. The final clips look better than their in-app previews, seemingly done in the name of efficiency and performance. It's particularly visible at the crossover point between the two lenses, which is much more obvious in the preview than in the final clip; still, like many consumer 360 cameras, there can be visual glitches particularly directly above or below. What's notable is just how good Rylo's digital stabilization is. Indeed, you can toggle it on and off to see just how much bounce and shake the camera is smoothing out.
Update: You can see how much vibration is hitting the camera mount in the second demo video below, versus how little is actually showing up in the video itself:
Wrap-up
I've been fairly unenthusiastic about 360-degree cameras, primarily because I've never really wanted to watch – or share – a 360-degree video. What I find far more interesting is the ability to extract a traditional video from a 360-degree clip, and that's where Rylo has real promise. With a little imagination you can create footage that looks as though a cameraperson had a hand in it, even though you shot it all yourself.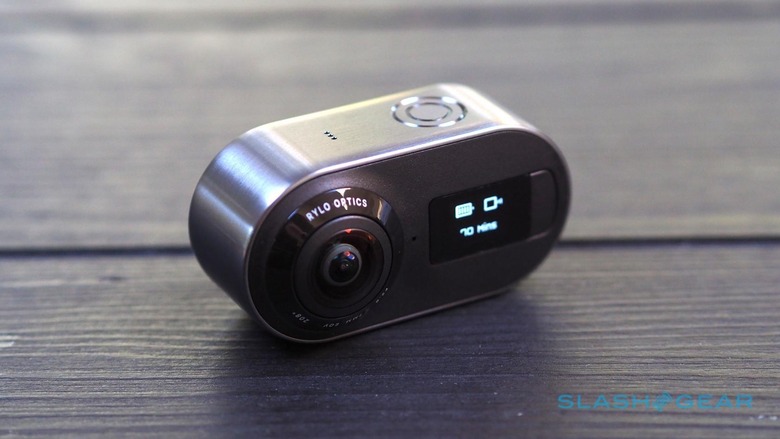 It's not, of course, the only camera doing something along these lines. GoPro's Fusion, which is just starting to ship, promises similar results but at higher resolution, though is $200 more expensive and the clever editing features won't show up in the app until next year; until then, you have to use desktop software instead. The $299 Insta360 One is cheaper, but the app isn't as advanced and its image stabilization isn't as good as Rylo's.
There's something liberating about not having to give much thought to composition while you're actually shooting. Rylo allows you to defer that decision until later, while the app makes editing easy enough that you'll actually do it rather than leaving raw footage languishing unedited. At roughly the same price as a GoPro HERO6 you're left with the choice of that creative freedom or resolution, and I suspect most people – like me – will find Rylo's editing tools makes it the camera they'll reach for first.