Insta360 ONE hands-on: a new, exciting way to make memories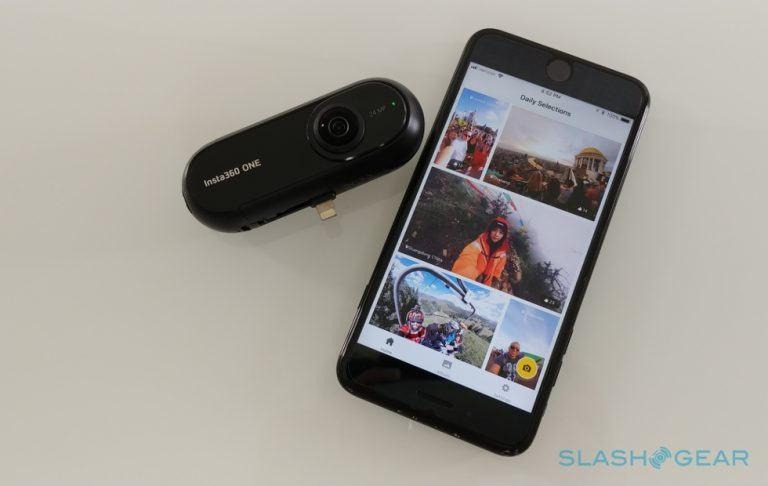 By now, 360-degree cameras are a dime a dozen, ranging from accessories that have to be clipped to a phone to standalone but palm-sized spheres or sticks to alien-looking disks that only big studios can afford. But no matter their shape or the quality output, the mostly function in the same way: taking a spherical view of the world around them. Not so this new camera coming from Insta360, one of the most prolific creators of consumer 360-degree cameras. The Insta360 ONE is almost like the one ring, the 360-degree camera to rule them all. And that is thanks to its ability to capture everything now and worry about what to share later. And, yes, it can make selfie sticks, or strings. vanish without a trace.
The Insta360 ONE has two special features and while both are great, one will probably be the most sensational. The company names it "Bullet Time", simply because it lets you create a bullet time effect with the ONE. How it accomplishes that, however, is almost hilarious and definitely nerve-wracking.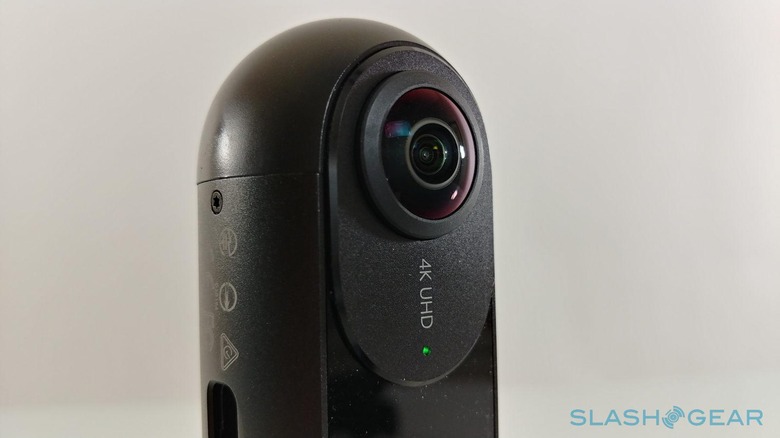 Insta360's previous teasers suggested a camera with a rotating selfie stick or a drone. Those guesses were half right. Yes, you could put the Insta360 ONE on a drone or a selfie stick, but, especially for the latter, you'll be doing the rotating yourself. The way it works is that you either attach the included string to the camera and swing it around while you record. Or, for the faint of heart, wait for the selfie stick with Bluetooth remote that will be coming later. Either way, you will be able to record a slow-mo video with you at the center of that universe.
It might sound frivolous or even outright dangerous, but it's a legit videography technique that you can now do on your own, sans expensive rigs. Considering the Insta360 ONE can capture video at 4K 30fps or 2K 60 fps, that's no small matter either. Slow motion video is captured at 240 fps but, and Insta360 wants to emphasize this, that is only possible through the use of algorithms via the app. The camera hardware itself can only shoot at 120 fps max.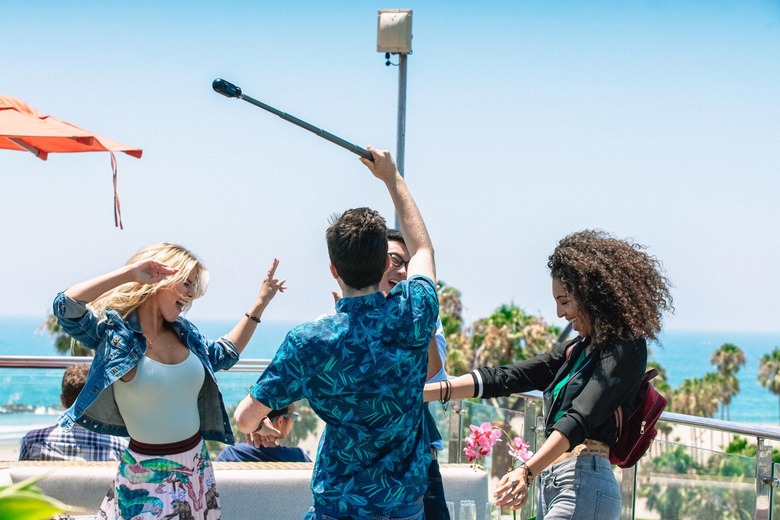 If you're worried that the thin red string or selfie stick would show up in those photos and videos, fret not. The Insta360 ONE's software automatically detects it and makes it invisible, whether you're using Insta360's upcoming stick or one of your own. The result: an instant flying camera, whether you're twirling the stick or not. And to prevent any sort of confusion or disorientation, the Insta360 ONE only operates one of its cameras in this mode, limiting the recording to 180-degrees. Be sure to keep tabs on this piece as we upload more videos and photos, especially ones using this Bullet Time feature.
If you thought that was the extent of the Insta360 ONE's appeal, better think again. This "Everything Epic in ONE" 360 degree camera isn't just for fun and games. OK, it's mostly fun, because what else would you feel when sharing such moments in ultra high-resolution. The problem when creating and sharing 360-degree content is that you have to plan before hand how to set up the shot and viewers will have to move around the video or their phone to try to get the best angles. With the Insta360 ONE, you can just hit record and worry about the details later.
Of course, the camera captures everything like any 360-degree camera does and you can also share the video just like any other 360-degree video. But what if you want to share a "flat", 1080p fixed-frame video that captures the best moments the way you want others to see them? That's where the FreeCapture feature comes in, which basically lets you edit and record a regular video out of a 360-degree one in the same intuitive manner that you capture 360-degree content with your phone: by moving it around.
Imagine having multiple cameras, all facing outward from a common center point and having the freedom to switch across any of those views while recording a video. That's basically how FreeCapture works. You are, in effect, making a recording out of a 360-degree recording, moving your phone along the sphere and directing viewers' attention where you want them. Or if you don't want to have to do that yourself, you can use the SmartTrack feature to make it automatically track subjects, putting them always at the center of the frame. Together with the camera's 6-axis stabilization, the Insta360 ONE lets you create professional-looking videos, be it 360 degrees or otherwise, without needing a director or camera crew.
These epic features may seem to eclipse the rather small camera itself, but the Insta360 ONE is no underdog. The build quality is great and the design is sleek and not obnoxious. Insta360 made a smart design choice when it decided that the camera's case would pull double duty as the camera's stand as well, for those times when you want to use it standalone or when using it with an Android phone. With an iPhone, you can attach it via the Lightning port, though that means using the phone upside, just like Insta360's other iPhone-centric cameras. Aside from that oddity, our only other complaint is that the Insta360 ONE doesn't have a removable battery, though that does seem to be trend in this market anyway.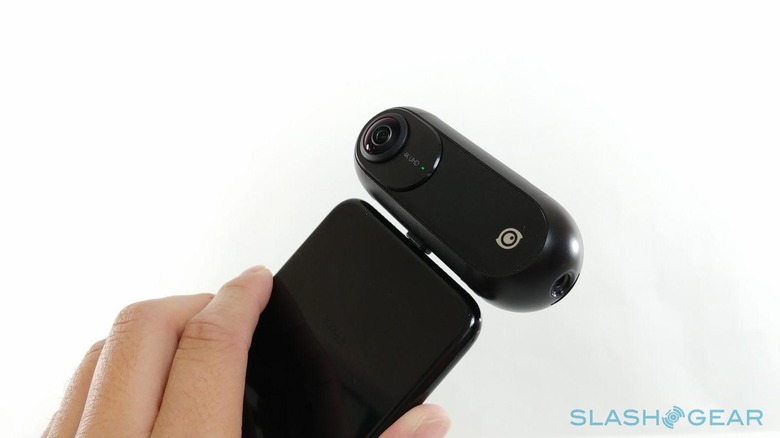 The hardware isn't the only thing going for the Insta360 ONE either. After all, FreeCapture, SmartTrack, and Bullet Time are all done on the software side. But aside from those highlights, Insta360's software is pretty phenomenal in other ways. Tracking, for example, is something you'd be hard pressed to find in 360-degree cameras, especially at this price range. Insta360 also has the only software we know of that lets you embed a logo in the video both in post editing as well as live streaming. You can imagine how useful that is for a site such as ours. Suffice it to say, the Insta360 ONE has one of the best combination of hardware and software we've seen in a 360-degree camera.
With all these features, you might think the Insta360 ONE will cost a fortune. Sure, it costs more than the company's Nano and Air cameras, but considering what you're getting, that's not exactly a surprise. $299.90 for a 360-degree camera that does a whole lot more than simply record videos or images in 360-degrees definitely feels like an acceptable tradeoff. The Insta360 ONE goes on sale 5th September and will be available from the Insta360 online store and retailers such as Amazon and B&H. Keep this page in your bookmarks as we add more videos and photos in the coming weeks to showcase what this 360-degree wonder has to offer.