Ring's Neighbors app makes camera security sharing standalone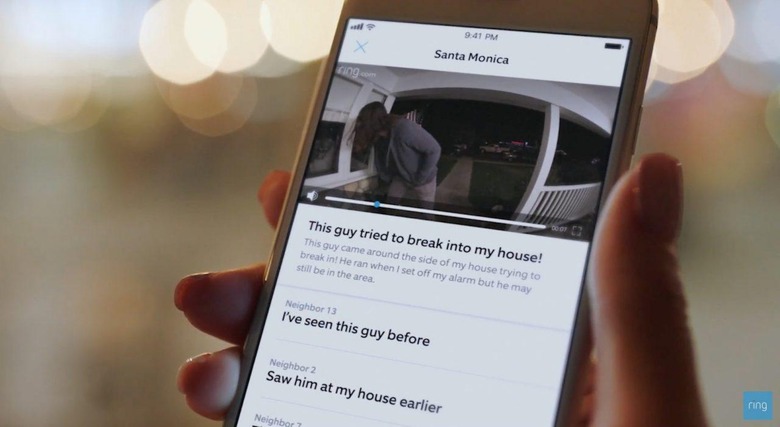 Ring has launched a new app, Neighbors, opening up its security video sharing in the hope that it becomes Nextdoor but for more than just complaining about security. The app, the first to be released since Ring was acquired by Amazon, pulls out features that previously were only available within its Ring app for camera owners.
The idea is that, within the Neighbors app, people within the same neighborhood will be able to collaborate on security. Effectively a digital neighborhood watch, it supports both private sharing and real-time communication between members. With this new release for iOS and Android, those members needn't have bought a Ring camera themselves yet.
According to Ring, the idea behind Neighbors came because of feedback around how users of its cameras were being asked to share the footage. People in the area affected by crime had apparently been asking to get clips from Ring cameras installed on other properties.
After downloading the app and signing up, users must opt-in to their neighborhood. Since that could be a good opportunity for those with nefarious intentions to scope out possible crimes, users have to verify where they're located before they're allowed to join. You can't join more than one neighborhood.
Within the app, there are real-time alerts both from other members and from local law enforcement. The app also shows local crime and safety posts, with an interactive map to show whereabouts problems are taking place. Anybody with a security camera – not only a Ring model – can share photos and videos they've captured, as well as text updates.
It's not the first time we've seen something along these lines, mind. Back in January, professionally-monitored security system firm Vivint announced Streety, its own version of a digital neighborhood watch app. Like Ring's, it allows those with cameras to share clips in a limited and secure way with their neighbors, after members confirm that they are indeed residents.
The tipping point for any such app like this is, of course, how many people actually sign up to it. There, Ring may have an advantage. With its new Amazon owner, that's a considerable mouthpiece to get word about Neighbors out there. We've already seen how that can result in price cuts for its more popular models, after all.