RIM BlackBerry Tour 9630 detailed [Video]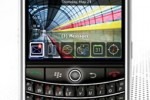 Sprint and Verizon may be keeping relatively quiet about the BlackBerry Tour 9630's functionality, but unsurprisingly RIM themselves are pretty keen to get the news out there about exactly what their new "world phone" can do.  The smartphone is primarily intended to use CDMA EVDO Rev.A connectivity, but it also packs UMTS/HSPA 2100MHz support and quadband GSM/GPRS/EDGE for use when abroad.
Elsewhere there's a 480 x 340 resolution display, 3.2-megapixel camera with autofocus and image stabilization, and 256MB of onboard storage with a microSD card to augment that.  The Tour 9630 also has GPS with support for photo geotagging.
Video overview after the cut 
BlackBerry Maps is pre-installed, and there's a mediaplayer with support for non-DRM iTunes synchronization.  Bluetooth 2.0 including support for the A2DP stereo profile is there, plus a 3.5mm headphone socket, and there's obviously the full QWERTY keyboard and trackball.  RIM rate the battery life as good for up to 5hrs talktime or 14 days standby. 
No specific release dates for the smartphone, but Sprint have suggested it will come "later this summer" priced at $199.99. 
Press Release:
RIM Introduces the BlackBerry Tour Smartphone

New 3G World Phone Keeps You Connected on High-Speed CDMA Networks in North America and UMTS/HSPA Networks Abroad

WATERLOO, ONTARIO–(Marketwire – June 16, 2009) – Research In Motion (RIM) (NASDAQ:RIMM)(TSX:RIM) today introduced the BlackBerry(R) Tour(TM) – a powerful new 3G BlackBerry(R) smartphone for CDMA customers in North America. The new BlackBerry Tour smartphone offers state-of-the-art communications and multimedia capabilities with outstanding mobile performance and consummate styling. It is a feature-packed and highly refined world phone that keeps you connected and lets you tour the world in style.

"BlackBerry continues to be the top selling smartphone brand in North America and we are proud to add this powerful new 3G world phone to our successful product portfolio," said Mike Lazaridis, President and Co-CEO at Research In Motion. "With its striking design and exceptional performance, the new BlackBerry Tour will offer a compelling choice for the growing number of wireless customers looking to upgrade their existing cell phone to a smartphone."

The BlackBerry Tour smartphone allows customers to stay seamlessly connected – across town and around the world. It supports high-speed 3G EV-DO Rev. A networks in North America, as well as 3G UMTS/HSPA (2100Mhz) and quad-band EDGE/GPRS/GSM networks abroad.

The BlackBerry Tour smartphone also provides the industry's leading mobile solution for email, messaging (IM, SMS, MMS) and social networking together with built-in GPS and advanced multimedia capabilities, enabling customers to make the most of both their personal and professional time.

The BlackBerry Tour features a chic black finish with chrome highlights surrounding its sleek design (112mm x 62mm x 14.2mm and 130g). It includes a large, highly tactile, full-QWERTY keyboard with chrome frets and finely sculpted keys for fast and precise typing. In addition, the large (2.44″), bright display (480 x 360 resolution at 245 ppi) delivers the highest resolution available on a BlackBerry smartphone, presenting pictures, web pages and videos with incredible clarity.

Other key features of the BlackBerry Tour smartphone include:

3.2 MP camera with flash, variable zoom, image stabilization, autofocus and video recording(i)

Full HTML web browser, including support for streaming audio and video (RTSP)

Advanced media player for videos, pictures and music, a 3.5 mm stereo headset jack and support for the Bluetooth(R) Stereo Audio Profile (A2DP/AVCRP)

256MB Flash memory

Expandable memory via hot swappable microSD/SDHC memory card slot, supporting cards of up to 16 GB today and expected to support next generation 32GB cards when available

Built-in GPS with support for geotagging, BlackBerry(R) Maps and other location based applications and services

BlackBerry(R) Media Sync allows customers to quickly and easily synch music from iTunes(R) and Windows Media Player with the smartphone(ii)

Premium phone features including voice activated dialing, enhanced background noise cancellation, a low-distortion speakerphone, and Bluetooth (2.0) support for hands-free use with headsets, car kits, stereo headsets and other Bluetooth peripherals

Preloaded DataViz(R) Documents to Go(R), allowing users to edit Microsoft (NSDQ: MSFT)(R) Word, Excel and PowerPoint files directly on the handset

Easy mobile access to Facebook(R), MySpace and Flickr(R), as well as popular instant messaging services including BlackBerry(R) Messenger, Yahoo!(R) IM, AIM(R), Google (NSDQ: GOOG) Talk and Windows Live Messenger(TM)

Support for BlackBerry App World(TM), featuring a broad and growing catalog of third-party mobile applications developed specifically for BlackBerry smartphones. Categories include travel, productivity, entertainment, games, social networking & sharing, news & weather, and more

BlackBerry(R) Internet Service allows access to up to 10 supported personal and corporate email accounts, including most popular ISP email accounts

BlackBerry(R) Enterprise Server provides advanced security and IT administration features within IBM(R) Lotus(R) Domino(R), Microsoft(R) Exchange and Novell(R) GroupWise(R) environments

Removable and rechargeable 1400 mAhr battery for 5 hours of talk time and 14 days of standby time

The BlackBerry Tour smartphone (model number: 9630) is expected to be available this summer from carriers in North America.

For more information visit www.blackberry.com/tour
[via CrackBerry]