Real Boxing Android Tegra Enhanced Review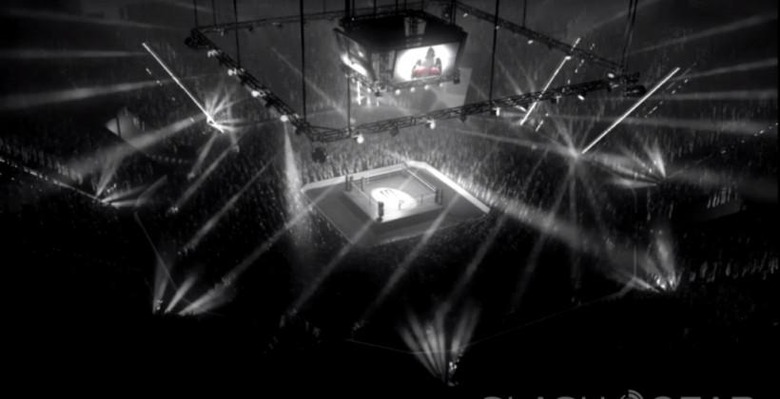 This week the folks at Vivid Games S.A. have unleashed the biggest, baddest face-flattening Android game to ever grace the likes of the NVIDIA TegraZone: Real Boxing! While this game has been available for iOS for some time, this edition of the game comes to Android as a Tegra exclusive – having been assisted by the NVIDIA developer crew in optimizing the game for their Tegra 3 (and above) processor, you'll not be able to get this game anywhere other than your T3-toting machine (at least at first).
With NVIDIA's contribution to the development of this game – optimization for the Tegra platform, that is – "The power of the NVIDIA Tegra processor on so many Android devices means that the game's graphical polish and impact are being taken to a whole new level." That comment comes direct from Remi Koscielny, CEO of Vivid Games. What we've seen thus far is a powerhouse of a game that's ready to show the multi-core processing excellence of today's most advanced devices like a pro.
What you're seeing here is a game that comes with a variety of features surrounding one good time of a face-bashing time. You'll find Unreal-powered graphics as well as motion capture that'll be breaking your eyeballs with how painful it is – including blood and sweat right up off your athlete. You'll be breaking down your opponent in this game's career mode which includes over 30 fights – and three belt titles – you'll find out exactly what kind of challenge that is when your right in the thick of it.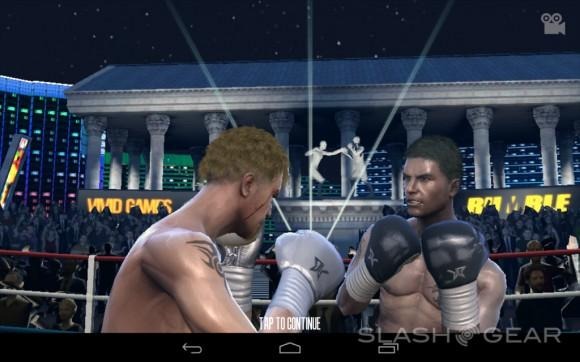 You'll find mini games in this build made to train your boxer between matches – heavy and mini bag and skipping rope, too! In-game mini-games appear also, KO and Clinch hone your skills for energy boosts on-the-go. You'll be unlocking new equipment, opponents, and customizations all along your journey to the top belt – hair, skin, tattoos, and clothing are all up to you to change up as you box out.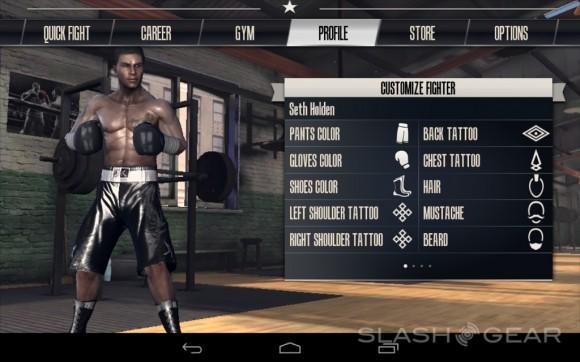 This game is available right this minute on the Google Play app store through the NVIDIA TegraZone. You'll be tossing down $4.99 USD and knocking out all your favorite opponents in a variety of venues all night long – knock em out! And don't forget to hit up our massive Tegra Hub right here on SlashGear while you're at it!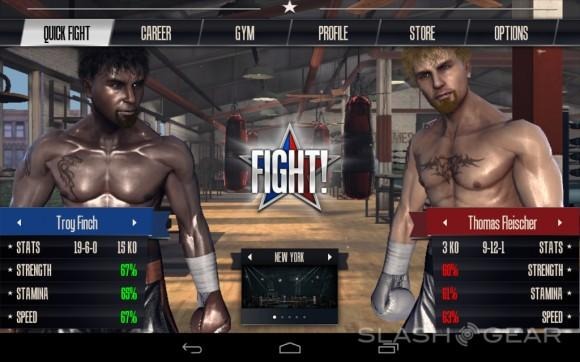 BONUS: This game has been previewed by NVIDIA in a variety of ways in the time between CES 2013 and now – it's such a killer game that they just can't put it down! Have a peek at our hands-on with Real Boxing on NVIDIA's Phoenix Developer Platform as well – that's the Tegra 4i inside!