Razer's OSVR VR headset v1.1 detailed for release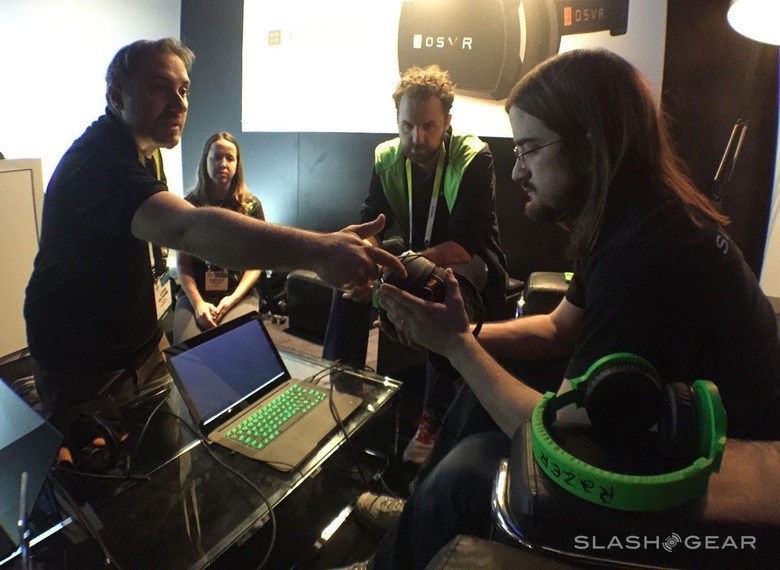 Today OSVR – via Razer – revealed a set of updates for their open VR initiative. One piece of this equation was in the update of the software standard – optimizations and the like. Another part of the update was in revealing the new total number of supporters of OSVR – 50 partners in all. Then there the brand new OSVR Hacker Development Kit v1.1, complete with a 1080p full-HD OLED display with higher contrast and lower latency than the first edition – the version we saw at CES 2015 earlier this year.
The OSVR Hacker Dev Kit v1.1 works with several updated features – upgraded, that is, from the first time we saw a working model earlier this year. Have a peek at our OSVR Hacker Dev Kit 1.0 hands-on from CES 2015 to catch up.
NOTE: Head to our GDC 2015 tag portal for hands-on with the OSVR Hacker Dev Kit v1.1 later today!
OSVR Hacker Developer Kit v1.1 continues to be open-source and made to be affordable without compromise on quality or functionality. This includes elements like support for standard 1080p video, an well-made piece of hardware for user-friendly wear, and better optical mechanics than the first edition.
A more ergonomic face mask design has been implemented "for optimal comfort", while improved optical mechanics have been ushered in for unique, easy adjustments. Unique to you, a person with uniquely spaced eyes and a uniquely shaped face, that is to say.
Support for 1080p video includes several elements not seen in the first edition of the device. This support has the following:
• Ability to use the HDK with a low-latency wireless video link
• Ability to mirror the HDK video feed to an external monitor
• Ability to convert standard video to side-by-side format in real-time
• Ability to connect smartphones to the HDK*
*The smartphone-to-HDK connection is supported for SlimPort and MHL connector standards.
A number of new faceplate modules have also been designed. These faceplates are made to be downloaded or 3D-printed – developers and manufacturers are free to do as they wish with the designs, as always.
One of two new units is an IR-LED Faceplate Module. This unit works in conduction with an infrared camera to enable positional tracking with pattern detection. The second of two new units is a Dual-Camera Faceplate Module. This unit works with two cameras, of course, with the ability to work with positional tracking and augmented reality applications.
The first release of the OSVR Hacker Dev Kit – as made by Razer – will be shipped by June of 2015. The device will cost users a cool $199.99 USD.
Stay tuned to SlashGear for our hands-on with the new OSVR Hacker Developer Kit v1.1 later today. You'll see this and more gaming action in our Gaming hub this week during GDC 2015.