Razer Blade Stealth Review: a true MacBook alternative at last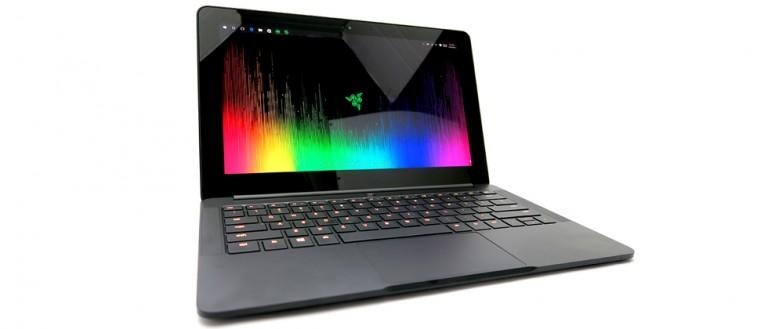 The Razer Blade Stealth is not made for gaming – not on it's own, anyway. When it was first shown at CES 2016, the company suggested that it was meant to be part of a two-device combo, the other being a GPU dock that gives the laptop a massive boost in graphics power. The Razer Blade Stealth is launching on its own – but unless you'd planned on buying this laptop ONLY for laptop-centric gaming, that won't be a problem. Razer just out-designed itself.
The Razer Blade Stealth is a surprise. It was a surprise when the company decided to unveil it earlier this year. Not because of its looks, nor the fact that the company was going to release a laptop. They'd released pieces of hardware like this before.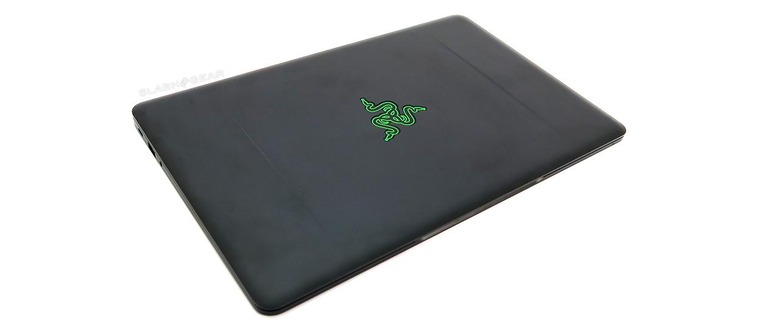 It was a surprise that Razer would release a laptop that, in and of itself, alone, wasn't entirely focused on gaming. This notebook is made by a gaming-centric company, but it has the feel and functionality of a high-end do-anything piece of equipment.
It feels like a MacBook Air.
The Razer Blade Stealth is entirely matte black metal save the light-up Razer snake logo on its lid.
Slight grooves to the right and left of the logo make the entire package distinct, while extremely subtle variances in where the metal is flat and where the metal curves make the entire laptop unique.
While if you're going to use this notebook as a work computer, you might miss the memory card slot so many other laptops come with standard, you've got plenty of USB ports to connect everything else.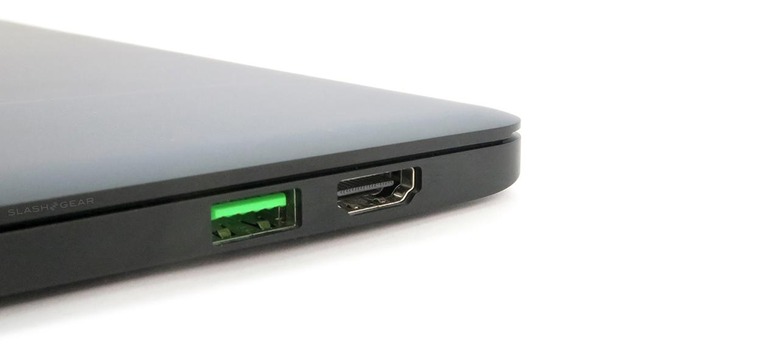 On the right you'll find a full-sized HDMI port as well as a single USB 3 port.
On the left you'll find a 3.5mm headphone/mic combo port, another USB 3 port, and a single USB-C port.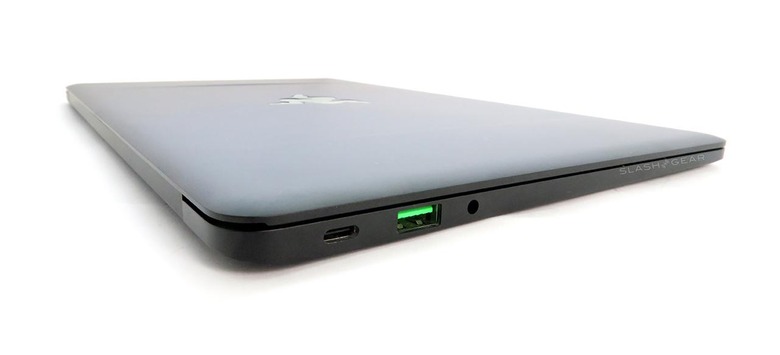 And what's this?
Razer has actually taken the time to design a power cord that doesn't look and feel absolutely terrible!

Experiences with notebooks like the Samsung ATIV Book 9 Pro are ruined by lesser cords. Razer knows good and well that the power cord is still part of the laptop experience – as such, they've taken the time to design something nice.
Inside you'll find a stereo speaker system. Speaker grilles sit on the left and right of the keyboard, blasting sound the likes of which we very much expect from the highest of quality laptops.
Just above the keyboard is a small, out of the way power button. Just above the power button you'll see – if you look VERY closely – the name of the laptop.
Razer makes clear here with this sleek font (not the insane gamer font they sometimes use for other projects) that they mean business. This notebook is a sign of the times – Razer is bringing the heat with hardware that's for gamers, but with quality that's good enough to compete with laptops that are made for the most discerning of users – even if they don't play video games.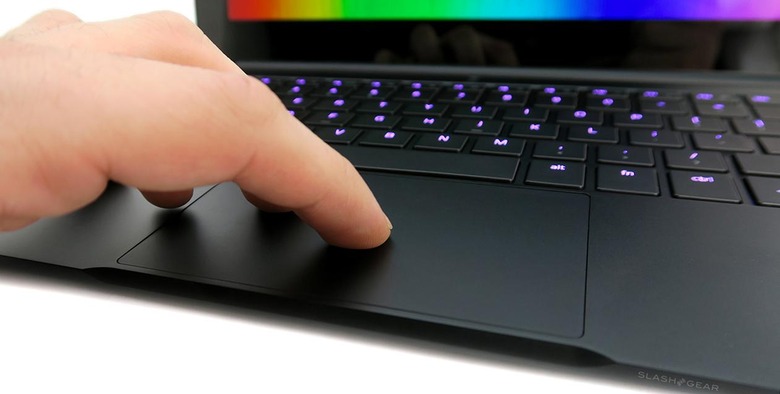 Down below the keyboard is a trackpad that's downright usable.
Using Synology technology under the hood, we've got a trackpad that stands up to the test of everyday use – we don't need to fiddle with the settings more than once to get it moving across the screen the way that feels most natural.
The keyboard, too, is comfortably spaced and feels entirely natural to use for standard typing. This is nothing like using a full-sized PC gaming keyboard – and it shouldn't be. This is a notebook, and not one meant just for WASD action.
This keyboard lights up, too.
Each one of the keys here has the ability to be attached to macro commands. If you have other Razer peripherals – like a Razer keyboard for your full-sized gaming PC, for example – you'll be able to save your keyboard setups for individual games or apps to the cloud, available to you then through Razer Synapse here on this notebook. Handy!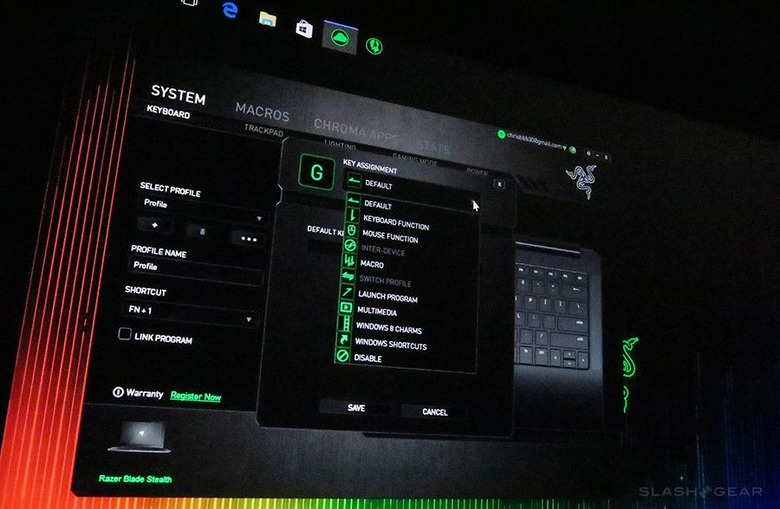 Much more apparent on the keyboard right from the start: each key is individually lit.
This notebook is part of Razer's Chroma family, which means you've got the ability to make it dance and freak out with colors and effects the likes of which you'll never actually need for any justifiable reason. But it is fun. Give yourself seizures with the waves of color!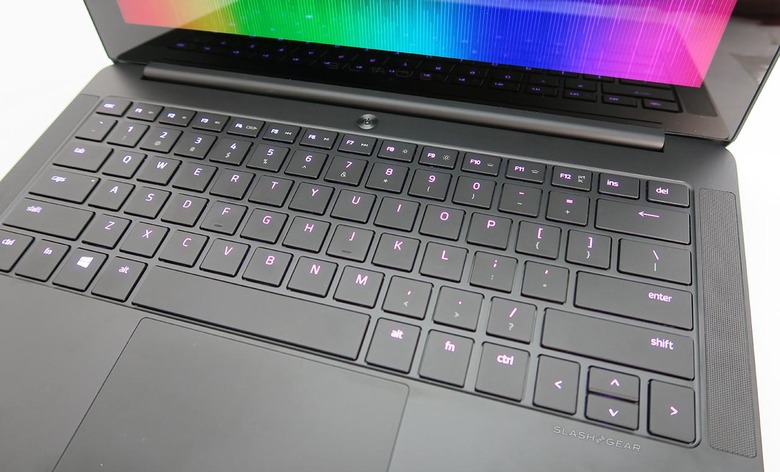 Razer Synapse software inside this notebook allow you to configure your keyboard, backlighting, and fan control – though we've not had a reason to adjust the fan in any way at all thus far.
The bottom of the notebook has rubbery strips that keep the unit up and away from the surface it'll end up sitting on, and vents under the notebook keep the airflow moving. The notebook hasn't gotten hot to a point at which it'd be uncomfortable resting on a lap so far – we'll see again in the future when we connect it to the Razer Core for gaming.
The area to the left and right of the touchpad remain cool at all times. Which is good, since that's where your wrists are going to be resting basically constantly.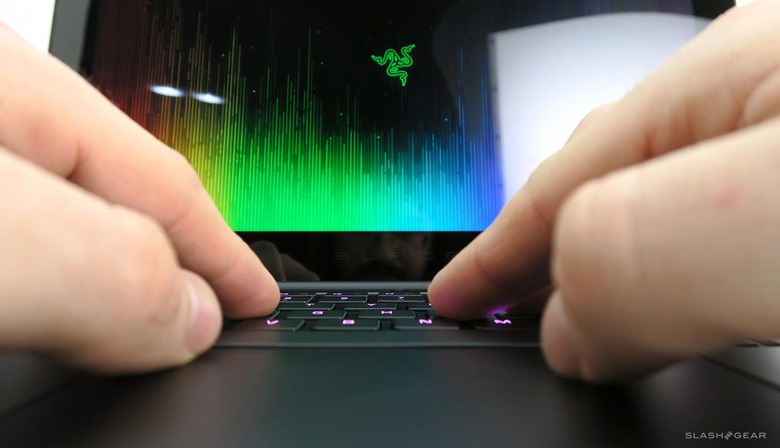 Two versions of this notebook are being made available – one with a sharp screen, and one with a REALLY sharp screen.
• Razer Blade Stealth QHD (2560 x 1440) 70% Adobe RGB (128GB and 256GB PCIe SSD)
• Razer Blade Stealth 4K (3840 x 2160) 100% Adobe RGB (256GB and 512GB PCIe SSD)
NOTE: While some apps you'll download from the web may not scale properly for a display as sharp as 4K, the vast majority of the software you'll be using will look completely fine. Windows 10 takes care of the scaling up for sharper displays that's needed for devices such as this.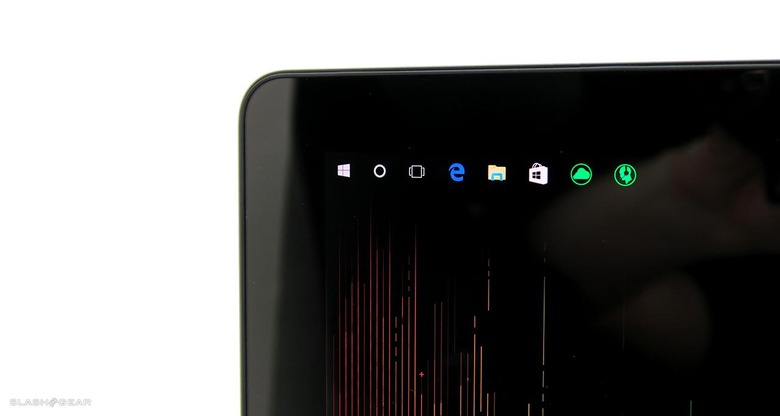 Both versions work with a 12.5" IGZO display with 16:9 aspect ratio, LED backlighting, capacitive multi-touch, and what Razer describes as up to 170° wide viewing angles. We're inclined to agree with that range of viewing angles – amongst the best we've ever seen on a notebook.
We've got the 4K display model here. The display is unbelievably good. It's difficult to describe how intensely nice it is.
A few more specifications for you, all standard:
• Intel Core i7-6500U Dual-Core Processor with Hyper Threading 2.5GHz / 3.1GHz (Base/Turbo)
• Intel HD Graphics 520
• 8GB dual-channel onboard memory (LPDDR3-1866MHz)
• Windows 10 (64-Bit)
• Wireless-AC (802.11a/b/g/n/ac + Bluetooth 4.1)
• Thunderbolt 3 (USB-C)
• USB 3.0 port x2 (SuperSpeed)
• Built-in webcam (2.0MP)
• HDMI 1.4b audio and video output
• 3.5mm headphone/microphone combo port
• Trusted Platform Module (TPM 2.0) security chip embedded
This notebook is 0.52-in tall – that's extremely thin, but not so thin that you'd have any worries about bending. It's tough enough. The notebook is also 12.6" / 321 mm (Width) x 8.1" / 206 mm (Depth) – it's small. It's so small that we're seriously hoping Razer creates a 15-inch or even a 17-inch edition at some point in the future.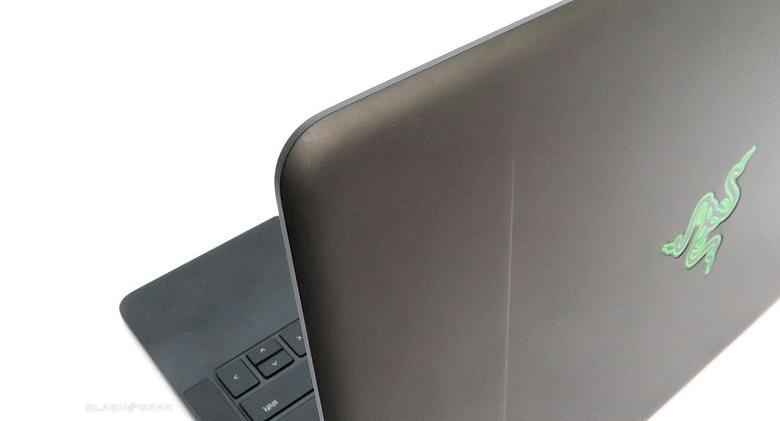 The Razer Blade Stealth is encased in an anodized black aluminum body which can get a little fingerprinty.
I'd be covering the cover with stickers and such anyway, so I'm not entirely concerned, but if you really need a spotless top, you really should keep the silky display-cleaning cloth the device comes with in your pocket.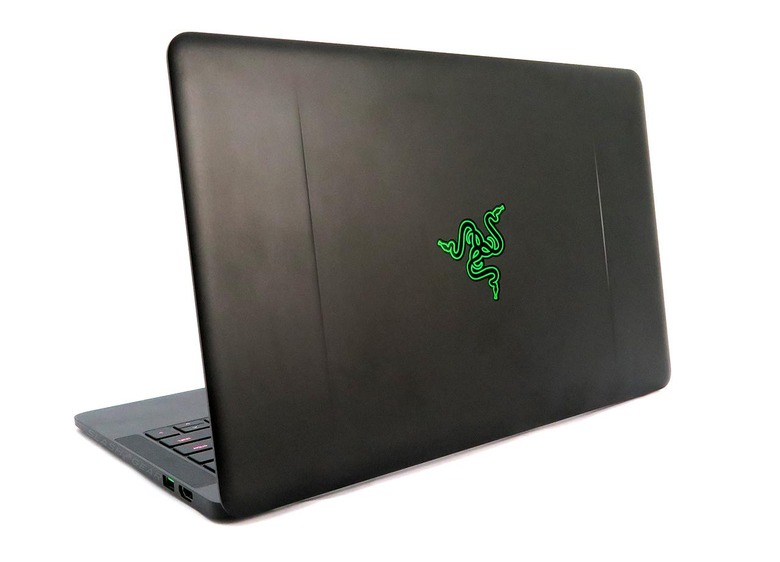 Battery time on this machine – off the cord, obviously – is somewhere around 7 hours. That's using the machine for work (mostly web browsing and typing) with the display set below 50% brightness. If you're really going to roll with this notebook for work, you're going to want to aim for the QHD version of this notebook instead of the 4K.
This 4K version of the notebook is made for gloriously sharp images and video. It's not made to be an off-the-cord last-all-day workhorse.
War
The battle for ultimate notebook supremacy right this minute – in this price range – is between the MacBook Air, Dell XPS 13, Samsung Notebook 9, and the Razer Blade Stealth. Each of the models we're comparing here will cost you the same amount of money: $999 USD.
The MacBook Air, Dell XPS 13, and Samsung Notebook 9 all work with Intel i5 processors, while the Razer Blade Stealth comes standard with an Intel i7 processor. The Mac has 4GB of RAM while each of the others has 8GB of RAM.
Each of these notebooks comes with 128GB of internal storage save the Samsung notebook, which comes with 265GB of internal storage.
The MacBook Air comes with a 1440 x 900 pixel display.
Dell and Samsung's notebooks have 1920 x 1080 displays.
Razer's Stealth has a 2560 x 1440 display.
Each of these devices has bigger and better relatives for more cash. The Razer Blade Stealth also has a 4K edition with 256GB of internal storage for $1,399.99 – that's the cheapest the 4K version gets.
Wrap-up
The Razer Blade Stealth reminds us that Razer isn't just an up-and-coming notebook manufacturer anymore – they're squarely in position to take the throne.
With wave after wave of Windows notebooks being made by all manner of manufacturer just not adding up to Apple's dominance of the notebook market over the past few years, it's not difficult to assume that the company may now just assume that no other company is up to the challenge.
It would appear that Razer saw this opportunity and decided to pounce.
Watch your back, Apple. Razer is coming for you (in Stealth mode.)
And remember, this is only part of the equation.
It'll be just a short while (we're hoping) before Razer releases the Razer Core to give this notebook a giant-sized kick in the pants.
[gallerybanner p="429244"]