Snapdragon X55 5G modem: Why - and when - you'll be using it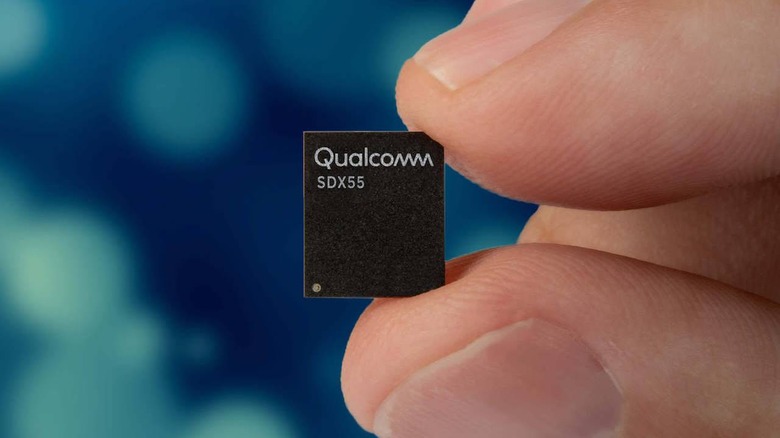 5G smartphones won't be in short supply at Mobile World Congress 2019 next week, but Qualcomm is already announcing its second-generation 5G modem, the Snapdragon X55. Successor to the Snapdragon X50 that, along with the Snapdragon 855 chipset, is expected to be at the heart of the first round of 5G Android devices, the new modem is arguably even more important.
While phones with the X50 5G are only now ready to reach the market, the modem itself is actually several years old. Qualcomm announced it back in late 2016, in fact; now, more than 20 OEMs plan to use it to release 5G products, and the chipmaker says over thirty commercial devices are expected to launch.
Qualcomm hasn't been idle in the meantime, however. Unlike 4G LTE, which saw limited deployment in the very early days, 5G expansion is set to be considerably broader in terms of geographies and technical standards. That's shaped a few key hardware decisions in Qualcomm's second-generation 5G modem.
Snapdragon X55 5G modem
Like the X50, the Snapdragon X55 is built on 7nm processes. It's a multimode 5G modem, and the first to support 7 Gbps downlink. It also integrates 2G through to 5G, and so doesn't require a separate modem to make use of, say, 4G LTE spectrum. Indeed, Qualcomm says it should operate on any key spectrum band, and in any region.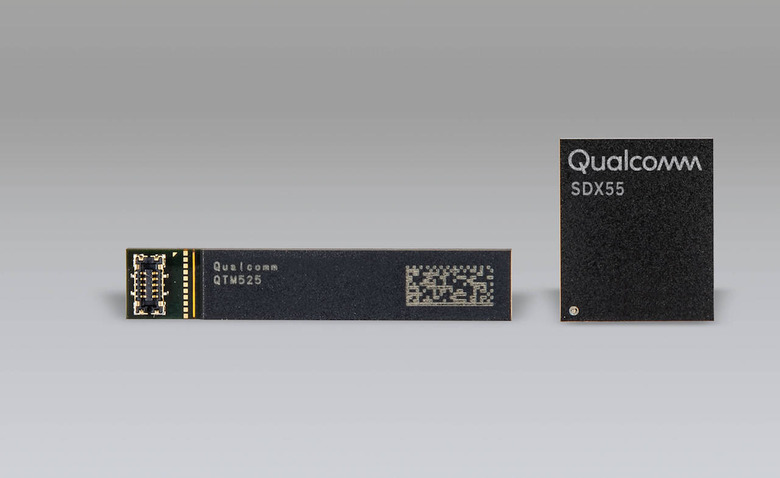 There are two key differences between the X50 and the X55. The first is FDD support, in addition to the TDD that the X50 offers. That's going to be of particular importance to T-Mobile in the US, since – unlike AT&T and Verizon, which are focusing on TDD 5G deployment – a sizable chunk of the carrier's 5G spectrum is FDD.
The other difference is standalone mode support. The Snapdragon X50 only offered non-standalone mode, where 5G devices use 5G networks for data, but fall back to 4G networks for anything non-data related. The X55's standalone support – where 5G networks are used for everything – is likely to be more important in geographies like China, which are expected to be the first to roll out standalone 5G network infrastructure.
Otherwise there's up to 2.5 Gbps 4G – versus the 2 Gbps support from the X50 – courtesy of LTE Cat.22, plus FD-MIMO mmWave, Sub-6 GHz, and 5G/4G spectrum sharing. The latter will allow operators to use existing 4G spectrum and have 5G users access that simultaneously. Dual-frequency location services will see GPS, Galileo, GLONASS, and other positioning systems support higher resolution. FD-MIMO is Full-Dimension MIMO, with 3D beam forming. Now, beams can be focused both horizontal and vertically, with the promise of significant gains in spectral efficiency and network capacity as a result.
It takes a 5G village
While the modem may be the centerpiece of the 5G story, it's not the only component involved. Alongside the Snapdragon X55 are three other new parts: a slimmer mmWave antenna module, a 5G NR envelope tracker, and an antenna tuning module. Altogether, they make what Qualcomm is calling its second-generation modem to antenna 5G multimode solution.
The Qualcomm QTM525 mmWave antenna module addresses one of the lingering concerns about mmWave: device thickness. "We constantly get questions asking us, hey, how thick is a millimeter wave phone going to be?" Nitin Dhiman, Staff Manager of Product Marketing at Qualcomm explains. "And we said, it'll be fine, don't worry about it – and now we can show how."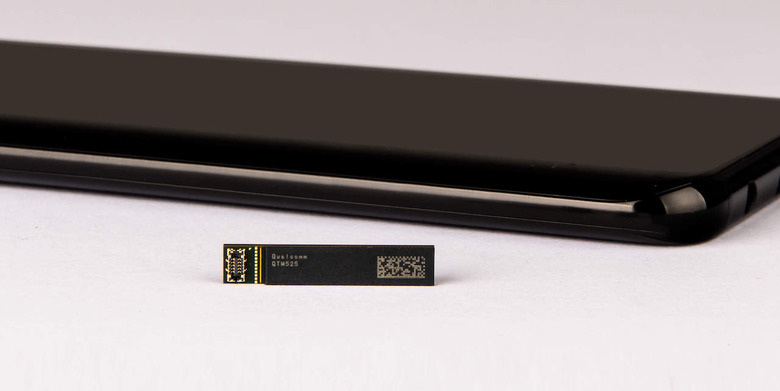 Compared to the previous model, the QTM525 is longer but slimmer. That form-factor change – based on device-maker feedback, apparently – means it's perfect for phones under 8mm thick. It opens the door to much more flexibility in where it can be placed in the phone, despite still offering global mmWave band support (26 GHz, 28 GHz, and 39 GHz to suit North America, Korea, Japan, Europe, and Australia).
The second part is the Qualcomm QET6100 5G NR Envelope Tracker. Envelope tracking was launched roughly five years ago, for LTE devices, and it optimizes how the transmit signal is powered. The promises are faster speeds and better indoor coverage, and the EQT6100 should do the same for 5G devices too: indeed, Qualcomm is suggesting it could make them up to twice as power efficient. That pays dividends for the 5G networks, too, as with higher 256-QAM coverage and network utilization the overall load can be reduced.
Finally, the third part is the Qualcomm QAT3555 5G NR Adaptive Antenna Tuning solution. The latest iteration of the chip intended to ensure antenna performance regardless of how you're holding your phone, in this case it promises better indoor coverage, faster and more consistent data speeds, and longer battery life overall.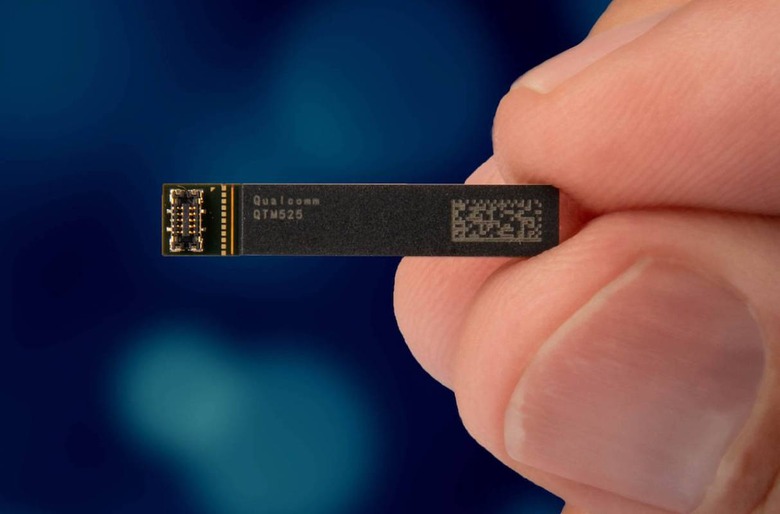 For 5G, Qualcomm has had to make sure it can deal with significantly more antennas, however. Indeed, the chipmaker says it's already seeing 5G devices on the roadmap with 9-10 antennas onboard. The QAT3555 can handle 600MHz to 6GHz antennas and with a 25-percent reduced package height.
So where does that leave the Snapdragon X50?
From Qualcomm's perspective, the Snapdragon X55 5G modem is arriving right on schedule. After all, it has been shopping the X50 around to device-makers for several years now: before, indeed, 5G Rel.15 was even standardized by the 3GPP. Consumers, though, may see it a little differently.
Although Qualcomm may have been talking about the X50 for almost three years now, for potential 5G users there's the impression that it's only just arriving. Indeed, the first X55-based devices are expected to reach the market before the end of 2019, leaving an unusually small window of availability from one generation to the next.
Qualcomm tells us that the X55 is more about bringing devices to new areas with the 5G modem's FDD and standalone support, not to mention using existing spectrum more flexibility, than it is a pure speed increase over the X50. There's no denying that the X55 has more potential than its predecessor, mind. After all, the way the X50 was built, it requires pairing with the Snapdragon 855.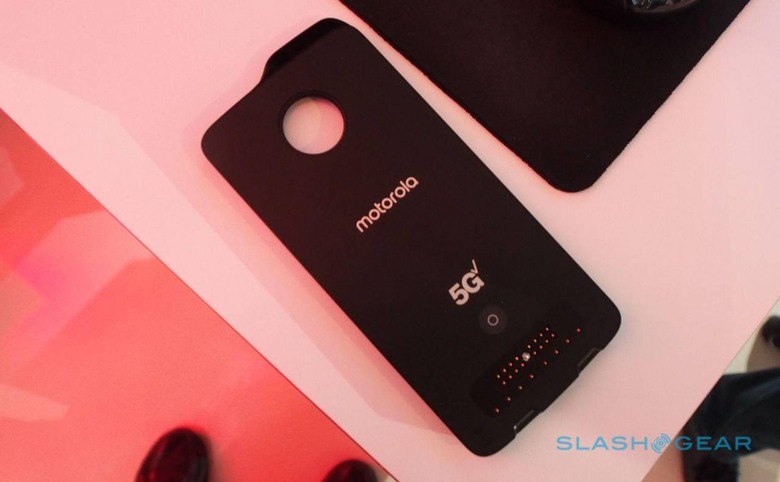 That leads to bizarre arrangements like Motorola's 5G Moto Mod having its own Snapdragon 855 onboard to go with the X50, completely separate from the Moto Z3's own Snapdragon 835. In contrast, the X55 will present far more scope for pairing 5G with other mobile processors. That's great for OEMs, but it could easily get confusing for consumers already uncertain about what 5G represents.
X55 devices won't just be phones
Potentially softening that blow is the fact that phones may not be the first playground for Snapdragon X55 deployment. The 5G modem is intended not only for smartphones and mobile hotspots, but fixed wireless access points, integration into laptops and tablets, and even cars and mixed-reality AR and VR headsets. As a result, Qualcomm's Dhiman pointed out, there's no guarantee that it'll be a phone that arrives on store shelves with the X55 inside.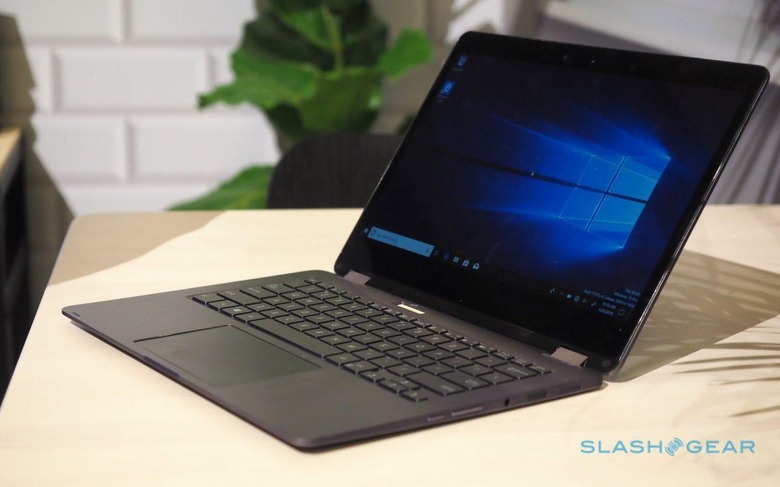 Of course, Qualcomm doesn't have control there. The new modem is already sampling to customers, but it's down to device-makers themselves to decide when each product reaches the market. That might be inside a standalone set of augmented reality smart glasses or an ultraportable notebook, but it could just as easily be a smartphone hoping to get an edge.
For its part, while Qualcomm may be powering the first deployment of 5G this year, the reality is that it'll be another twelve months or thereabouts before it gets anywhere close to mainstream. "We've said consistently that 2020 is really the volume year for 5G," Dhiman points out, at which point carriers will be further along in their network deployment, device-makers will have hopefully ironed out the inevitable hiccups in first-gen devices, and – though they may not use Qualcomm silicon – Apple's first 5G iPhones will undoubtedly be juicing attention in the technology.
Right now, there's the first of the X50-based devices to see. They'll be taking center stage at MWC 2019 next week, and SlashGear will be there to bring you all the news you need to know about the 5G future.