Snapdragon just revealed its modem play to make 5G phones more affordable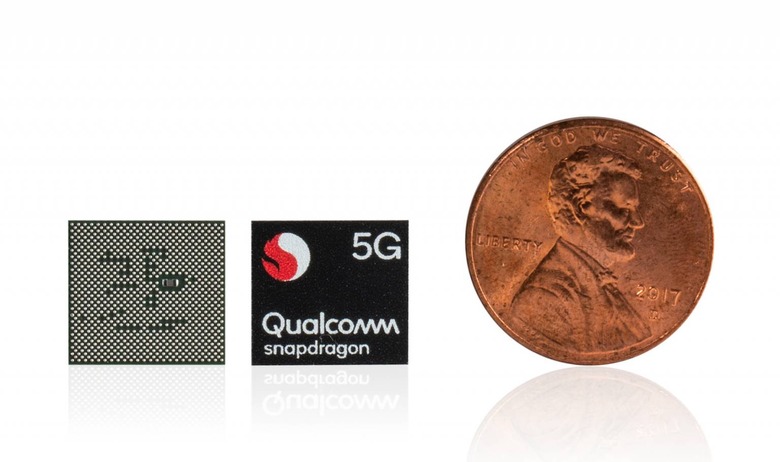 Qualcomm doesn't just have a new Snapdragon 765 for midrange smartphones in 2020, but a new 5G modem too, the Snapdragon X52. Announced alongside the new Snapdragon 765 and 765G chipsets at Qualcomm's annual Snapdragon Summit, the new modem borrows the key features from the Snapdragon X55 5G modem.
Qualcomm is so uncontrollably thrilled about the prospect of 5G, it brought SlashGear – along with hundreds of other media from around the globe – to the Snapdragon Summit this year.
The Snapdragon X55 was Qualcomm's second generation of 5G modem, the successor to the Snapdragon X50. It's been relatively slow to arrive in actual devices, however, though that's gradually starting to change late in 2019. Qualcomm is pairing it with the new Snapdragon 865 to try to accelerate that in 2020.
Problem is, a flagship modem could be too expensive on the bill of materials for a midrange phone using a 7xx-series chipset. That's the challenge Qualcomm faced with the Snapdragon 765 and the Snapdragon 765 – the latter being a gaming-focused variant with a faster GPU – and rather than just package an older modem, it opted to come up with a new one.
Snapdragon X52 5G modem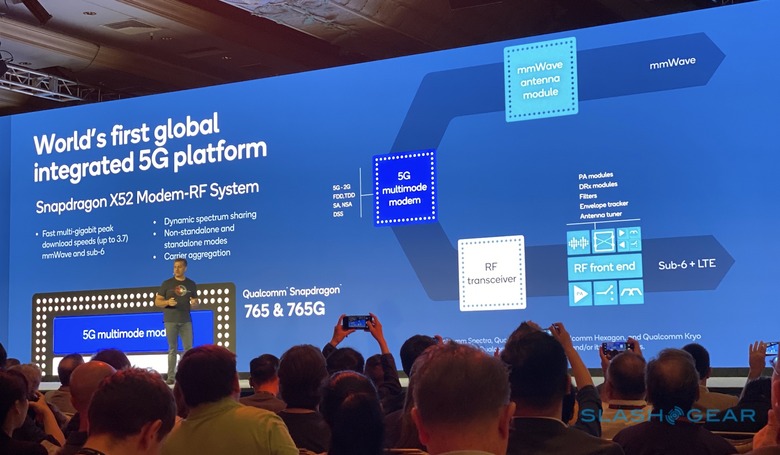 Like the X55, the Snapdragon X52 supports the array of different wireless options that US carriers are relying on to roll out 5G. It's a multimode modem, supporting everything from 2G through to 5G in a single system. That means, unlike with the X50, phones won't require a separate modem for when it falls back onto more ubiquitous 4G LTE networks when you're outside of 5G coverage.
There's FDD and TDD support, along with standalone and non-standalone, and dynamic spectrum sharing (DSS). The X52 will support carrier aggregation, too, and handle both Sub-6 and mmWave networks.
Indeed the only real compromise compared to the Snapdragon X55 5G modem is peak speed. Qualcomm says the X52 will be capable of up to 3.7 Gbps downloads, lower than the maximum 7 Gbps downloads that the more potent modem can potential deliver, assuming you have the network for it.
We've seen this strategy from Qualcomm before, as it creates different strata of chipsets to suit different price points. More expensive phones typically offer compatibility with the faster network technologies, though where the X52 distinguishes itself is in not limiting users to just Sub-6, for instance, or just mmWave. That's going to be a key strategy as Qualcomm – and its carrier and device partners – try to push 5G more broadly and into new, more affordable segments from early 2020.