Qualcomm Snapdragon Line Renamed, Quad-Core Confirmed For 2011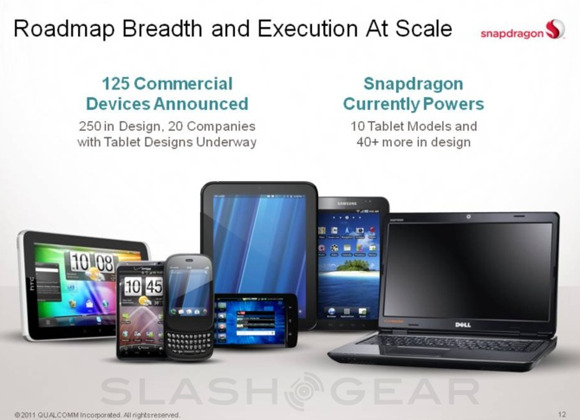 In an investor call this week, Qualcomm has updated their Snapdragon naming scheme for all SoCs in the near future, making it much easier for the every day consumer to get on board with purchasing devices based on their processors. In this same call, Qualcomm noted their plans for quad-core devices with multiple times the power of today's Snapdragon chips as well as the ability to work with 4G LTE networks. Snapdragon will from this moment forward be known as S1, S2, S3, or S4, the final chapter in this four-piece epic being made on 28nm and quad-core.
In that the new roadmap has been simplified from the old MSM8x55 to the new system of S1, S2, S3, and S4. This system is broken down by generation, current dual-core devices being inside the S3 series, this containing devices such as the T-Mobile myTouch 4G, HP TouchPad, HTC Sensation, and HTC EVO 3D. This generation will continue to be the top tier until the near end of 2011, the first chips inside the "Next Gen" or S4 generation coming inside the end of 2011. This timeline lines up directly with competitor quad-core chips we spoke of just yesterday, that being, for one, NVIDIA and their code named dual-core processor Project Kal-El.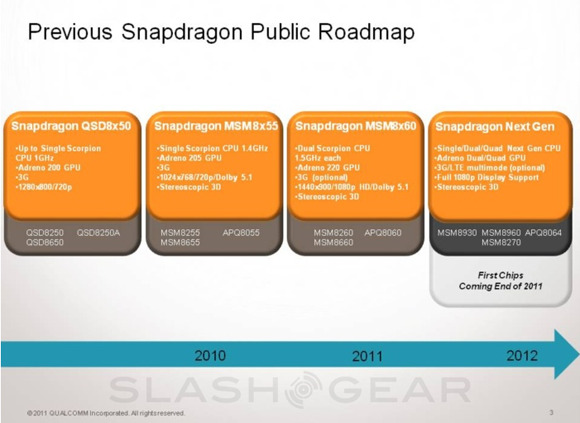 Old Qualcomm Map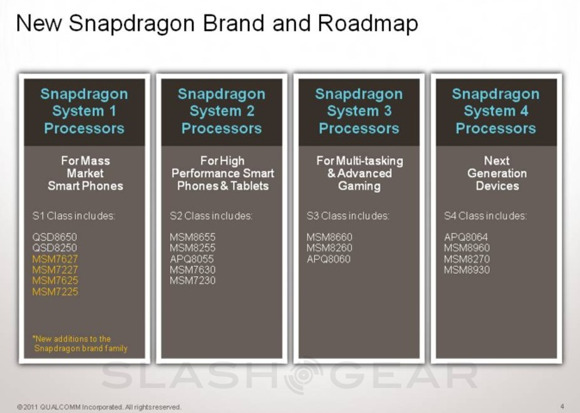 New Qualcomm Map
But you won't have to wait until the end of 2011 to get the next generation of chips if you're still willing to work inside a dual-core environment. Inside Snapdragon System 3 Processors you'll find 1.5 Ghz devices with the newest Adreno 220 GPU as well as display resolutions well above current phones and tablets on the market. The set of specs appear to line up with specs Android Community have found in a benchmark for a device called HTC Vigor, an Android handset coming out on Verizon inside 2011. A 1.5GHz CPU, Qualcomm Adreno 220, and display at 1280 x 720 pixel resolution, but not 100% certainly on Verizon's LTE network, or any other LTE network in the future for that matter.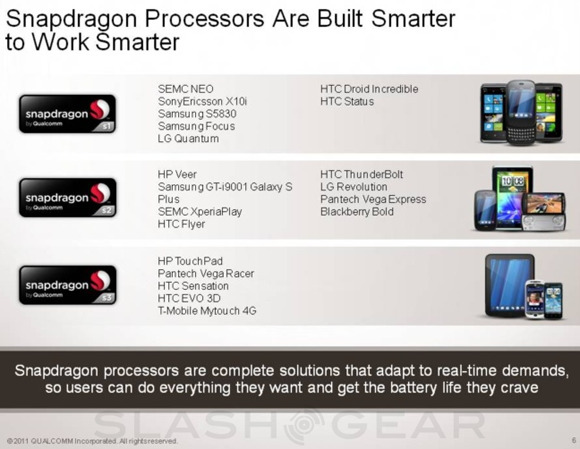 Qualcomm's System 4 set of devices will be arriving near the end of 2011 and through early 2012, these being quad-core processors running on the smallest, most efficient platforms thus far offered by the big Q. The question one might ask here at the door to the quad-core wave at a time when the best-selling devices on the market aren't necessarily all dual-core, one must ask one's self: when will the public interest match up with the progression of processors? Or will technology advance and continue to advance at a speed much faster than the common consumer will have a need for? We shall see – and those ready to play the most advanced games and sweetest videos and etcetera will have lots of fun in the meantime.