Qualcomm: "We're not worried about" NVIDIA Kal-El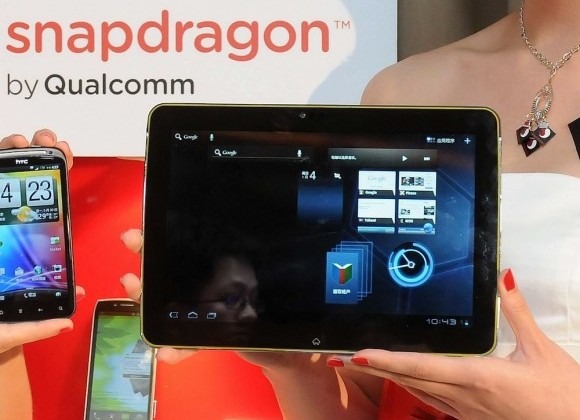 Qualcomm is unconcerned with the imminent arrival of NVIDIA's quad-core Kal-El chipset, telling SlashGear that its dual-core 1.5GHz MSM8660 chips – as found in 1.2GHz form in the HTC Sensation – will outperform the Tegra 2 sequel. "Our dual-core is better than a standard quad-core" Ben Timmons, senior director of marketing and business development for Qualcomm Europe told us at a post-Uplinq briefing today, when we asked about Kal-El's rapid approach. "We're not worried about that."
According to Timmons, quad-core's primary benefit today is on the spec-sheet, as something to impress OEMs and consumers. "For marketing purposes it's great to be able to say 'we've got the biggest'" he argued. "But in terms of devices there's more to it than that."
Qualcomm does have quad-cores on the roadmap, though they're not expected until early 2012. The APQ8064 will use four Krait next-gen cores – rather than the Scorpion cores in the current-gen Snapdragons – running at up to 2.5GHz and paired with new dual- and quad-core Adreno GPUs. Timmons tells us that the APQ8064 (which, unlike the MSM-prefix chips, lacks an integrated cellular radio) is targeted at Windows 8 tablets as part of the Windows on ARM program, though a quad-core MSM version for smartphones is in the pipeline, its ETA unannounced.
Instead, Qualcomm is pushing its asynchronous dual-cores as offering the best balance between performance and battery efficiency. "Power is everything" Timmons explained, "how do I deliver this level of performance at a lower power consumption?" Rather than focusing on whether ARM-based chipsets can deliver the same outright power as x86 processors, like Intel's Atom, we'll be increasingly aware of DMIPS per milliwatt, or how much juice it takes to compute.
As for taking on NVIDIA's Tegra Zone for promoting on-device game downloads, Timmons tells us Qualcomm has no ambitions to push its Snapdragon Game Pack as an alternative app store. "We're distinctly not in the services business" he explained, "and don't want to be." Instead, Qualcomm will be focusing on OEMs using its Snapdragon chipsets, encouraging them to use the best-of-breed titles optimized as part of the Game Pack.