What Qualcomm's Snapdragon 845 could do for smart speakers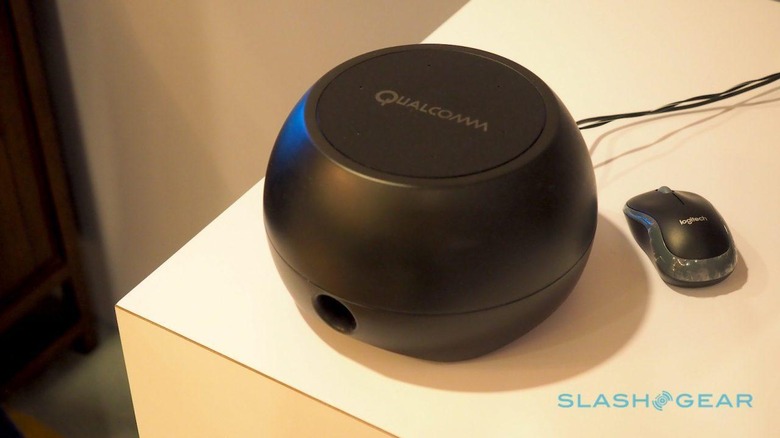 Qualcomm might be inside your next smartphone and even your next laptop, but the chip-maker is hoping to find a spot in your smart speaker, too. The ink is only just dry on the Snapdragon 845 but, among the smartphone form-factor reference designs, Qualcomm has cooked up an Amazon Echo and Google Home alternative.
It's Qualcomm's Voice Interaction Reference Design, a bulbous smart speaker running on the Snapdragon 845 chipset. Although that might sound overkill, given it's the company's most powerful system-on-chip (SoC) to-date, there's actually a lot about it that makes sense.
At the core, there's Qualcomm Aqstic, the company's voice UI technology system. The Snapdragon 845 has improved always-on keyword detection over previous models: for smartphones, one of the big benefits there is a reduction in power consumption while constantly listening out for a trigger word. That might be less important to a smart speaker that expects to be plugged in, but the ability to cut through background noise certainly isn't.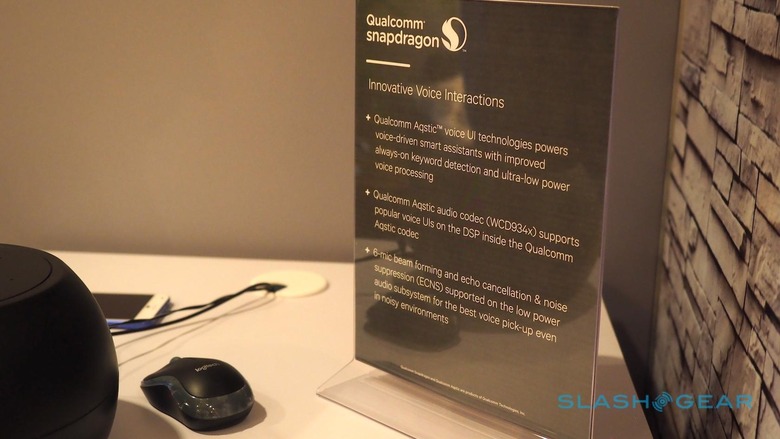 In the case of the reference design speaker, that relies on six microphones in a circle on the flat top surface. That can do beam-forming, echo cancellation, and noise suppression, on the dedicated low-power audio subsystem. However, Qualcomm told me, the same system could also work on the typical smartphone, which usually has just three microphones.
One of the advantages of the WCD934x Aqstic codec is that it's platform agnostic. Qualcomm's first demonstration used Google's Assistant backend – albeit triggered with the "Ok Qualcomm" key phrase, rather than the usual "Ok Google" – however the same speaker could be switched over to Amazon's Alexa instead. Alternatively, it would be just as happy with Cortana, or Baidu's assistant platform popular in China, I was told.
That could play out in two different ways. On the one hand, the Snapdragon 845 could form the basis of platform agnostic smart speakers. Just as Sonos is doing with its Sonos One, which launched with Alexa support but which the company plans to add Google Assistant support to sometime in 2018, a speaker designer building on the Qualcomm SoC could allow for multiple assistant platforms to co-exist.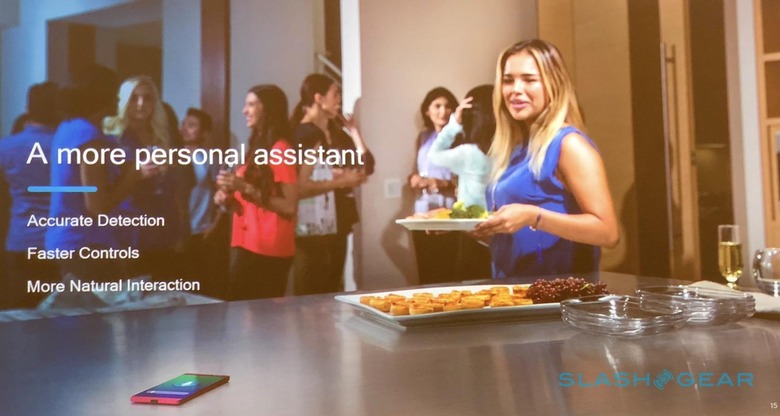 MORE What you need to know about the Snapdragon 845
Alternatively, if a manufacturer had a single ecosystem in mind – or even wanted to build out their own – they could do that just as easily with the Snapdragon 845. As it does with phones, tablets, and now laptops, Qualcomm will have not only reference designs but all the software tools for speaker-makers to get up and running with minimal R&D time. They might not look like the bulbous model Qualcomm itself built, but they'll have the same chipset at their heart.
It's not the processor company's first push for smart home functionality, mind. Earlier in the year, Qualcomm showed off its smart router reference design, built on the existing IPQ40x8/9 networking SoC. It also had six microphones, together with smart home-friendly connectivity such as Zigbee and Powerline, so that individual product-specific hubs could be replaced by a single device.
What could help differentiate Qualcomm's smart speaker platform – and make the investment of a Snapdragon 845 versus the lower-power, cheaper chips found in models like the Amazon Echo and Google Home – is the new SoC's support for local AI processing. As Qualcomm points out, that not only helps reduce latency but improves on privacy, when you're processing more locally rather than in the cloud. The first devices using the Snapdragon 845 are expected to launch in early 2018.