Qualcomm's smart router plan puts mesh, IoT, and Alexa-style agents in one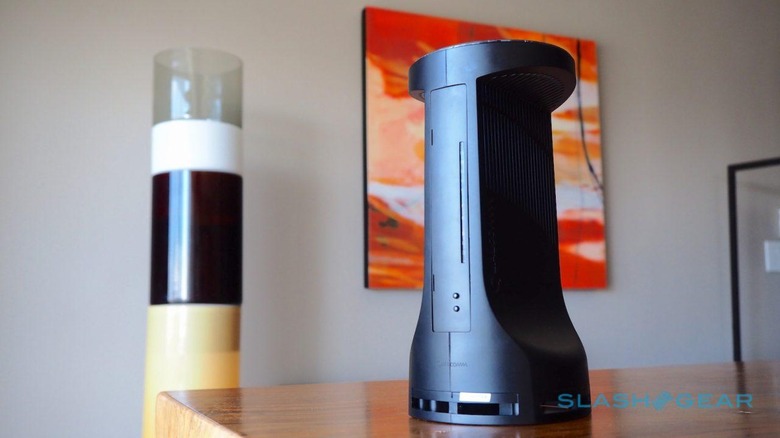 Routers may not be sexy but they can definitely be ambitious, with Qualcomm looking to replace your Echo, router, and smart home bridges with a single unit. The company unveiled its Mesh Networking Platform and Reference Design at Computex 2017 this week, an all-in-one that combines mesh networking, self-healing and -organizing configuration, voice agents like Alexa and Google Assistant, and all the radios to talk to your connected lights, locks, speakers, and more, in a single box.
At first glance, you might mistake the reference design router as Echo on a serious diet. Funnily enough, Alexa does reside inside the pinched-in tower, though Qualcomm isn't playing favorites. It'll offer its six-microphone array and multiple wakeword trigger support to any virtual assistant that wants to play. Rather than needing a separate Echo Dot or Google Home in each room, your mesh router will also act as a way to chat with your agent of choice, so the idea goes.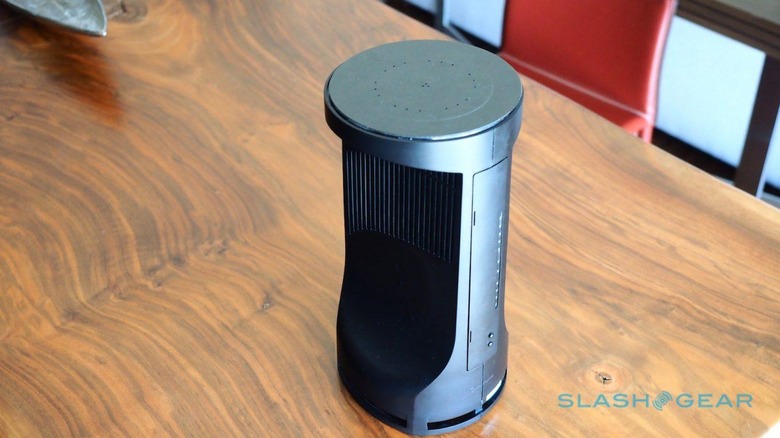 On that mesh front, it builds on Qualcomm's existing footprint in the space. Though you might not know it, the chip maker's radios are inside the majority of existing mesh routers on the market already: Eero, Netgear's Orbi, Luma, and more all rely on its products. That has given it a front-row seat to how the segment has developed, and just what customers, manufacturers, and broadband providers are asking for.
For instance, it turns out that it's coverage not speed that users are most concerned with. Broadband providers want to boost consistency and cut the number of "my internet doesn't work in my basement home office" support calls they get. Meanwhile, with around 90-percent of smartphone wireless traffic in the home being over WiFi, phone-makers are looking to get a piece of the connectivity pie; witness Samsung's Connect Home mesh router, which packs both WiFi and SmartThings IoT support.
Qualcomm's reference design uses its IPQ40x8/9 dual-radio networking SoC with WiFi SON functionality baked in. Rather than using WiFi or ethernet to link together different mesh nodes, the platform supports 802.11ad and 802.11ax for linking the different units together. That ensures dedicated bandwidth for the backhaul, and keeps as much of the regular WiFi spectrum free for your actual devices like phones, laptops, and connected gadgets.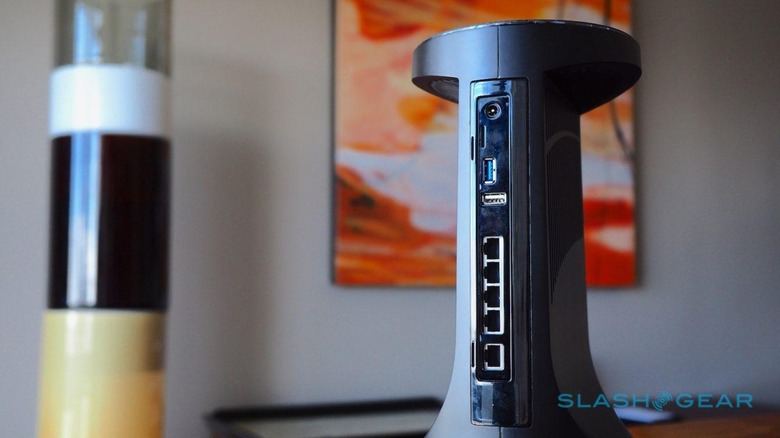 Still, most of the mesh networking routers on the market have an annoying flaw for those of us who are smart home early-adopters. With their focus on wireless networking, few have more than a couple of ethernet ports. Once you start trying to hook up the inevitable bridges and hubs for your connected lights, locks, and other devices, suddenly you find yourself daisy-chaining ethernet switches too. Then come the power strips needed to turn everything on.
It's a cabling nightmare, not to mention an eyesore, which is where Qualcomm's IoT Connectivity Feature Suite comes in. It may not have an especially catchy name, but its intent – to replace individual third-party bridges with onboard radios – is admirable. With a combination of WiFi, Bluetooth, Powerline, and ZigBee the number of devices the router can talk to increases significantly.
There are a few benefits to that. For a start, fewer add-ons. Hanging off an ethernet switch by my cable modem, for instance, there's among other things a SmartThings bridge and a Philips Hue bridge; Qualcomm's router could replace both. Meanwhile, there's the promise of less interference between all these different radios, since the router will act as a traffic controller making sure one isn't trying to speak over another.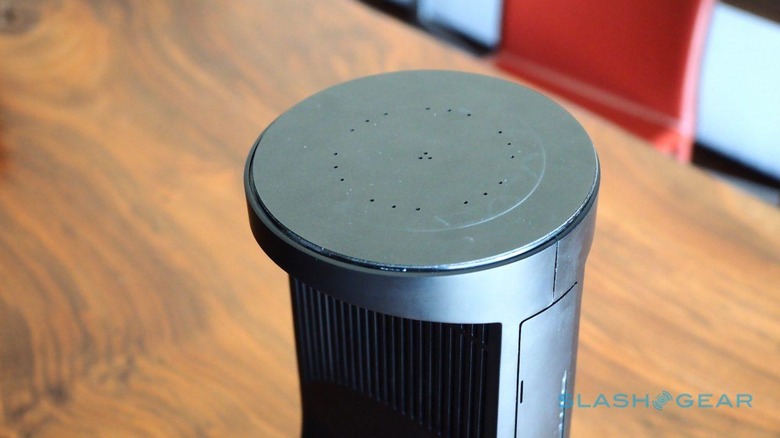 The company's demo is perversely underwhelming, though that's really by design. A somewhat deconstructed, work-in-progress version of the reference design with Alexa support recognized a command to turn off the lights, and all of the connected bulbs in the room switched off. That sounds predictable – indeed, Qualcomm told me, the typical layperson response it has received has been along the lines of "isn't that what it's meant to do?" – but those aware of how tricky getting connected bulbs variously using WiFi, Bluetooth, ZigBee, and other standards all to interact without a rats' nest of bridges are suitably wowed.
Routers you eventually buy using the new Qualcomm Mesh Networking Platform probably won't look like this cylindrical tower. The reference design packs in everything it can possible support, after all; Qualcomm was also mindful of heat management, I'm told, because the designers wanted it to be fanless, too. Like Amazon's original Echo, the tower form-factor also helps keep the microphone array high up off whatever table the router is placed on, improving its performance.
There's some way to go before you can ditch your collection of bridges, mind. For a start, the companies that make them will need to build services for Qualcomm's silicon and radios instead. That'll be made easier, the company insists to me, because many of the connected bulb and other smart home devices out there are also using Qualcomm silicon anyway, and will be motivated by the thought of fewer bridge support calls among other things.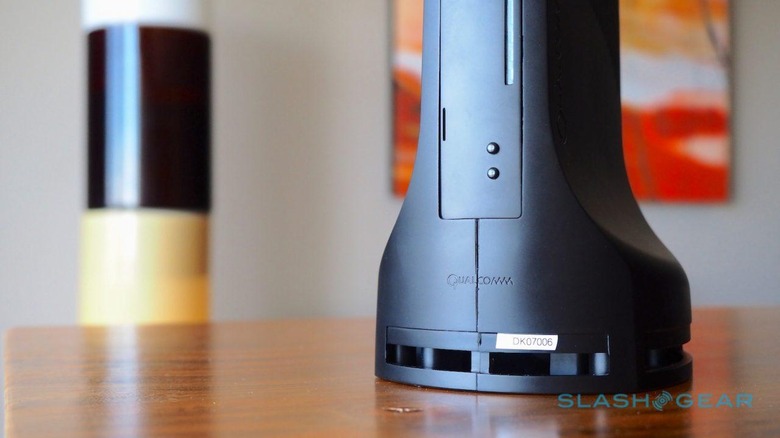 Eventually, a new SIG (special interest group) in the WiFi Alliance will shape interoperability, but until that's finalized Qualcomm is making itself the intermediary to help everyone figure out how different platforms and services will play good-neighbor. Various APIs will be on offer to hook Thread, HomeKit, and other ecosystem stacks into the platform. Even if your product of choice is using a rival chipmaker's silicon, Qualcomm says it'll be open to working with that company to ensure everything integrates nicely.
MORE: Google WiFi Review: Mesh networking gets simple
For consumers, Qualcomm is counting on the prospect of all-in-one, self-healing routers that minimize network dead spots and magically pick the best bands and channels for your devices in the background being worth a premium. Exactly how much of a premium will depend on router manufacturers themselves, who have apparently been warmed by evidence that mesh early-adopters are happy to spend significantly more for these newer models. Not every product will necessarily support every aspect of what Qualcomm's reference design can do, mind, so expect some new box labeling to make clear exactly what you're buying into.
You'll be able to do that sooner rather than later, too. Qualcomm says the first products from its hardware partners will be on the market by the 2017 holidays.