Samsung Connect packs WiFi and IoT management into one hub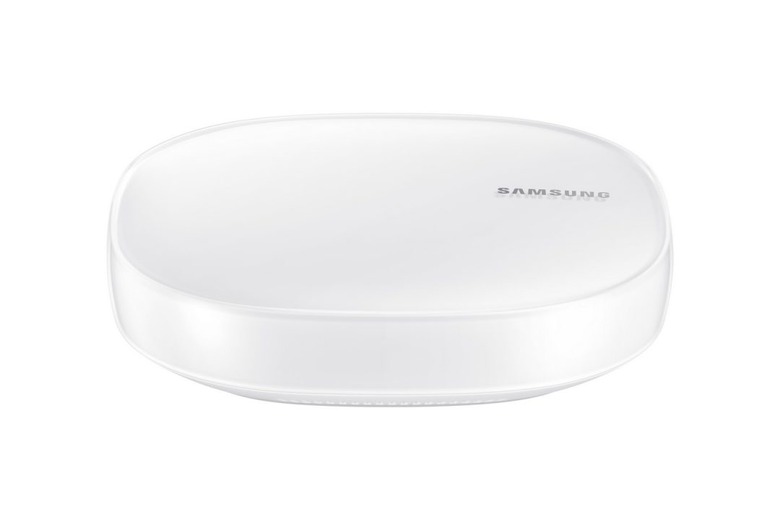 The
Galaxy S8 and S8 Plus were undoubtedly the stars
of Samsung's Unpacked event today, but one interesting item that may not achieve the status of "showstopper" is Samsung's new Connect Home hub. Samsung is taking a page out of Google WiFi's book with this new product, but it comes with an interesting feature that could give it an edge against its competitors.
While you can use multiple Connect Home devices to create a mesh WiFi network in your home – thereby making your WiFi signal more consistent throughout your house – you'll also be able to use Connect as something of an IoT hub. This is where Samsung's
purchase of SmartThings back in 2014
enters the picture, as Connect Home will play nice with Samsung and SmartThings-branded IoT devices.
Obviously, using the device alone won't offer much in the way of IoT management – instead, you'll need to download the Samsung Connect app. Within that app, you can enable it connect to your Samsung and SmartThings devices, giving you one place to manage all of them. Samsung says that the app will be able to connect to these devices automatically, and that you'll be able to set different usage rules for each of your devices.
When Samsung releases Connect Home, it'll come in two different forms. The first is the standard Connect Home, which is available as a single unit or in a three-pack, and will feature a 710Mhz quad-core CPU, 512MB of RAM, 4GB of flash storage, and AC1300 WiFi (866 Mbps). The Connect Home Pro, on the other hand, is only available as a single unit and offers a 1.7Ghz dual core CPU and AC2600 WiFi (1,733 Mbps).
Both of these devices will be able to communicate over WiFi, Bluetooth, ZigBee, and Z-Wave. There aren't any details on release or pricing just yet, but expect more information to be coming around the bend shortly.