Qualcomm mirasol color video ebook readers to ship in 2010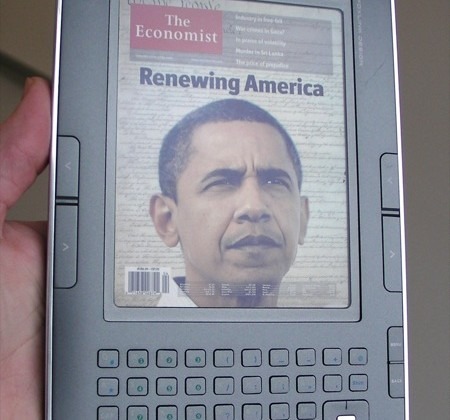 Ebook readers are arguably coming of age, but don't assume e-ink – and the push to produce color e-ink panels – have won the game quite yet. SlashGear met up with Qualcomm's mirasol team today to discuss their latest display news, and while you might remember the technology from their early 1.1-inch single-color panels, they're now showing off a 5.7-inch display capable of full color and video playback, with minimal impact on battery life. They've set themselves the target of having color ebook readers with mirasol panels on the market by the latter part of 2010, and are working with OEMs now to achieve that.
mirasol borrows the same elements that allow a butterfly's iridescent wings to shimmer, using tiny flexible membranes that react to electrical charges, overlaid onto a mirrored surface. Light reflected back out through those membranes is refracted so that interfering wavelengths create colors, and because the membranes used are bistable, once they have been set to display a certain color they require virtually no power to maintain it, only if it needs to be changed. The system also needs no color filters, no strong backlighting to be visible in direct sunlight and no polarizing lenses.
It's important to point out that the device you see here is merely a mock-up the mirasol team have put together, and while non-functional overall the 5.7-inch display panel is from their fab plant and an actual, working unit, its bistable pixels locked into a color image. Qualcomm are working with multiple OEMs – the names of which they wouldn't disclose – on a variety of ebook reader devices, and while they couldn't confirm any particular form-factors, they did say there are plans for units with and without QWERTY keyboards, together with touchscreen and non-touchscreen models.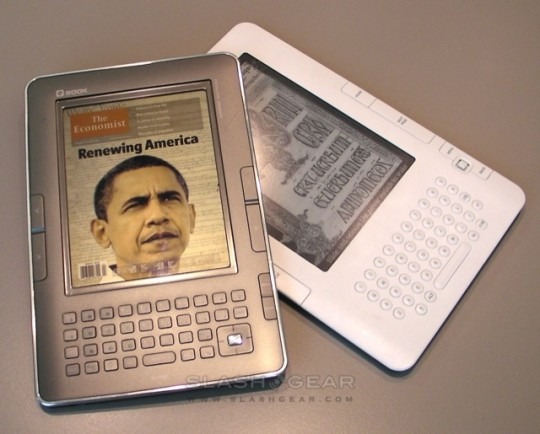 Where mirasol shows its strength is in battery performance. A standard ebook reader – such as the Kindle – could last for roughly 20-percent longer if its monochrome e-ink display was switched for a mirasol panel, assuming the same sort of use. As the mirasol team explained, however, once you start pushing traditional e-ink panel refresh rates, up to the point you can display smooth video, and introduce color, power draw can actual go beyond that of a regular LCD display. A color e-ink video-capable Kindle would last roughly a day using the same battery; meanwhile the same unit with a mirasol panel would last around a week.
While they wouldn't be drawn on specific figures, the mirasol displays – and the end products set to arrive from OEMs – are apparently roughly equivalent to what current e-ink panels and ebook readers cost now. Wireless connectivity is pretty much guaranteed, that's certainly the model Qualcomm are pushing OEMs toward (and little surprise, given their wireless heritage), and while 5.7-inch panels are the current sweet spot, there's no theoretical limit to larger displays.
There's also no limit to the sort of devices we'll see; if it has a display and a battery then you can use mirasol. The team there expect ebook readers to evolve into tablet-style devices, only this time with the sort of battery life the first generation of tablets lacked. With touchscreens, optional keyboards and integrated wireless connectivity, they're betting users will more readily pick up a device they only have to charge weekly rather than every few hours. The 5.7-inch panel in the ebook reader mock-up is an ideal size for a MID or UMPC style handheld, and it's worth noting that the runtime estimates Qualcomm have been making are based on a Kindle-style battery around 1,500mAh in size.  Smaller panels, meanwhile, could take the pain out of preview displays on digital cameras or camcorders.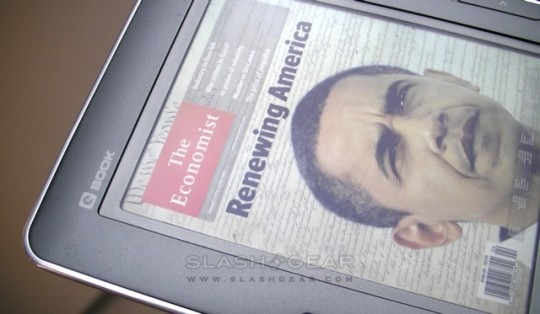 As for image quality, like e-ink the mirasol panel performs best in bright lighting, though that's not to say it's tough to read in regular conditions. Our photos – which are of a working mirasol panel, remember – were taken in both direct natural light (on an overcast London day) and with halogen lighting, and the colors really popped. Text is crisp and readable, with the 5.7-inch panel running at XGA 1,024 x 768 resolution and around 220ppi.
Best of all, this isn't some pipe-dream or research project. mirasol have Qualcomm as a parent company and LG as a key hardware partner, and their target of having devices ready and on sale by the end of 2010 seems eminently possible. The company recently won a Wall Street Journal prize for innovation, based on the fact that the mirasol technology is a completely fresh and unique approach to displays, rather than trying to eke color out of e-ink or ween LCD or OLED off their hefty power supplies. As they told SlashGear today, "imagine an e-reader with color and video, but no battery sacrifice".
Update: Check out the gaming attachment here.
2.2-inch mirasol demo:
[vms 21c25c5121f9da7815cd]