Qualcomm: 5G is more than just blistering data speed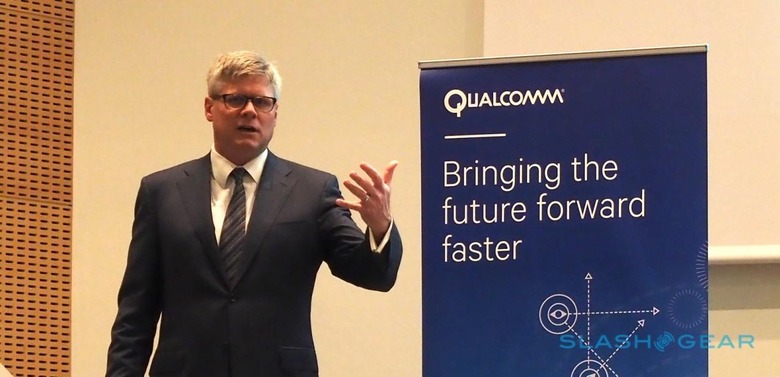 Shiny new hardware like the Galaxy S7 and LG G5 might be the most attention-grabbing thing at Mobile World Congress this week, but the next-generation backbone of 5G networks are arguably more important. Qualcomm certainly has a vested interest in seeing 5G roll out sooner rather than later, but according to the company is about much more than just a bump in data speed.
"Every industry is trying to get connected," Steve Mollenkopf, CEO of Qualcomm, said today during a Q&A session with media at the Barcelona event. "The combination of low-power computing and connectivity is basically disrupting every industry in a positive way."
It's undeniably been a good show for Qualcomm. The company's flagship Snapdragon 820 chipset is inside not only the LG G5 but, Qualcomm confirmed, certain versions of the Galaxy S7, where it shares billing with Samsung's own Exynos processor.
Exactly which chipset you'll get will depend where you buy the phone, Mollenkopf says. "Essentially, depending on which region you're in, it may have one [chip] or the other."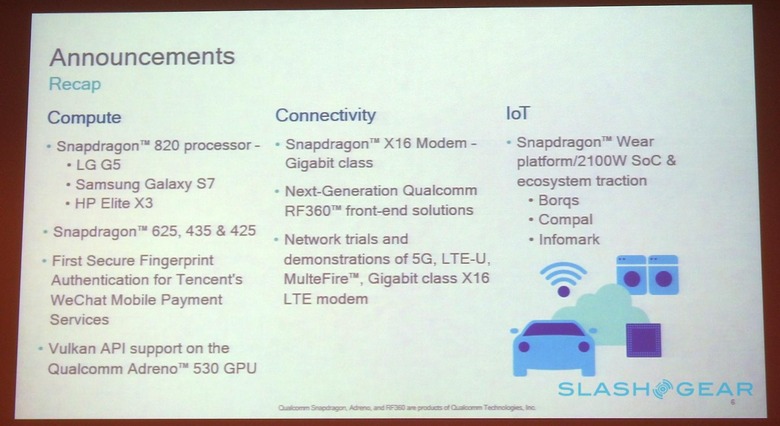 Success in today's devices – even if they're as high profile as the Android flagships from LG and Samsung – isn't enough, mind, and Qualcomm is looking to 5G and its next-gen Snapdragon. While some market watchers have voiced concerns that the smartphone space is saturated, Mollenkopf argues that there's still plenty of room for growth, assuming you think laterally.
"For us, we look at [5G] not only as an evolution of the existing standard but also the ability for many, many industries to take advantage of cellular," he says.
"If you look even at LTE penetration it's roughly about 15-percent worldwide. There's still tremendous possibility to migrate users to the mobile internet," Mollenkopf points out. "It's about designing technologies that allow that to happen, but also developing mass-market smartphones."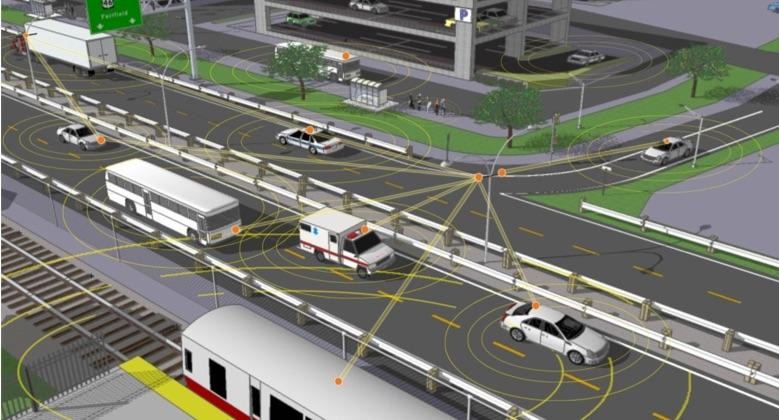 Although phones will certainly use 5G, the possibility of gigabit wireless extends much further afield. That includes the Internet of Things (IoT), connected cars, and devices that might currently eschew 4G because it's simply not quite fast or reliable enough to take for granted.
"One of the things that 5G brings over 4G is the ability to take mission-critical services to the wireless network," Cristiano Amon, EVP and President at Qualcomm, added. "If you think about today, we have wireless connectivity everywhere but some of the mission-critical services are relying on wireline."
"That will create entirely new businesses in industrial and commercial ... when you think about vehicle-to-cloud for autonomous driving, for instance, that's a very interesting, new use-case."
Other areas Qualcomm is looking to include virtual reality, though as Amon points out, "the more bandwidth you provide, the more devices will use it."
Still, VR is a particular area of interest for Qualcomm and its customers, given the success of products like Samsung's Gear VR and new headsets like the LG 360 VR announced this week. The big shift – when phones can deliver the same sort of graphical grunt for VR and AR as high-end desktops, as required for devices like Oculus' Rift – may have to wait until Qualcomm's next chipset, mind.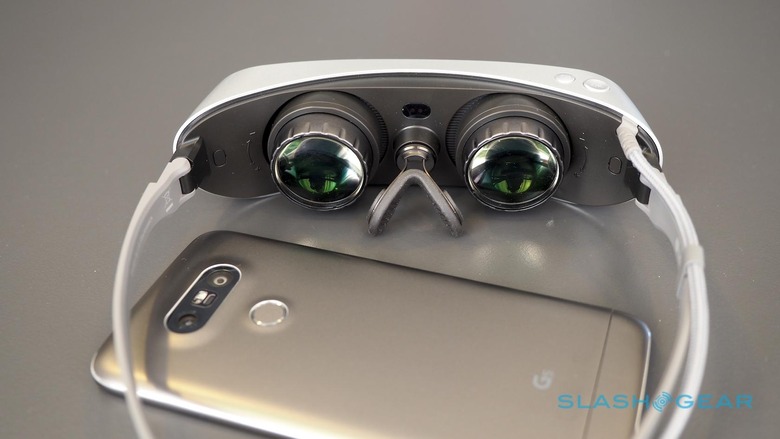 "In the next-generation Snapdragon you're going to see a lot of desktop technologies making it into a mobile device," Amon explained. "When the GPU becomes even more important than the CPU it's basically to drive [VR-type] use cases. At the next generation of Snapdragon you're going to see a lot of those devices becoming commercially available."
And, while more mainstream GPU providers may have the edge in visual grunt today, mobile chips have some advantages of their own, Mollenkopf says.
"From a computing point of view, in VR the importance of timing audio and visual together is very high. The SoC players, I think, have an important advantage ... we're having a lot of success in the design pipeline around that."
It's an important market for Qualcomm to get right. Platforms like the Snapdragon 820 may be a great way to show off the cutting-edge of its custom silicon abilities, but they're impractically priced for developing markets.
Meanwhile, the company faces increased competition from brands like Mediatek on comparatively low-cost chipsets such as the Snapdragon 400. If Qualcomm isn't careful, it could lose a sizable chunk of the low- to mid-range to Chinese rivals using off-the-shelf ARM cores.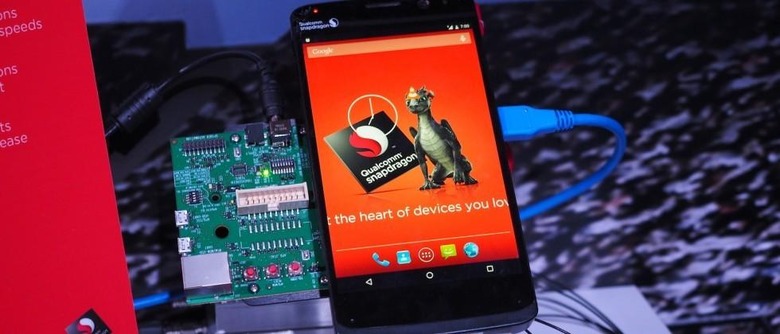 That means Qualcomm can't afford to slow down, and both trials and commercial deployment of next-generation hardware is already underway. "The X16 gigabit modem, we're goring to start having them in devices in the second half of this year," Amon promises. "I think you can see 2017 as the big year for gigabit as operators upgrade their networks."
NOW READ: Galaxy S7 hands-on
As for 5G, that's still a few years out, even for tests.
"We're planning to do prototyping and field tests in 2018," Amon says, "and have a commercial service in 2020."
"Lots of people skip over the wired internet and go straight to the wireless internet," Mollenkopf concludes. "It's one of the reasons why, when we talk about handset growth, we have confidence."