Qualcomm: 11ad wireless docks due 2015 for Snapdragon 820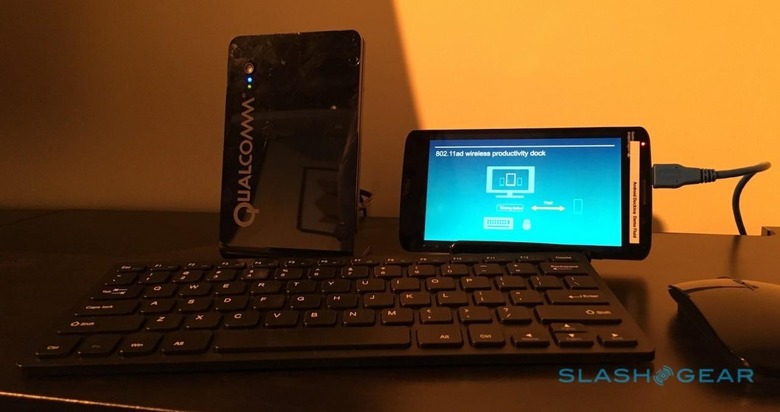 Is it finally the time for wireless docks to come of age? Qualcomm believes so, with the first 802.11ad WiGig docks based on the company's technology potentially going on sale before the year is out. The chipmaker showed off its newest WiGig tech alongside the Snapdragon 820 in New York City today, baking a tri-wireless chipset into a compact desktop router that could turn a smartphone into a desktop replacement.
The dock itself is a reference design, built by Qualcomm for demonstration purposes, but according to the company's WiGig team there's already sufficient manufacturer interest that products look set to be announced by the end of the year and at CES 2016 in early January.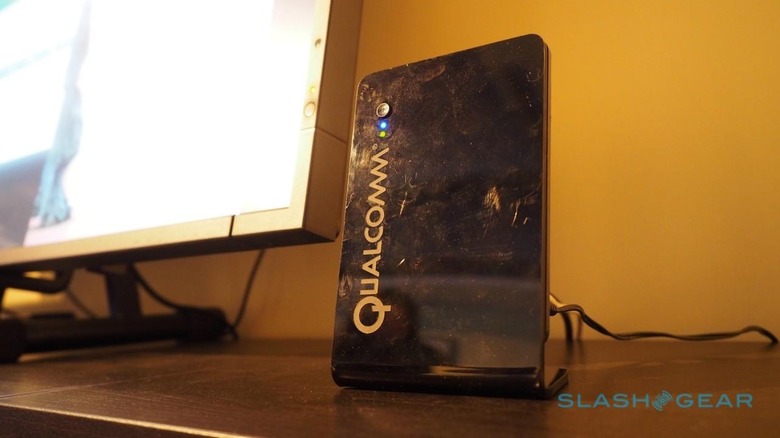 That's despite the fact we'll have to wait a little longer for Snapdragon 820-powered devices, which aren't expected until later in the new year.
As with previous docking stations, the premise is straightforward. Rather than plugging in your device to a display, keyboard, mouse, and other peripherals with a rat's nest of cables, you wirelessly pair it with a dock and beam content to one or more displays.
In Qualcomm's demo, that device was an Android-based, Snapdragon 820-powered smartphone reference design. It was linked by 11ad to the dock, and playing 4K video on a connected TV. A wireless keyboard and mouse allowed for working with documents.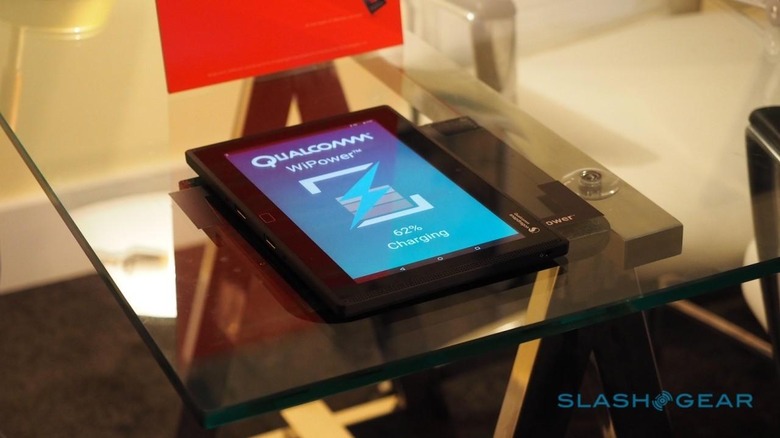 In fact, the only cable remaining in the demo was for power, though Qualcomm has an answer to that, too. The newly formed Airfuel Alliance, announced last week as the A4WP and PMA joined forces, will allow for wireless charging through desktop surfaces and even if the phones themselves are metal-bodied, something which has presented a hurdle until now with the more prevalent Qi standard.
Since the guts of the reference design dock are in fact identical to the WiGig-compatible router hardware Qualcomm has been shopping around OEMs this year, it can also support 802.11ac and earlier WiFi standards on the 2.4 and 5 GHz bands. Baked in are the smarts to separate out the WiGig data from the rest of the network, feeding however many screens and other peripherals are plugged in.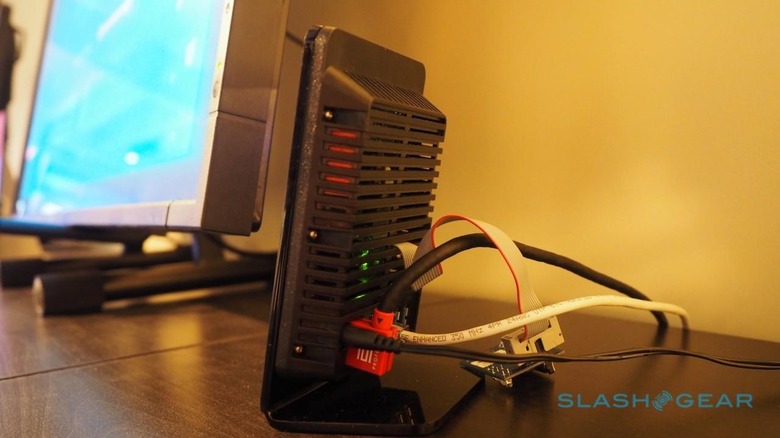 In fact, the company told me, a single dock could in fact support multiple 11ad devices. Exactly how many would depend on the sort of graphical load being pushed through the WiGig connection, but at least two devices driving independent 4K streams to a display each is certainly possible.
Even more would be supported for less bandwidth-intensive applications, such as 1080p video, web browsing, or Office-style apps like presentations and email.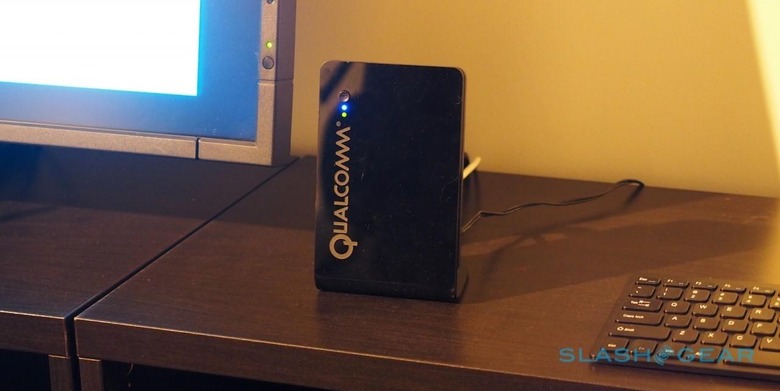 In an office environment, that could mean a single dock driving a workspace cluster, and your phone automatically connecting to your cubicle as you walk in through the door. At home, it might be a family's worth of devices linking to screens in the kitchen, living room, and bedrooms, for social networking, media playback, and showing off the day's selfies.
The wireless technology of course is platform agnostic: while it was shown off today with Android, there's nothing to say that Continuum for Windows 10 couldn't use 11ad for wirelessly driving a desktop-style environment from a smartphone.
Qualcomm isn't saying which manufacturers might be looking at the reference design for potential production, but with WiGig high on the agenda not only for smartphones running the Snapdragon 820, but a key part of Intel's value message for the latest sixth-gen "Skylake" Core processors, we might finally be approaching the tipping point where scale and technology coincide.