PS4 Slim smiles for the camera in new unboxing video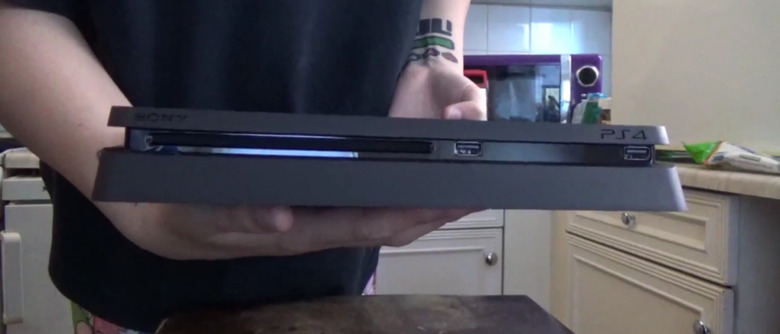 Whether or not Sony wants to admit it, there sure seems to be a growing pile of evidence that the PS4 Slim does indeed exist. The latest is probably the most convincing, coming in the form of a review and an unboxing video from Let's Play Video Games' Laura Kate Dale. It's here that we see what appears to be a final version of the PS4 Slim, retail packaging and all.
Though the review points out that this is largely aesthetic refresh, one particular thing to note is that there is no indication that this is actually a PS4 Slim on the packaging, suggesting that this is meant to replace to the current PS4 model instead of existing alongside it. Considering the hardware remains mostly unchanged – only losing the optical audio port, changing the spacing on the USB ports, and adding an easily accessible HDD slot in the jump to the slim – that makes sense, as it means fewer SKUs for Sony and retailers to deal with.
The controller is getting a few small updates as well with the PS4 Slim, most notably offering up a front-facing light bar that's much easier to see. Other than these tweaks, though, this appears to be the same PS4, just with a new look. As expected, we'll have to wait until the Neo drops before we get any major changes.
Sony, for its part, still refuses to say that this thing exists, even though it quite obviously does. The official announcement of the PlayStation 4 Slim is likely coming along with the reveal of the Neo during Sony's PlayStation event on September 7 – the same day that Apple is expected to announce the iPhone 7 in San Francisco. Make no mistake, September 7 is going to be a big day, and we'll have all the news right here.
To read the full PS4 Slim review on Let's Play Video Games, check out the source link below.
SOURCE: Let's Play Video Games