Polestar Precept concept teases striking electric four-door GT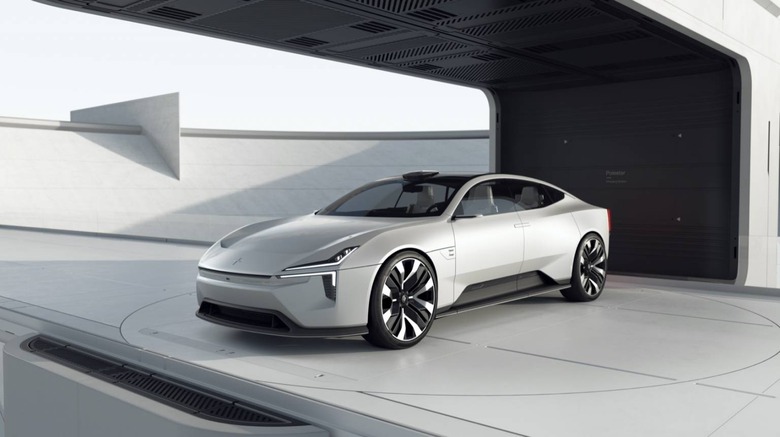 Polestar may be ramping up to launch the Polestar 2 later this year, but that hasn't stopped it looking ahead with a seductive new concept, the Polestar Precept. With a two-door GT already under its belt, now it's time for Polestar's vision of an all-electric four-door grand tourer.
"Precept," if your dictionary escapes you, is "a manifesto of things to come," Polestar explains, "a declaration." In the case of this particular EV, it's all about taut styling, distinctive proportions, and remaking some of the automaker design mainstays with electrification in mind.
Outside, aero and aggression
All cars need to be aerodynamically slippery, but EVs demand it more than most. After all, a vehicle that scythes through the air can coax a surprising number of extra miles out of a battery pack compared to a blunt-faced rival. For the Precept, Polestar has opted for long and low.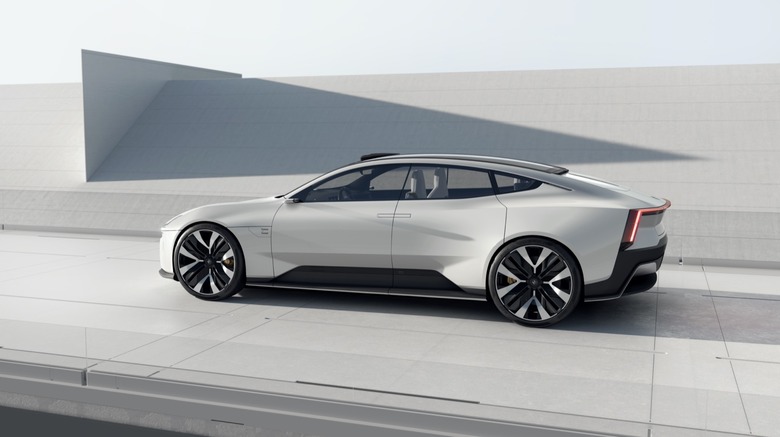 The 122 inch wheelbase is about the same as that of a Porsche Panamera, and indeed there are hints of Stuttgart's shapely GT in the Precept, to our eyes at least. Polestar puts all that space to good use, with a large battery pack for extended drives. There's an emphasis on rear legroom and headroom, too.
At the front, Polestar does away with the last vestiges of a grille: after all, the automaker points out, that air intake was a requirement of an internal combustion engine, something the Precept lacks. Instead it puts two radar sensors and a high-definition camera behind a transparent panel, which work with a LIDAR pod on top of the glass roof. Polestar uses the sensors for its driver assistance systems.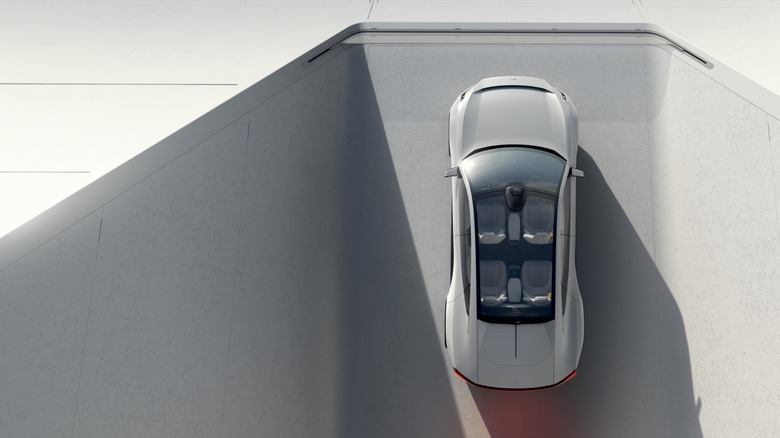 The Thor's hammer LED headlamp theme continues, but Polestar draws some extra visual space between itself and Volvo's design language. Atop the sensor section – which Polestar is calling the SmartZone – there's an integrated front wing, designed to accelerate airflow over the hood and again boost aerodynamics.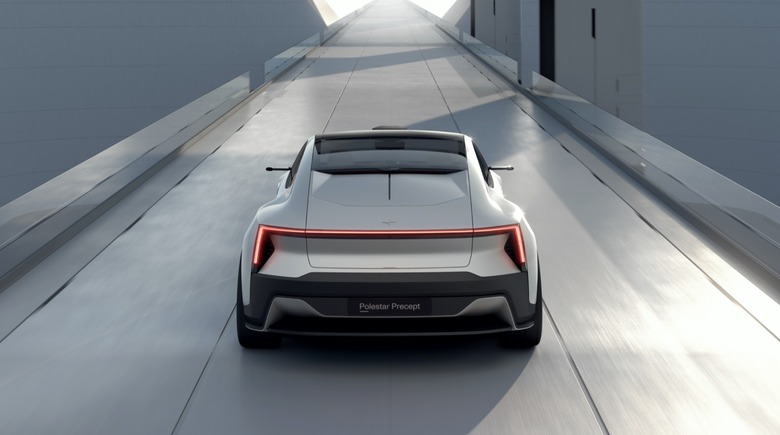 At the rear, there's a body-spanning light blade. That extends into vertical aero-wings. Gone are the side mirror, replaced with cameras that present less of an impedance to airflow; the rear view mirror inside is replaced with a screen that beams a wide-angle view from the rear of the Precept from a camera at the back. Indeed there's no conventional rear window at all, with a single sweep of glass roof extending from overhead, back to behind the rear seats. That allowed Precept's designers to make the tailgate larger, and move the hinges up so that accessing cargo is easier.
Inside, green meets tech
Polestar promised a new Android-based dashboard, and Precept delivers on that. There's a sizable 15-inch center touchscreen and a 12.5-inch driver display, linked by a glowing blade. The Polestar logo floats like a hologram inside a solid piece of Swedish crystal between the rear seat headrests.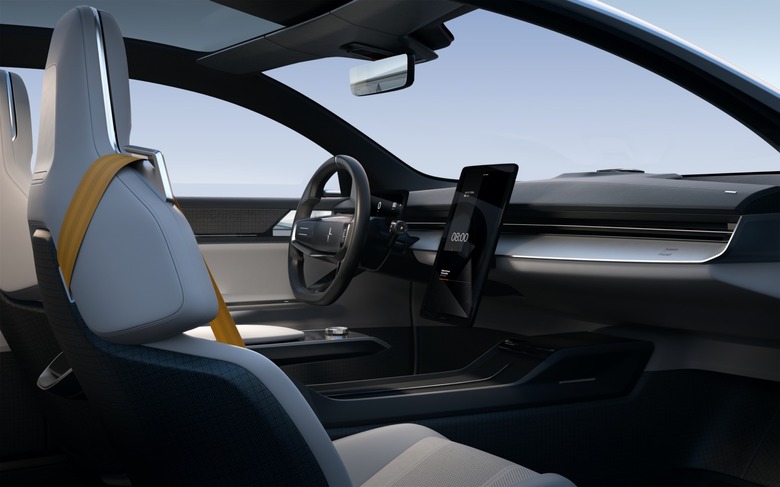 The new HMI uses eye-tracking to follow the driver's gaze. Digital instrumentation automatically shifts into focus, or dims to avoid distractions, depending on where the driver is looking. Proximity sensors around the central touchscreen summon extra controls when a hand nears.
All that tech is embedded in a cabin that uses new and more environmentally-conscious materials. Flax-based composites from Bcomp have been uses for interior panels and the setbacks; they're up to 50-percent lighter than traditional plastics or other materials, and contribute to up to an 80-percent cut in plastic waste.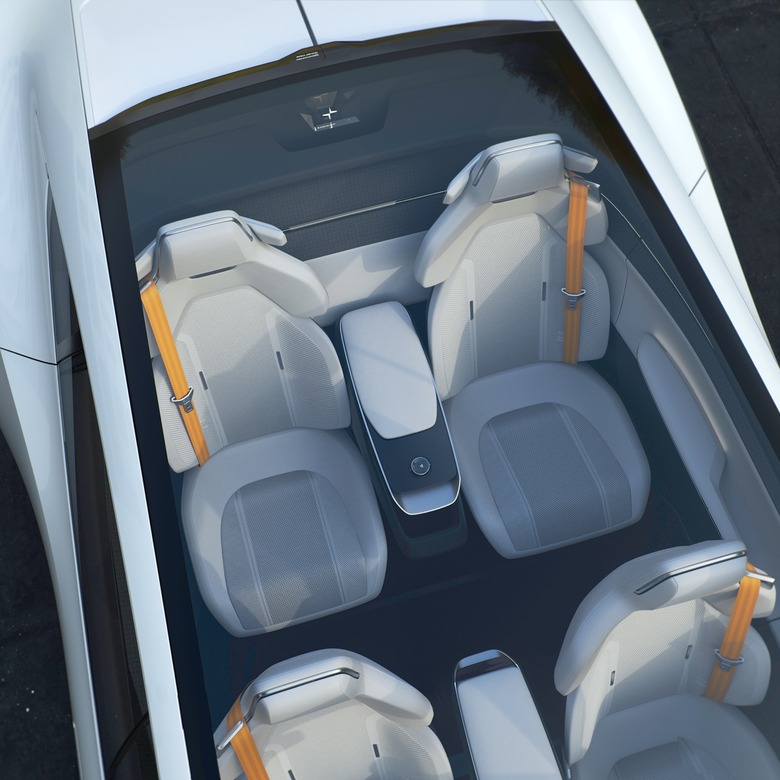 As for the seats, their surfaces are made of fabric from recycled PET bottles, that has been 3D knitted. The bolsters and headrests use recycled cork vinyl, and the carpets are from reclaimed fishing nets. "These elements," Polestar argues, "combined with digital artistry, define a new premium luxury that surpasses the conventions of leather, wood and chrome."
According to Polestar, Precept is "a vision"
Our biggest question is simple: when can we expect a production version of the Precept concept to arrive on roads? Polestar is being cautious about over-promising anything there, but it can't quite suppress its enthusiasm.
"Precept is a declaration, a vision of what Polestar stands for and what makes the brand relevant," Thomas Ingenlath, CEO of Polestar, said of the electric GT. "The car is a response to the clear challenges our society and industry face. This is not a dream of a distant future, Polestar Precept previews future vehicles and shows how we will apply innovation to minimize our environmental impact."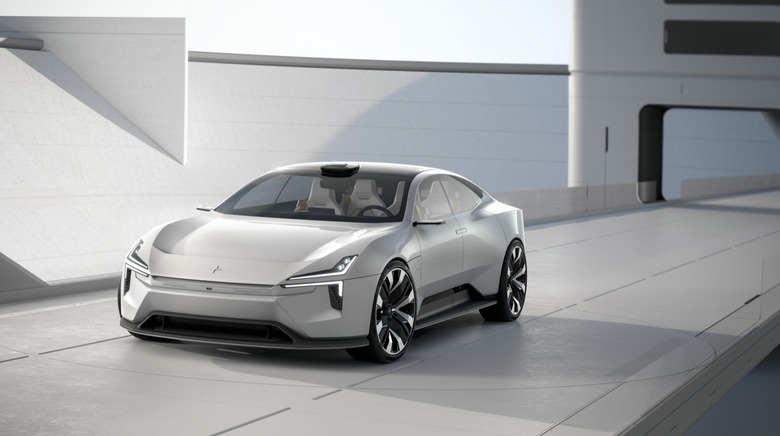 There are still plenty of details to be filled in, mind. Polestar isn't talking about performance: how many motors the Precept might have, what size of battery, and how far the Swedish automaker expects it to go on a full charge. Given the size, it seems clear this is targeted as a luxury car, but we don't yet know how it might compete on price and speed with vehicles like the Porsche Taycan and upcoming Audi e-tron GT.
We'll have a chance to see just how the Polestar Precept looks in the metal at the Geneva International Motor Show 2020, where the EV is due to make its official debut.