Pink Samsung Galaxy Note hits Korean shelves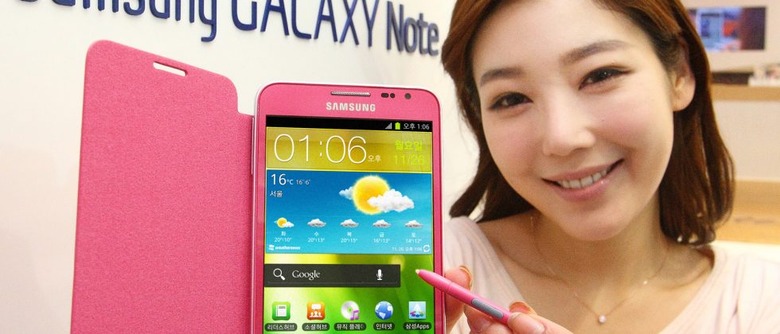 Samsung's pink version of the Galaxy Note has gone on sale in Korea, and when you're dealing with an oversized phablet like the 5.3-inch Note, that's a whole lot of pink. Offering the same 1280 x 800 touchscreen with both finger and digital stylus input – then pen here also being matching pink, with a fetching grey barrel button – and Android Gingerbread complete with TouchWiz modifications, the pink Galaxy Note should, Samsung hopes, extend the appeal of the handset to a more female audience.
Whether that's the case or not remains to be seen; it's also worth noting that it's not only women who sometimes like pink devices, too. The particular hue Samsung has opted for it certainly striking, with the company going for a particularly saturated example rather than, say, the pastels we've often seen.
It also appears some matching accessories are in the pipeline, with a pink folio case shown in-use with the new version. The pink Note goes on sale alongside the existing white, black and metallic blue models, of which Samsung recently boasted of 5m sales.
There's no word on when – or indeed if – the pink model will make it to Europe or North America, though a leaked product sheet back in February indicated there'd be a "berry pink" model with GSM product numbers (GT-N7000ZIA for the 16GB; GT-N7000ZIE for the 32GB). That at least suggests the option is on the table.