Samsung Galaxy Note coming soon in Berry Pink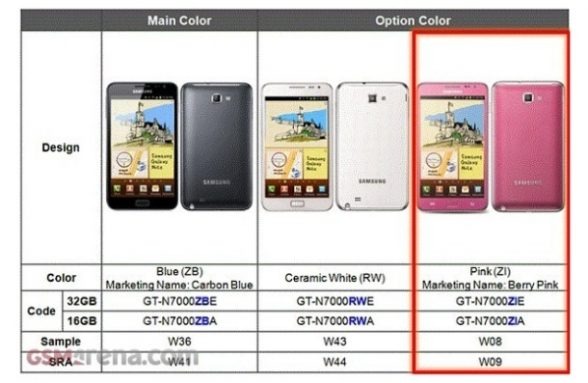 Samsung's Galaxy Note smartphone-tablet hybrid may sport a massive 5.3-inch screen that seems a tad masculine, but it will be arriving soon in a new color that aims to appeal to the ladies. According to a leaked insider info sheet, Samsung will be introducing a Berry Pink-colored Galaxy Note in the next few weeks.
GSM Arena obtained the document, which reveals that the first samples for the Berry Pink Galaxy Note will arrive on the 8th week of this year, with public availability starting in the 9th week, or about three weeks from now. The device will also be available in its standard Carbon Blue and Ceramic White, with which we've recently spent some hands-on time.
The new color makes sense since Samsung has admitted to targeting the female demographic with the Galaxy Note. The device's size is generally too big for comfort in pants pockets, but fine in purses and handbags. Unfortunately, the device just misses Valentines Day, but will likely make a showing at Mobile World Congress later this month.
[via Android Community]