Galaxy Note aimed at capturing the female market says Samsung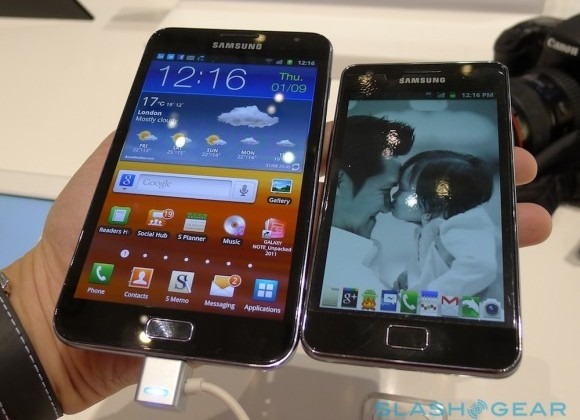 This week it's been said by Samsung UK Sales Director Andrew Glass that the upcoming Galaxy Note device "is really good for the female market." With a gigantic 5.37-inch display and a thin stylus that's able to be carried by the device itself when not in use, we've been thinking that this halfway point between a tablet and a smartphone would be a good shot aimed at basically any set of humans, Glass this week detailed a few ways in which Samsung would be tending to the female market specifically. Does this 1280 x 800 pixel Super AMOLED HD display having 1.4GHz dual-core wielding Note device look like the lady product for you?
This isn't the first time we've heard Glass speak in the past few weeks, last time he spoke we found out the true name of the Nexus Prime and that we would be "seeing it in shops sooner than [we] think." Now this fellow is letting us know that the Galaxy Note will be perfect for all the XY chromos out there amongst us. Will the smartphone/tablet stack up particularly for girls? Read Glass yourself:
"The Galaxy Note is really good for the female market," said Glass describing the device as "a merger between smartphones and tablets. To have a handbag and be able to put a 5.37-inch phone in instead of a 10.1-inch tablet is something that I think will capture the female market."
And how will Samsung aim to do that?
"We will be looking at special propositions for the female consumer. There are different colour waves, thoughts and propositions that we hope to unveil later this month."
Ohhh fantastic! All kinds of colors, that's what we love to hear! Though I'm CERTAIN we'll be hearing about this one for a while again, just like the last time we got a feminine-positioned device with Android. Remember it's name? HTC Ladyfone. No wait, HTC Rhyme. What we're seeing here is the unfolding of a more conscious smartphone market. First we're going to have to wade through all the hot pink, and eventually we'll be back and black and holding a device that's perfect for everyone. Or does that already exist?
Thus far we've only got prices on the Galaxy Note for the UK, a release date of November 17th and SIM-free preorders open at £479 + VAT, according to unlocked-mobiles.com.
Samsung Galaxy Note hands-on:
[vms af599e06ad9bf1ba03cb]
Samsung Galaxy Note inking, video editing & more:
[vms 779a9e618e1f23a7b786]
[via T3]