Pine Trail still on course for 2009 launch claims Intel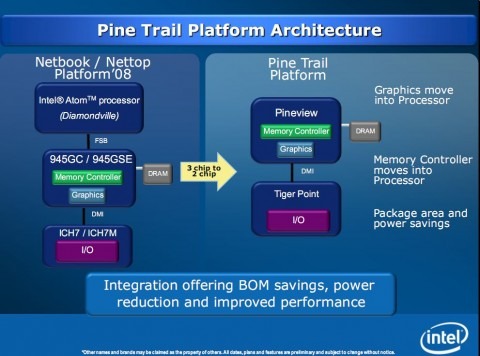 Talk, says Mooley Eden, of Intel's Pine Trail being delayed into early 2010 is quite unfounded.  According to the latest from Intel's Mobile Platform Group general manager, "Pine Trail is on schedule.  You can quote me on that ... The three chip solution down to two chip solution [is] coming this year."
Pine Trail – and the Intel Atom N450 processor expected to be the first commercial chip built on the new platform – integrates the memory controller and graphics chipsets into the processor, and pairs them with a new Tiger Point I/O controller.  According to Intel, that shift from three down to two chips will mean Pine Trail is faster, cheaper and more energy-frugal than the current netbook platform.
However, speculation had begun that Intel intended to delay the launch of Pine Trail until early 2010, so as to shift final stocks of the current processors and allow vendors to clear their netbook inventory.  ASUS and Acer were then tipped to be freezing netbook development throughout the rest of 2009 until the N450's launch.