Picture Password Revealed By Microsoft, Some Sort Of New OS Mentioned As Well

Whenever a giant group like Microsoft introduces something miraculously large like a whole new vision for their OS (this week introduced as Windows 8), there's inevitably a few cherry-picked features that shine through as "oh wow, wish I'd thought of that" moments for the audience. Today one of those moments happened when Microsoft introduced what they're calling Picture Password. What you've got here is the ability to attach a certain set of touch-drawn lines to an image, these lines correctly drawn resulting in an unlocked computer. Simple, right?
The example in this post shows a stylized image of four people sitting in a gleeful bunch. What the arrow represents is your finger starting in at the 2nd person's face and drawing across to the right to the 4th person's face. This is about as simple as it gets. You can do lines, circles, shapes, anything you want essentially, but you'll want to keep it relatively simple so as not to lock yourself out for want of a more lovely visual password. Wouldn't want that photo of Uncle Jerry staring you in the face, not allowing you in to your computer because you cannot draw the correct mustache under his nose.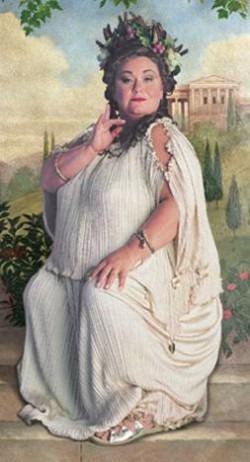 "The Fat Lady" image courtesy of Harry Potter Wikia
Here's what you need to do when you get your first touch-capable Windows 8 device. Add an image of The Fat Lady from Harry Potter – you know the one, guardian of the doorway to Gryffindor Tower. Once she's added as your Picture Password, make your marks (preferably in the shape of a broom, Snitch, or wine glass – because she loves that stuff. Then maybe we can hope for some audio interaction in the future of her giving snarky remarks about your drawing skills.
What do you say, Rowling? Cross branding with Windows in the future?
ALSO note that we have much more in-depth coverage of Windows 8 today via some on-time analysis by yours truly by the title Windows 8, Microsoft's Great Touch-based Hope, then head to both our Windows 8 Complete Guide as well as our Windows 8 Tablet Hands-on post and video.