PHONE Mag Live-Blogging Apple's iPhone SDK announcement today!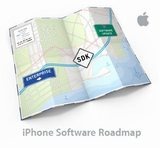 It's been a rumor-packed week since Apple announced they'd be holding a special event today, March 6th, to officially announce the iPhone SDK Roadmap as well as "some exciting new enterprise features", and we wanted to remind you that over at our cellularly-obsessed sister site PHONE Magazine we'll be live-blogging the whole event.  The show kicks off at 10am PST – that's 1pm EST or 6pm GMT – and the place you'll want to be is http://live.phonemag.com/
Will Steve announce an SDK beta as has been rumored, and leave the full release for later in the year?  Just how draconian are Apple going to be about third-party software, and is iTunes really going to be the only place users can get new apps for their iPhone?  And please, can we have Microsoft Exchange support yet?  We're hoping to find out the answers to all these questions – and maybe the odd surprise, because we're greedy like that – when Jobs takes to the stage, so join us later today!