Philips hue teases more focused lighting for holidays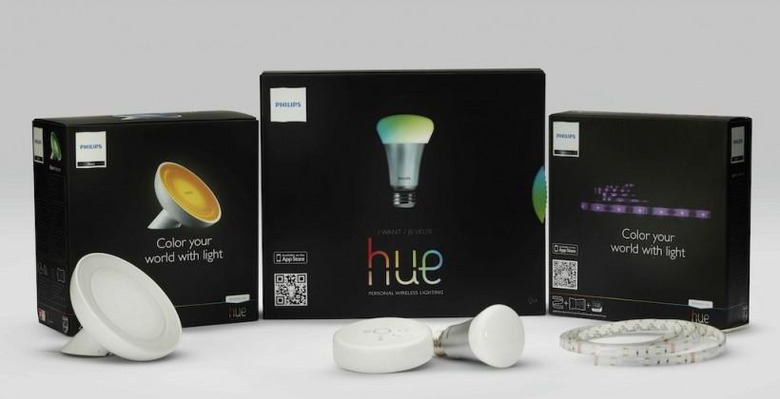 Philips' next expansion for the hue remote-controlled LED lightbulbs will be out before the end of the year, the company's head of technology has confirmed. "We're busy bringing out new ways of interacting but also new ways of bringing lighting into your home" George Yianni said at Mobilize today, before revealing that hue will add downlights and spots to its line-up in 2013.
hue, for those that missed it, is a series of wireless lights that form a mesh network via ZigBee, and can be remotely controlled either via iOS or Android apps in the home, or remotely, through a web-based interface. As well as adjusting brightness and individual power, each of the lights can be changed through different colors, and linked together into groups and scenes.
Yianni didn't confirm exactly when the new hue lights will arrive, nor how much they might cost, though did say that the additions to the range would launch sometime this year. hue most recently was updated with the Bloom table lamp and LightStrips self-adhesive LED strip we reviewed in August, having initially launched with regular screw-in bulbs for standard light fittings.
That has limited their implementation in homes which have smaller light fittings, particularly recessed spotlights.
Philips is also aiming to reduce the cost of the hue system, though that's unlikely to happen for some time, Yianni admitted. Right now, the hue starter kit – which consists of three screw-in bulbs and a ZigBee base-station that plugs into the home's router – is priced at $200, while the Bloom and LightStrips are $80 and $90 respectively. Individual traditional bulbs are $50 apiece when added to the starter kit.
There's more on hue in our original review, though since then Philips has added a developer SDK as well as recurring schedules and geo-triggering to the apps.