Philips hue Review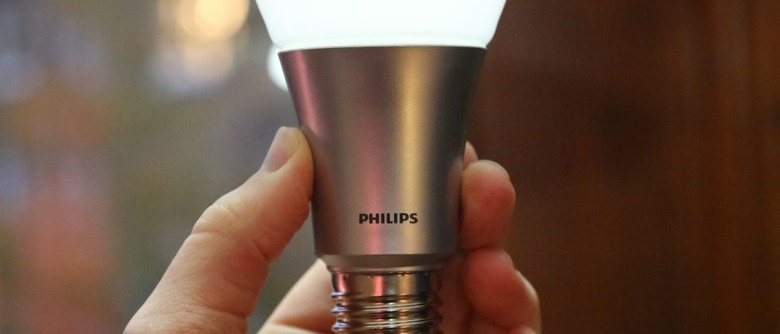 Philips has been pushing color-changing lighting for years now, but with Philips hue the concept may finally have come of age. No longer amorphous lamp blobs, the hue bulbs screw easily into your existing light fittings and, on the face of it, do everything a regular bulb might. Reach for your phone or tablet, however, and you can soon be bathing in a near unlimited range of custom colors. So, the dawn of a new age of home automation, or just a dreary DIY disco? Read on for our full review.
Hardware and Installation
Philips' starter pack for hue – which comes with the base station and three bulbs – is priced at $199.95/£179.95, while subsequent individual hue bulbs are $59.95/£49.95 (initially exclusively through the Apple Store). Philips says the three bulbs that come in the starter pack can't be used with any other hue base station; sure enough there's no way to unpair them in the settings, though we were able to manually pair them to an old LivingColor remote. You also get an AC adapter for the base station and an ethernet cable to plug it into your router.
Setup is straightforward, as long as you have the right type of light fitting. Plug the base station into the mains and into a spare ethernet socket on your router, and then screw the Edison-fitting bulbs into whichever lamps you want to use. Philips says bayonet fitting versions are in the pipeline, but for now you'll have to use an adapter – not supplied, but available online for a couple of dollars – if you want to use a hue bulb in an old-style socket.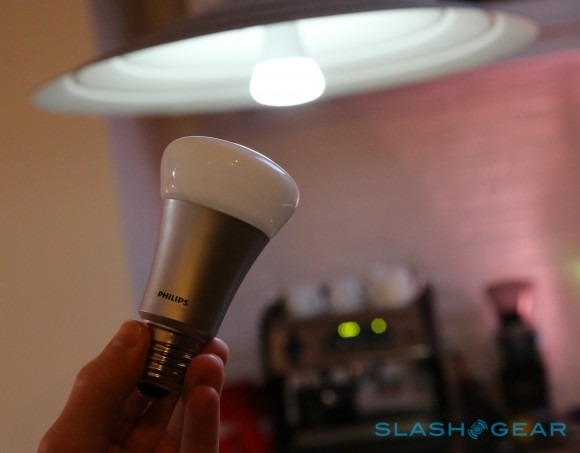 Then, in theory, it's just a case of installing the mobile app on either your iOS or Android device. Philips has iPhone and iPad-scaled versions, as well as a single version for Android phones and tablets, and you can have up to ten apps associated with a single base station. We had no problems with the auto-locate feature on the iOS app, the base station quickly being identified (on the same network) and – after a tap of the single button on top of it – paired up. However, the Android app refused to locate the base station itself, and could only see it after we punched in its IP address (as assigned by the router) manually.
The hue bulbs themselves are of a similar size to a standard bulb, with a mushroom-style glass head and a silver brushed metal body. Philips says each 600 lumen bulb – equivalent to a 50W traditional bulb – uses 80-percent power than old-style versions, and is rated for 15,000 hours of continuous use. Up to fifty can be paired with a single base station, according to Philips' official count, though unofficially the system will apparently support more.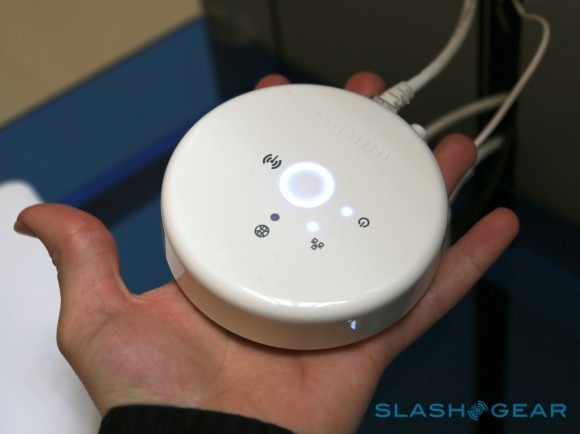 Those with existing Philips LivingColor lamps will be able to use them with the new hue system, though the process is fiddly. You'll need to have one of the latter-generation LivingColor remotes (circular, not lozenge shaped, with the three preset keys running along the lower edge) and go through a multi-stage re-pairing process with that and the hue base station. It took us a couple of attempts to get the whole thing working, but once all parts of the system were talking to the other, we were able to control our old lamps with the hue app, and indeed the hue bulbs with the old remote.
hue isn't limited to Philips' own bulbs, though. The system uses standard ZigBee – the Light Link profile, specifically – so any third-party lighting that confirms to that will also pair up with the hue base station. Since it's ZigBee, it also uses mesh networking: the base station acts as a bridge between your WiFi network and the ZigBee network, but as each hue bulb can talk to each other, they can be a great distance from the base station itself. Philips does warn that lag will increase the greater the number of mesh hubs the signal has to jump.
Software
Philips' iOS and Android apps look broadly the same: large expanses of desktop, with preset icons for lighting schemes. They look fine on a phone, but on tablets there's an odd waste of space: the buttons are just too small – split in their layout, by default, across two pages despite the potential of easily fitting onto one – and require a slightly closer look than you'd hope for in order to identify which preset you're selecting. Big, easily stabbed keys would be far preferable.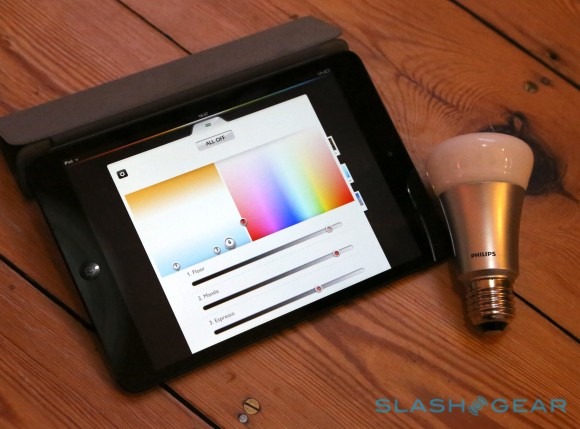 Most of the presets Philips provides are, in fact, based on images. Tap them once and a brightness bar shows up, as well as the option to dig into the image itself and adjust the colors and lamps involved. That shows a basic white light control at the top – with the option to make the light warmer or cooler – but is mainly taken up by the source image, with color pickers for each bulb that can be dragged around to different points on the picture.
Underneath, there are brightness sliders for each bulb as well as buttons to set timings and switch individual lamps on and off within that preset scheme. Timings can either be to turn the preset on at a certain point each day, or off, or both, with the lights either coming on instantly or fading in/out over the course of three or nine minutes. If you've ever wanted to be gently woken to the warm, honeyed glow of a rainforest sunrise, here's your chance.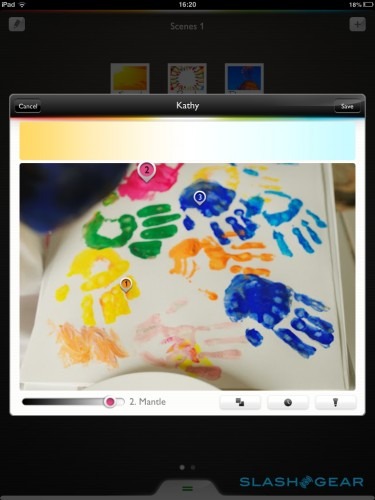 Unfortunately there's no way to move multiple light pickers at the same time – the app doesn't support multitouch control – so it's a case of adjusting each bulb individually. Alternatively, shake the device and the accelerometer automatically triggers a random array of colors.
Manual use takes two forms. First, you can pull up a master color-picker, with individual control over each bulb's brightness, hue, or white temperature; it's functional, though there's no way to then save that as a preset for later use. The second way is more permanent: you can choose a photo from your phone or tablet's gallery, or shoot a new picture with its camera, and then pick colors out of that for the lights to replicate. These can be saved as schemes and shared on Philips' site.
Obviously some colors are easier for hue to make than others. Brown is tricky, and if you pick black then the bulb simply shuts off. What Philips also provides are four so-called LightRecipes – relax, read, concentrate, and energize – which according to the company's research have a noticeable affect on mood and productivity. It's worth noting that they only work with the hue bulbs, not older LivingColor lamps, and annoyingly after we paired up some of those older lamps none of the LightRecipes would actually work. When they were working, however, we can't say we noticed a particular difference in our mood or our ability to concentrate, though it was far from a scientific experiment.
Philips also supports remote access, though only via the iOS apps; the Android version won't get that until sometime in 2013. You need to set up a profile via Philips' site first, and give it permission to access your hue base station: then, when you're on your iPad or iPhone on the move, you can boot up the app and twiddle away with the colors or, more likely, use it to turn off any lights you may have inadvertently left switched on. It's of limited use, really, though if you've also got a web-connected security camera system, you could potentially use hue to light up rooms for clearer visibility.
Performance
Philips' hue is a little like Superman. By day, the bulbs can be standard, sensible white lamps – the mild mannered Clark Kent of lighting – but when things start getting interesting you can call up all manner of colors and the whole system becomes far more flexible and creative. The light itself is as bright as a standard bulb when in white mode, while the colors are generally stronger than what the previous generation of LivingColor lamps could manage.
One hue bulb hanging from a central ceiling light is enough, if it's dark, to illuminate a whole room with color, whereas LivingColor always felt more like an accent tool than primary lighting. As before, though, it works best with white walls, while the Edison screw fitting means you'll have to think carefully about where you put each hue bulb. An overhead light is the obvious option, but a standalone lamp might do better at focusing attention on a specific area or feature.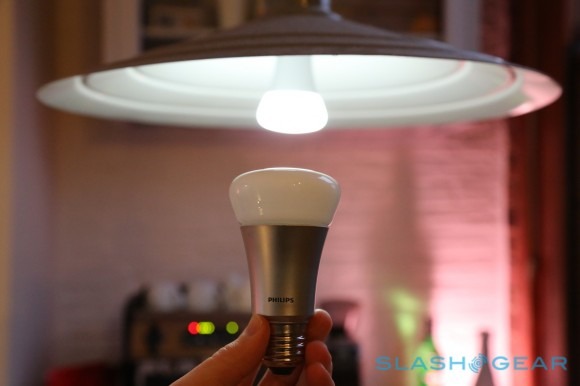 For safety, if you flick the light switch on the wall (which has to be left on, obviously, for hue to work properly) the bulbs will automatically come on in their full-brightness, white mode. Unfortunately there's no way to then restore them to their previous setting, without reaching for your phone or tablet. A wireless lightswitch would be a nice addition to the range, though since it's ZigBee-compliant you could probably find a third-party option to add to the setup.
In fact, adding functionality is something Philips has planned ahead for. As well as using the Light Link standard, hue has an API for third-party apps to hook into. Philips is hoping that will encourage developers to jump in and add light effects to their apps, whether that be disco flashing or something more subtle, like a lamp that changes color according to stock prices, or flashes when you get a new email.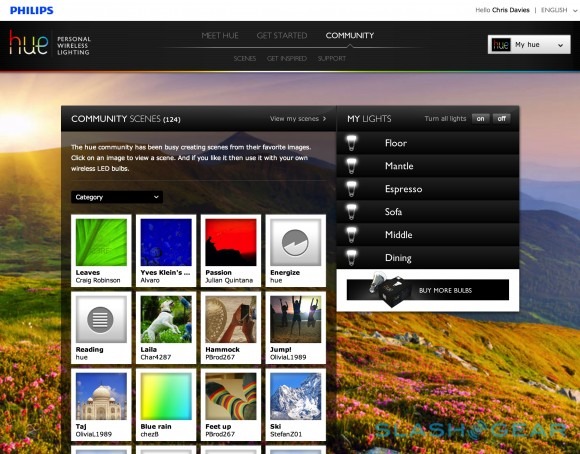 Right now, there's not much in the way of third-party functionality, but it's very early days. We wouldn't mind a little more polish to the core experience, however: custom color scenes are meant to sync across devices via the cloud service, but that proved hit-and-miss, and sometimes the older LivingColor lamps would get stuck on a certain color and refuse to respond to the hue app unless they were power cycled.
On a cost-per-bulb basis, hue is significantly cheaper than previous Philips color-changing lighting products; the second-gen LivingColors lamp we reviewed back in 2010 still command a $140 price tag, versus sixty bucks for an individual hue bulb. Philips sells white LED bulbs with an RRP of $40, though other, cheaper versions are available.
Wrap-Up
Philips' hue apps aren't entirely refined, and the promise of third-party integration is yet to materialize, but hue is off to an excellent start where it counts: bringing the cost of color-changing lighting down to a more manageable price point. That means users are more likely to install a few bulbs (rather than just, say, one expensive LivingColor lamp) and start to see the benefit of flexible lighting. It feels like a gimmick at first, true, but being able to tweak your environment to suit whether you're listening to music, watching TV, napping on the sofa, or relaxing with friends grows increasingly addictive the more time you spend with hue.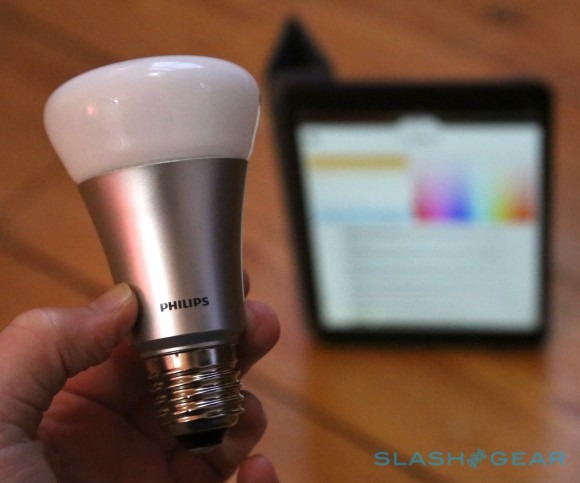 If developers jump on board, color LED lighting could well reach its tipping point. No longer limited to expensive custom installs: you can outfit a few rooms with hue and be up and running with custom colors in less than an hour. If you've already got a ZigBee system, there's even more potential for linking full-on macros with preset lighting schemes. Gimmick it may be, but it's another example of affordable home automation trickling down to the mass market, just as Sonos did with multi-room audio, and that's something worth celebrating in today's smart home.