Philips Hue Adds BR30 And GU10 Bulbs Plus Disney StoryLight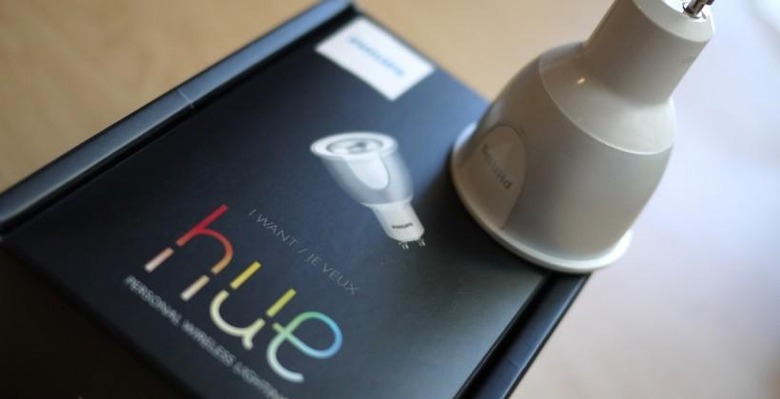 Philips promised more focused lighting options for the holidays as part of its hue wireless bulb range, and the company has delivered, revealing not only two new bulb types, but a tie-in with Disney that integrates special Mickey-themed lamps with interactive story books. The hue BR30 is headed to the US first, targeting the popular recessed downlighter fittings found in many American kitchens, offices, and living rooms, while the GU10 will do the same for European track- and task-lighting.
hue BR30
BR30 bulbs are some of the most common used in the US, and Philips expects the new hue form-factor to significantly broaden its appeal in the country. The brightest hue bulb so far, with a newly-focused 630 lumens, they use the same wireless system and iOS/Android phone and tablet remote apps for control.
The hue BR30 is available in the US from today, priced at $199 for a three bulb starter kit, and $59 for extra bulbs. There's more in our full review of the hue BR30 bulbs.
hue GU10
Arguably the European counterpart to the BR30, the GU10 bulb is commonly found in downlighters and track lighting. Offering the same multi-color options, it was a particular challenge for the hue team, so Philips head of lighting technology George Yianni told SlashGear, since the form-factor is so small. New advances in LEDs supplied by Philips division Lumiled were what made it possible, allowing a smaller number of more powerful lights to put out the same brightness as other hue products.
The GU10 bulbs will go on sale in the UK and Europe from today, priced at £179 for a kit with three bulbs and the ZigBee base, and £49 individually. US availability is expected in December, though pricing is yet to be confirmed.
hue Disney StoryLight
hue can already tie into IFTTT and other apps built using Philips' SDK, and now there's a partnership with Disney to integrate room color with an iPad storybook. StoryLight is a custom app made up of specially created Disney e-books, that wirelessly controls the lighting effects in the room to match the progression of the story.
The lamps themselves – effectively the same hardware as the Living Color Bloom lamp we reviewed back in August – come with iconic Mickey Mouse ears. Pricing is yet to be confirmed.
Finally, there's integration between hue and Philips' AVENT Smart Baby Monitor, announced back at IFA 2013. A WiFi and 3G webcam intended for parents to remotely monitor their children, it'll allow preset lighting patterns – such as a virtual sunset to gently lull a baby to sleep – to be triggered from a smartphone or tablet.