Pew Reports E-Reader Ownership Growth Stronger Than Tablets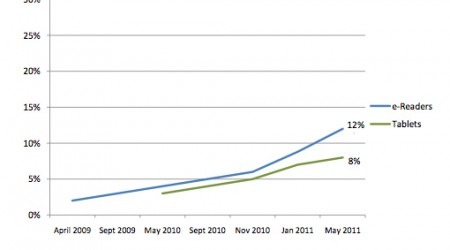 Ever since the iPad debuted, e-readers were thought to be a dying breed with Amazon's Kindle on the preemptive attack with commercials touting its glare-free e-ink display as opposed to the iPad's glossy screen. However, a new report from Pew shows that so far e-readers are still going strong. In fact, their survey shows that e-readers not only have a greater ownership percentage but also a stronger growth rate when compared to tablets.
The report surveyed 2,277 adults over the age of 18 living in the U.S. and was conducted between April 26 to May 22. It revealed that as of May 2011, 12% of U.S. adults owned an e-reader such as the Amazon Kindle or the Barnes & Noble Nook. This is a big jump from the 6% in November 2010 and is also the first time the e-reader ownership percentage reached the double digits.
Tablets, on the other hand, continued to hit number lower than e-readers. The survey revealed that as of May 2011, only 8% of U.S. adults own a tablet device such as an iPad or Android tablet. This was only a slight increase from the January 2011 report of 7% and the November 2010 report of 5%.
However, this certainly doesn't mean that tablets don't pose a threat to the e-reader market. Cost could be a huge factor that hindered tablet ownership growth. Most e-readers are priced sub-$200 while tablets have so far hovered around $500 or more. The landscape could change very soon with a slew of upcoming budget-friendly Android tablets that hit below $350, including the Vizio 8-inch tablet, the Acer Iconia Tab A100, and two new Archos G9 series tablets.
[via Pew]