Pebble smartwatch adds color option as backers asked for ship details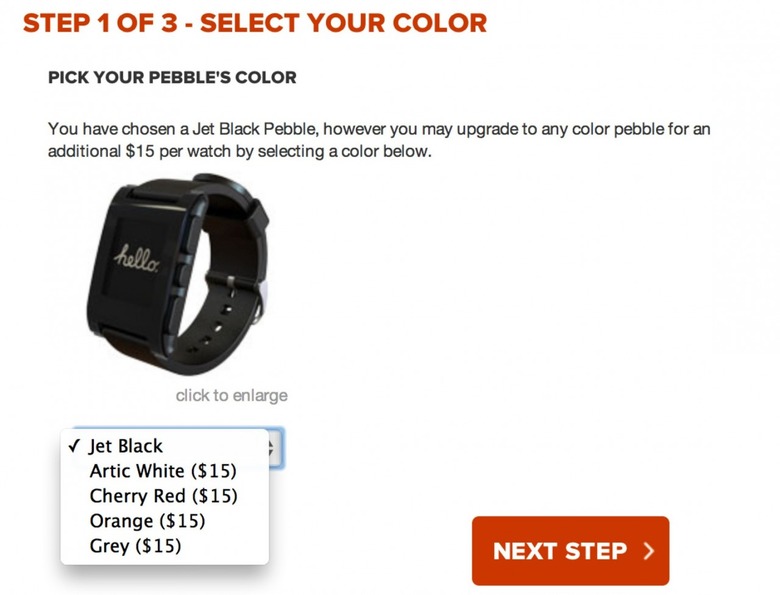 Shipments of the Pebble smart watch are close at hand, with the $10m Kickstarter project inviting backers to pick their watch color – with a new option added in for good measure – and register a shipping address. The project, which sold out back in May, now offers the Bluetooth connected watch in black, white, red, orange, or grey, with those who originally backed the cheapest black version able to upgrade for $15.
"Thanks for supporting Pebble on Kickstarter. It's time for you to tell us where you live, and to select a color for your Pebble. We've added Grey, due to popular demand. If you backed a Jet Black Pebble, you can also upgrade to Color if you'd like!

We've set up a new website for our Pebble backers to manage their order. You have until Sept 30, 2012 to choose a color for your Pebble using this site" Pebble
The site also allows those who forgot to add in international shipping costs (an extra $15) to pay for that, though if you included the charge in your initial pledge then you won't be asked for more. Exact shipping dates haven't been confirmed, though the Pebble team did admit a few months back that it would miss its original September estimate.

Nonetheless, there's still plenty of excitement about the watch. Designed as a companion for an iOS or Android phone, it can show messaging alerts, notifications, calendar alarms and more, as well as integrating with other systems such as fellow Kickstarter hit Twine.
Hardware specifications include Bluetooth 4.0, an e-paper display for low power consumption, and a vibration motor for discrete alerts. The watch is also compatible with generic watch-straps, for those who want to customize.