PayPal Facebook Messenger feature settles the group check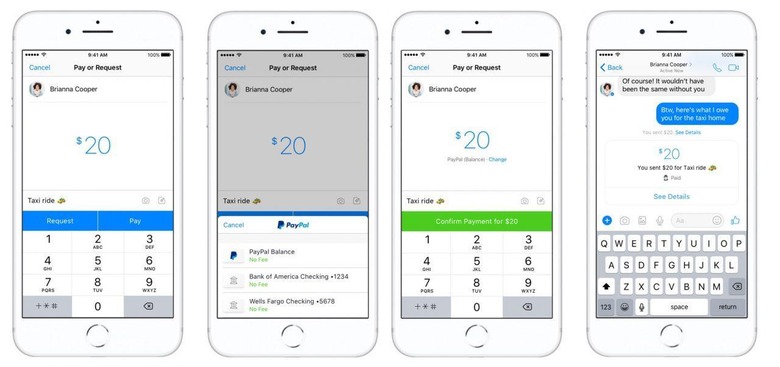 The number of ways to pressure your friends to cough up the cash they owe you for lunch is increasing, with PayPal and Facebook Messenger hooking up. A new update to Messenger allows for PayPal peer-to-peer payments directly within the popular Facebook IM service. It's built atop PayPal's existing Facebook Messenger integration for shopping.
That was added last year, allowing Messenger users in the US to add their PayPal account and use it to buy products and services within chats. It also allowed for Messenger conversations between PayPal users.
Now, person to person transactions are being enabled. For instance, if you're deciding on going to a concert with friends using an IM session, everyone participating will be able to send money from their PayPal balance, a registered credit or debit card, or an enrolled bank account to a single person to book the tickets.
To send and request money, you hit the blue plus button in a chat, and then the green Payments button. Once you've registered your PayPal account with Facebook, you'll see it as an option in the Payments list. As well as sending money to a contact, you'll be able to request amounts from someone, including adding a message to explain what it's for – rent, perhaps, or a share of a bill.
Meanwhile, PayPal is also launching a Messenger bot of its own. The new customer services chatbot will be able to help with things like password resets, basic account inquiries, and common refund or payment issues. It'll also presumably direct people to the best live customer service agent if the problem is too complex for the bot to solve.
Today's news is the latest in a series of PayPal expansions, as the payments company attempts to stay relevant. Back in August, it was added as a payment option in the Nintendo Switch eShop, allowing gamers to download titles and charge them directly to their PayPal account. Earlier that month, PayPal within Skype chats went live, offering similar functionality to today's Facebook Messenger integration.
Probably one of the most significant changes, though, came in July. Then, PayPal was finally added as a payment option for Apple services, including the App Store, Apple Music, iTunes, and iBooks.
PayPal's Facebook Messenger integration will start rolling out from today. You'll initially need to be in the US in order to use it.